Michigan Turned into 'California Shithole,' Ted Nugent Says After Democrats Win in Midterm Elections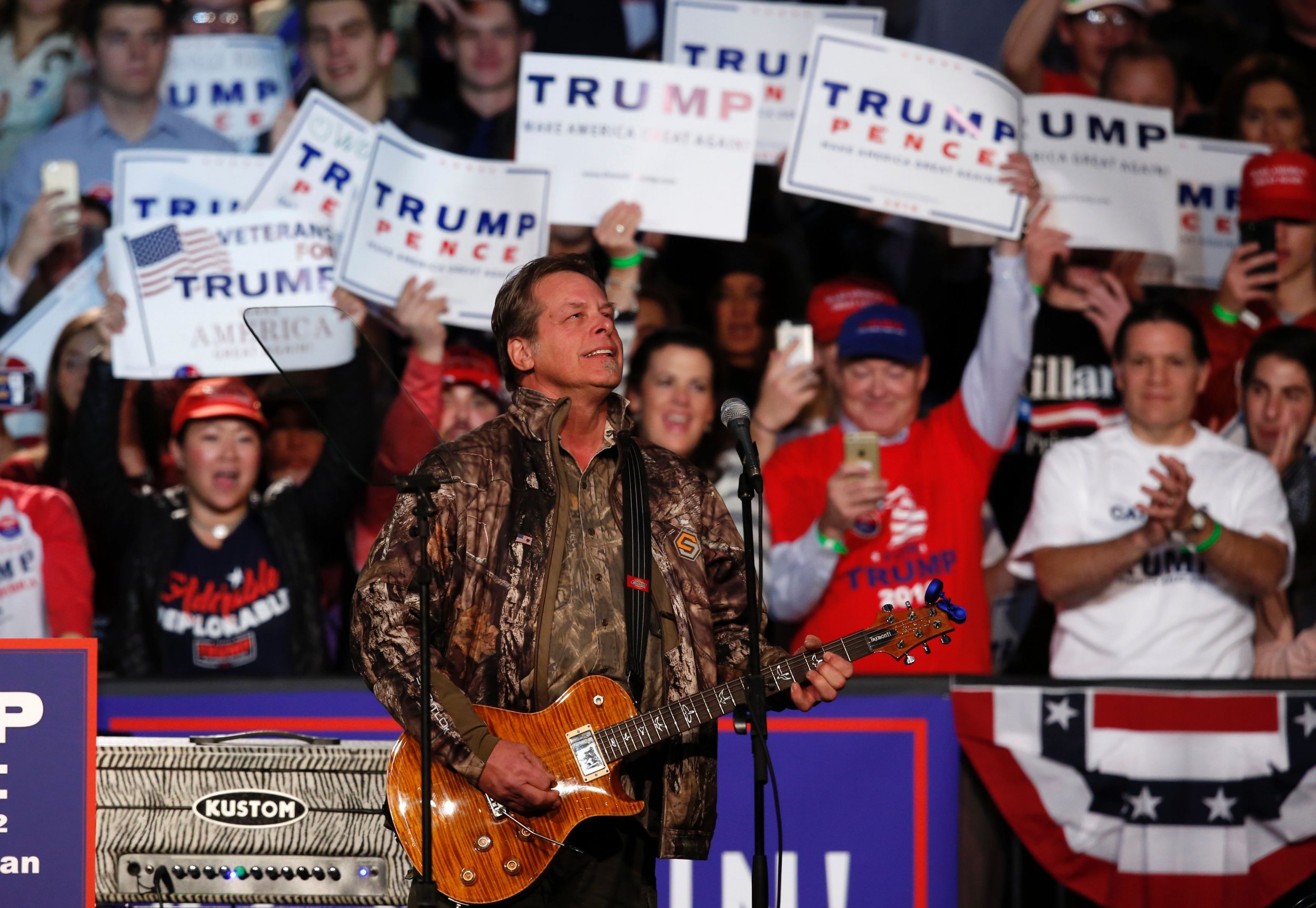 After several Democrats won their midterm election races in Michigan, American singer Ted Nugent slammed voters in that state and accused them of wanting to turn the "once great" state into a "California shithole."
"Real God country family Michiganiacs are heartbroke that more of us want the once great state of Michigan to turn into a California shithole," Nugent wrote on his Facebook Wednesday. "Downright insane cultural suicide. Thanks for nothing a**holes."
Michigan voters elected Democrat Gretchen Whitmer as their governor. Democrats Elissa Slotkin and Haley Stevens also took two seats in the House that were previously held by Republicans. In addition, Dana Nessel won the attorney general race, Jocelyn Benson emerged victorious as secretary of state and Debbie Stabenow gained a Senate seat.
Nugent's comment was not surprising given he is an avid supporter of President Donald Trump and shows no restraint in voicing his political opinions on his Facebook page. His word choice reflected that of Trump, supposedly.
Trump reportedly called African nations, Haiti and El Salvador "shithole countries" during an immigration meeting with lawmakers in the Oval Office in January. And earlier this month, Trump's former personal lawyer Michael Cohen, who pleaded guilty to eight criminal counts in special counsel Robert Mueller's probe, told Vanity Fair that Trump in 2013 said, "Name one country run by a black person that's not a shithole.... Name one city."
Nugent, a National Rifle Association member, during a gun talk with Infowars host Alex Jones in April likened Democrats to coyotes that should be shot.
"There are rabid coyotes running around, you don't wait till you see one to go get your gun, keep your gun handy," he said. "And every time you see one, you shoot one."
In February, Nugent shared a story alleging that Parkland shooting survivor and activist David Hogg was an actor trained to advocate for gun control. Nugent was widely criticized for doing so.
The singer has expressed his dislike for California because it is a deep-blue state. He showed up for Republican candidates in August and September and played during Trump's campaign rallies in Michigan in 2016.
The Detroit Metro Times in its "City Slang" blog Thursday hit out at the musician with a post titled, "Ted Nugent called Michigan a shithole after election—maybe now we can be free of him."
"Don't read Ted Nugent's Facebook," the post stated. "Just don't."
Democrats also flipped the House of Representatives in the midterms but lost seats to the GOP in the Senate.