The hashtag #DemExit began trending on Twitter across the United States on Tuesday afternoon as supporters of Bernie Sanders threatened to leave the Democratic party if his 2020 rival former Vice President Joe Biden secures the nomination.
It comes as voters in so-called Super Tuesday 2 states—Michigan, Idaho, Mississippi, Missouri, North Dakota and Washington state—headed to the polls. After Biden dealt a humbling blow to Sanders' campaign in the Super Tuesday voting contests last week, the Vermont senator will need a good showing tonight to regain momentum for his campaign.
Biden made a comeback last week after former South Bend, Indiana Mayor Pete Buttigieg, Senator Amy Klobuchar and former Texas Congressman Beto O'Rourke dropped out of the Democratic presidential race and endorsed the former vice president's campaign. Since then, Biden has surged ahead of Sanders, drastically changing the shape of the 2020 race. The Vermont senator has spent the past week in defense mode, trying to recapture the momentum he had last month.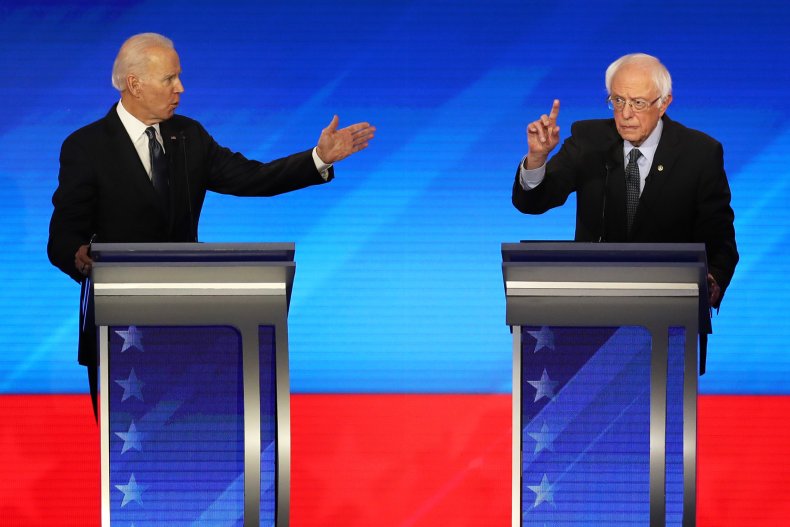 Biden has also surged ahead in most national post-Super Tuesday polls. A recent Reuters/Ipsos survey, released Thursday, showed that 54 percent of registered Democratic voters polled picked Biden as the candidate who's most likely to defeat President Donald Trump in the general election, compared to just 25 percent that chose Sanders. Biden opened up a double-digit lead over Sanders, with 45 percent of registered Democratic voters saying they would support the former vice president for the party's nomination, compared to 32 percent for Sanders.
Although Biden's Super Tuesday victory has solidified his position as the new Democratic frontrunner, good results for Sanders tonight could again alter the 2020 race. Biden has a significant but not insurmountable delegate lead over Sanders—and Michigan alone has 125 delegates at stake.
As voters in the six Super Tuesday 2 states headed to their polling stations today, thousands of Sanders supporters took to Twitter to declare that they would not vote for a Democratic candidate if a progressive doesn't secure the party's nomination. Others users criticized the #DemExit movement, saying they would vote for any Democrat to defeat Trump. Some claimed that the hashtag was being perpetuated by Russian bots hoping to meddle in U.S. elections.
As of Tuesday evening, #DemExit rose to the fourth most-trending topic on the social media platform in the United States. At the time of publication, the hashtag had garnered more than 40,000 tweets.
Newsweek reached out to Sanders' campaign for comment.
"If @JoeBiden gets the nomination I will #DemExit Who will join me?" user @brooklynngirl tweeted.
"#DemExit I am leaving the Democratic Party if they nominate Biden, the moderate wing of the party cannot expect the progressives to jump behind any candidate they nominate. I swear I will not vote for Biden. I promise, I will not vote for Biden," user @RABSlut tweeted.
"Most Bernie supporters were very clear from the start. Bernie is our compromise Democrat. You insist on Hillary on steroids Biden, and now want to whine? Nah. Have the courage of your convictions #DemExit," user @RealKaylaJames tweeted.
"Centrists spent 4 years bashing 'Bernie bros'. You guys called us nazis and everything. Now you expect us to fall in line? Hell no. Democrats dug their own grave #DemExit," user @FlyThaiMMA tweeted.
"'Good for Joe' trending after Biden is caught on video talking down to a factory worker about guns. The Democrats really want to lose, don't they? #DemExit," user @JungFabiana tweeted.
"Dividing the Democratic Party is right out of the Russian playbook. Splitting the Dem party is Trump's only chance to win. Some of these #DemExit posts are Russian bots. Do not let Russia influence you or your vote. Stay united," user @McSamAdams tweeted.
"Is anyone surprised that #DemExit is trending & it's fueled by the Russians (who support Trump AND Bernie) their bots (who support Trump AND Bernie) and the Bros (who are 'Bernie or Bust!' which ultimately supports Trump AND Bernie) *sigh* No exit for me. #VoteBlueNoMatterWho," actress Yvette Nicole Brown tweeted.
"I am a proud progressive Democrat. I first supported Elizabeth Warren and now I am supporting Bernie Sanders in the primary. But I don't believe in #DemExit. I believe in continuing to fight to bring the Democratic party home to its progressive FDR roots," user @ProudResister tweeted.
"All the Bernie supporters threatening to #demexit are even worse than Trumpanzees if you're willing to tolerate 4 more years of children in cages, restrictions on women's bodies and school shootings #VoteBlue2020," user @Paoeluchsinger tweeted.
"If you were even considering #DemExit you were never Democrat to begin with. That in and of itself is wild. Republican Party has no policy or plans. No morals or integrity. Difference between parties is so vast Donald Trump just fear-mongers for votes because the party is extreme," user @ChrisJZullo tweeted.