With Michigan and Wisconsin Going for Biden, Can Donald Trump Still Win?
Donald Trump's path to re-election has slimmed considerably following wins by former Vice President Joe Biden in Michigan and Wisconsin. However, the president could still gain a second term.
As of Wednesday evening, the Associated Press reports that Biden has 264 electoral votes and Trump has 214, with 60 votes in five states still up for grabs. To win the White House, a candidate needs 270 votes, meaning Trump's path to retain the presidency requires wins in Georgia, North Carolina, Nevada, Pennsylvania and Alaska.
Those five states have yet to be called for either candidate. Pennsylvania, North Carolina, Georgia and Alaska are leaning toward Trump as of Wednesday evening, although his margin in Pennsylvania is lessening as mail-in ballots are counted. If final tallies in those four states go in his favor, though, it'll give him a collective 54 votes, bringing the president to 268 electoral votes.
If Trump also wins Nevada, he'll breach the 270-vote threshold and become president, according to the AP.
However, if Biden wins Nevada, where he has a half-point lead on Trump, he'll get the six votes he needs to reach 270.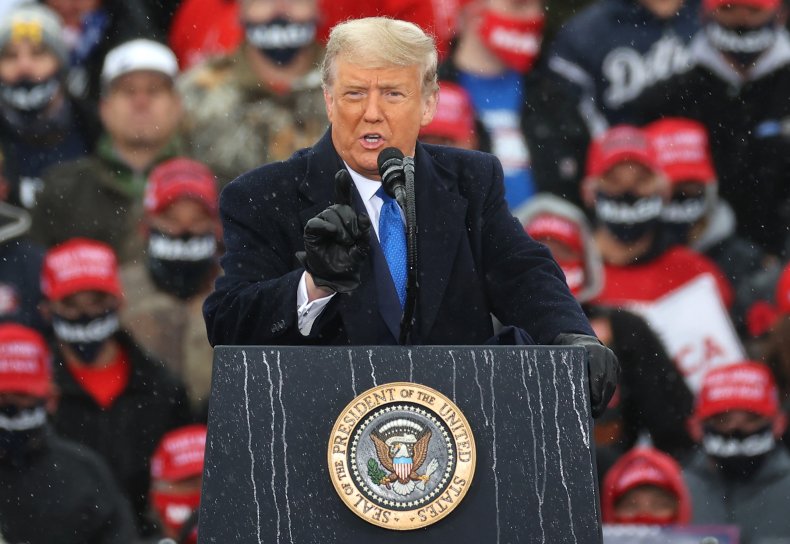 Another path to victory that the president is pursuing is a recount of the votes in Wisconsin. On Wednesday, the AP called the state for Biden, who received 20,000 more votes than Trump. On Wednesday, the Trump campaign said it intends to request a recount because the president is "well within the threshold" to do so. In Wisconsin, the recount threshold is at 1 percent.
A fundraising email from the campaign encouraged his supporters to donate to the Emergency Wisconsin Recount Fund. "We cannot let the left go unchecked any longer. There are too many irregularities and room for potential deception to give up now," the email said. "We need to fight back, but we can't do it without your help."
If there is a recount and it goes in Trump's favor, it'll shift 10 votes out of Biden's column into Trump's, changing the former vice president's electoral count to 254 and Trump's to 224.
The president's campaign is also pushing back on calls for Arizona by Fox News and the AP, which both said the state went for Biden. Fox News made the call Tuesday evening, while the AP called the race Wednesday afternoon. Trump campaign manager Bill Stepien said if all legal votes are counted, Trump would win Arizona, a state where he trails Biden by 92,000 votes, by 30,000. A victory in Arizona would give Trump 11 electoral votes currently awarded to Biden.
While the Trump campaign remains publicly confident in his ability to remain in office for a second term, Biden believes he has the election locked in.
"After a long night of counting, it's clear that we're winning enough states to reach 270 electoral votes needed to win the presidency," Biden said during a speech in Wilmington, Delaware, on Tuesday night. "I'm not here to declare we've won. But I am here to report, when the count is finished, we believe we will be the winners."
Nevada announced Wednesday evening it won't be releasing results until Thursday, around noon Eastern time, and Pennsylvania's ballot counting could take a few days. So even without the legal battles, it could be days before the nation learns who won the presidency.