Michiganders will save hundreds of dollars on menstrual products now that the state's tampon tax is officially repealed.
Michigan Governor Gretchen Whitmer signed a bill in November to repeal the tax on essential menstrual products, including tampons. The bill went into effect on February 3, 90 days after the bill's signing.
"Today, Michigan's tampon tax is officially repealed," Whitmer wrote on Twitter. "Michiganders will now save hundreds on the products they need."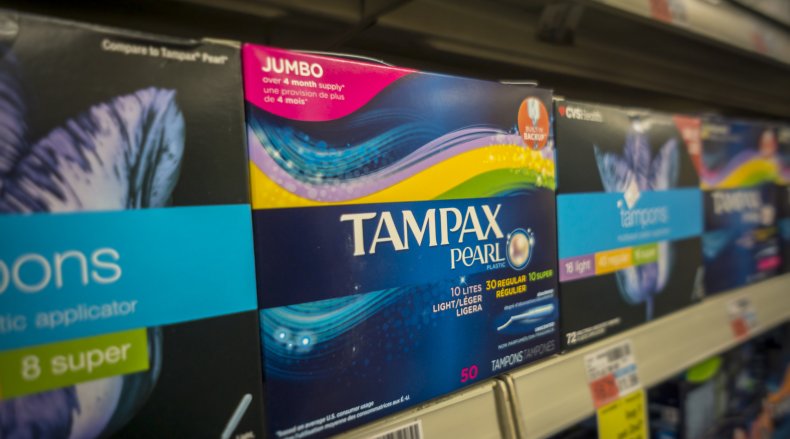 During the bill signing, the Democrat mentioned she spent years trying to get the 6 percent tax repealed. She said the tax was an "unnecessary added financial burden" that non-menstruating people did not have.
Senator Winnie Brinks (D-Grand Rapids), one of the senators to introduce the bill, stressed that the repeal is about making essential hygiene products more affordable for Michiganders.
"Repealing the tampon tax increases the chance that we all have equal opportunities to participate *fully and confidently* in work, school, family and community life," Brinks said on Twitter. "Yes, it's about tax fairness, but it's really about justice."
At least 32 states have introduced measures to eliminate the tampon tax, according to Period Equity, a nonprofit dedicated to advancing menstrual access, affordability and safety in the U.S.
States generate approximately $120 million from the tampon tax annually, Period Equity reports. Michigan will lose out on about $7 million in tax revenue, according to WZZM.
"Over the course of a lifetime, the average menstruating Michigander will use 17,000 tampons. That's 456 periods, costing seven to $10 a month, adding up to between $3,360 and $4,800 over the lifetime," said Whitmer at the bill's signing.
She decided the benefit of driving down costs on essential products outweighs rearranging the state budget.
Roughly 3.5 billion persons around the globe have monthly periods. According to charitable organization Days for Girls, nearly 25 percent of all menstruators experience "period poverty." The term is used to describe the lack of access to adequate and affordable menstrual health products.
"Households that struggle to make ends meet should not have to make the difficult decision about whether to purchase menstrual products or pay for other necessities, like food, prescriptions or other medications, or diapers for a child," said Gilda Jacobs, president and CEO of Michigan League for Public Policy. "If a person does not have regular access to these medically necessary products, it can be dangerous, even life-threatening, as well as increase the stigma associated with menstruation, especially for our young teens."
Newsweek reached out to Planned Parenthood for comment, but did not hear back before publication.
Uncommon Knowledge
Newsweek is committed to challenging conventional wisdom and finding connections in the search for common ground.
Newsweek is committed to challenging conventional wisdom and finding connections in the search for common ground.