Michigan's COVID Hospitalizations Continue to Climb as Gretchen Whitmer Shuns New Lockdown
Michigan Governor Gretchen Whitmer has no plans to issue a new lockdown order anytime soon, despite the state's alarming hospitalization numbers.
Michigan hospitals were treating 3,780 COVID-19 patients as of April 9—more than a 400 percent surge from the state's hospitalizations last month on March 9, when 937 patients were in hospital, according to the state department of Human and Health Services.
Of those hospitalized, 19 percent are in an intensive care unit and another 9 percent are on a ventilator.
The spike in COVID-19 patients is part of a growing trend within the state. Last week, Michigan experienced its biggest week-to-week spike in hospitalization numbers since the pandemic began last spring.
Despite the surge in hospitalizations, Whitmer, a Democrat who advocated for strict stay-at-home orders in the past, has said she has no intention to roll back regulations for reopening Michigan. Currently, restaurants are allowed to operate at 50 percent capacity indoors, and the state's public schools have reopened.
Last week, Whitmer said the problem Michigan is facing isn't related to public safety measures but to "fatigue, mobility and variance."
"This is not a policy problem. Taking steps back isn't going to fix the issue," she said during an April 6 press conference.
A few days later, the governor urged residents to avoid indoor dining for the next two weeks and for high schools to consider moving online for two weeks as well, but she emphasized these were suggestions and not mandates from her office.
"To be very clear, these are not orders, mandates or requirements. A year in, we all know what works, and this has to be a team effort. We have to do this together. Lives depend on it," Whitmer said this past Friday. "There's light at the end of this tunnel, but the recent rise in cases is a reminder that we are still in the tunnel. That's the nature of this virus: The second we let our guard down it comes roaring back."
In a statement to Newsweek, Whitmer press secretary Bobby Leddy wrote, "Michigan already has some of the strongest public health measures in the Midwest. We still have a mask mandate, and we still have capacity limitations on indoor dining, indoor gatherings and entertainment venues."
Leddy added, "Just last week, Governor Whitmer doubled down on these policies by asking Michiganders to voluntarily take a two-week pause on high-risk activities to help us bring down our cases and hospitalizations."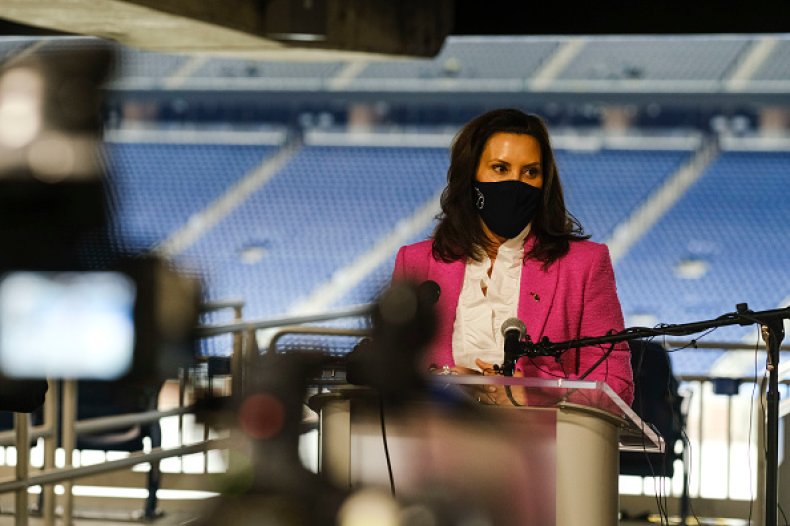 Whitmer has said she's been monitoring hospitalizations but suggested that the current figures do not warrant rollbacks. Michigan's hospitalizations peaked a year ago on April 8, when the state reported 4,365 COVID-19 inpatients.
"You know, we're talking to our hospitals every single day just to check in, see what the rates are, see if they're getting concerned," Whitmer said when asked about the possibility of new restrictions, according to MLive.com. "At this juncture...we do have hospitalizations that have gone up, but they're nothing like what we saw last spring, when we were so worried about our health system collapsing.... They're not even what we saw in the fall."
In the days following Thanksgiving, hospitalizations in Michigan rose past 4,000 again.
Whitmer has called on President Joe Biden to ramp up the state's supply of vaccinations, specifically the one-shot Johnson & Johnson dose, saying that the federal government needs to "surge vaccines to hot spots" like her state.
Michigan's vaccine tracker dashboard shows that 39.7 percent of the state's residents were vaccinated as of April 8. The state recently opened up vaccine eligibility to those 16 and older.
The rise in Michigan's infections appears to stem from the spread of the U.K. variant, which has been found to be more deadly and transmissible. The variant makes up 70 percent of the state's new coronavirus cases.
Michigan also has the highest number of U.K. variant cases, according to the U.S. Centers for Disease Control and Prevention.
This story was updated on April 12 with comments from Governor Whitmer's press secretary.