Michigan's Governor Whitmer Says She Doesn't Have 'Any Desire' to Serve in a Potential Biden Cabinet
Michigan Governor Gretchen Whitmer dismissed the possibility of serving in the cabinet of Democratic presidential nominee Joe Biden if he manages to defeat President Donald Trump.
Whitmer endorsed Biden, who served as vice president under former President Barack Obama, in early March during an appearance on MSNBC and served as one of his national campaign chairs. The Democratic governor's name was floated as a serious contender to be Biden's running mate, but Biden decided on Senator Kamala Harris of California instead.
"I will continue to be close to a Biden administration," Whitmer told reporters Tuesday afternoon. "But I don't have any desire or intent to go to a cabinet."
"I have every intent to stay right here and get this state back to work and make sure our economy is thriving, but first and foremost, we have to get our arms around this health-care crisis. That's what I'm going to work with the Biden administration on first," she said.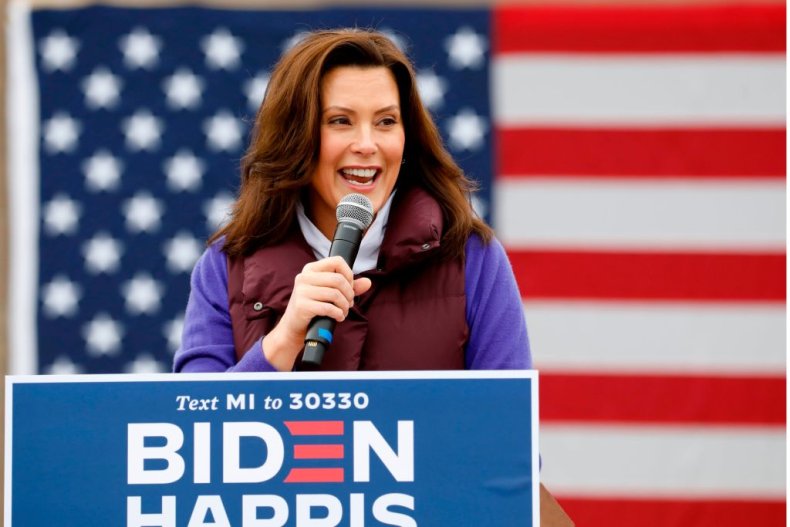 Newsweek reached out to the Biden campaign for comment, but it did not immediately respond.
Even as Whitmer underwent the vetting process as she was considered to be Biden's running mate, the governor repeatedly insisted that she was serving in the job she wanted.
"I'll be very frank with you: The job that I want is the one that I have," Whitmer asserted in an April interview with CNN. "I worked for two years to become the governor of the state of Michigan, and while it's been challenging and there've been some tough days, there's no place I'd rather be than right here in my home state," she said.
The governor also said Tuesday that she expects Michigan to see the largest voter turnout in the Midwestern state's history. "I'd be stunned if this wasn't a record turnout," Whitmer said.
Michigan's previous record for voter turnout was set in 2008, when 5.08 million Michiganders cast ballots during Obama's first election. As of Tuesday afternoon, some 3.2 million mail-in ballots had already been returned in the state, according to Michigan's Secretary of State. Millions more ballots are expected to be cast before polls close.
Although Trump carried Michigan by a narrow margin of less than 11,000 votes in 2016, Obama won the state in 2008 and 2012. Prior to those victories, Democratic presidential candidates had carried the state in every election going back to 1992. The latest polls suggest that Biden is favored to win the state—but many show his lead within the margin of error.
Notably, Whitmer's predecessor—former Republican Governor Rick Snyder—also endorsed Biden at the beginning of September. In an op-ed published by USA Today, Snyder described Trump as "a bully who lacks a moral compass." He wrote that Biden would bring back "civility" to the leadership of the nation.