Michigan's Gretchen Whitmer Faces New Battle Over Gun Ban Which Republicans Say Intimidates Their Voters
After Michigan's Secretary of State issued a ban Friday on the open carry of firearms near polling places, Republicans accused the administration of Democratic Gov. Gretchen Whitmer of attempting to intimidate voters.
Secretary of State Jocelyn Benson announced the ban on the open carry of firearms within 100 feet from polling places, clerk's offices and absent voter counting boards, according to CNBC. The ban only applies on Election Day.
"Fair, free and secure elections are the foundation of our democracy," Benson said. "I am committed to ensuring all eligible Michigan citizens can freely exercise their fundamental right to vote without fear of threats, intimidation or harassment."
Republicans have suggested that the ban intimidates Republican voters by making them decide between carrying a firearm and voting.
"The Democrat party has a history of voter suppression. It doesn't surprise me one bit that the Secretary of State is playing these cheap political games. The idea that she must prevent people from exercising their Second Amendment rights for our elections to be safe and secure is absolutely false. Secretary Benson is fear mongering to suppress voters, and it's appalling," State Rep. Beau Matthew LaFave of District 108 wrote in a Facebook post condemning the ban.
"The right to vote and the right to keep and bear arms are not mutually exclusive. No voter should be forced to choose between these fundamental principles. There's no way her ban passes constitutional muster," he added. "I have no doubt a lawsuit will be forthcoming."
In a Facebook post, Michigan Open Carry, Inc., an activist organization that promotes open carry, said it did not think that Benson was acting within her authority to make the rule.
"We do not feel the SoS has the authority, statutory or constitutional, to make this administrative rule," the organization said. "We are in the process of exploring all available avenues to rectify this 'rule.'"
Dean G. Greenblatt, corporate council for Michigan Open Carry, Inc., told Newsweek that "brandishing" a firearm is already illegal, and the Secretary of State's rule "goes beyond that which is already criminalized."
"Open carriers do so primarily to express a political viewpoint. It is this expression of a viewpoint that the Secretary's pronouncement is designed to suppress. According to Secretary Benson, voters with the political viewpoint that supports the 2nd Amendment and the lawful carrying of a holstered firearm can choose one of two options: 1) abandon their expression of political speech; or, 2) not vote. It is this Hobson's choice that is a clear violation of the constitutional rights of my clients," Greenblatt added.
Newsweek reached out to the Michigan Conservative Coalition for comment.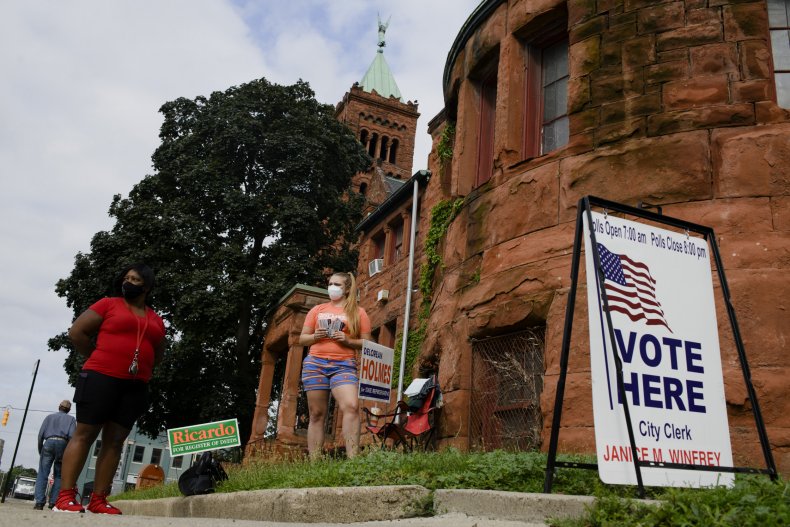 The ban comes in the wake of comments by President Donald Trump asking supporters to watch the polls on Election Day to ensure fairness. This request has led to fears of voter suppression on the part of Democrats. In response, groups like the NAACP and the Lawyers Committees for Civil Rights Under Law have planned to have their own poll watchers, according to WWMT.
"It sort of turns into an arms race, the president calls on Republicans to take an active roll in polls, so Democrats and Democratic-leaning groups are concerned those Republicans aren't going to follow themselves, so they want to make sure there's somebody there who can watch the process and make sure it works properly," John Clark, a Western Michigan University political science professor, told WWMT.
It is legal for citizens to watch polls, providing they are a registered voter, but not a candidate nor an election inspector. Poll watchers must also carry identification. They are not allowed to talk or even approach voters. Should they violate these rules, election officials can remove them from the polling place.
The ban also comes soon after the arrest of six men who allegedly plotted to kidnap Whitmer and try her for "treason." Though Whitmer accused Trump of inspiring the plot with his tweets like "Liberate Michigan!", another of the charged men was shown in a video criticizing Trump.
"Trump is not your friend, dude, and it amazes me that people actually, like, believe that," Brandon Caserta said in a video posted to Twitter by American producer and director Robby Starbuck. "When he's shown over and over and over again that he's a tyrant. Every single person that works for [the] government is your enemy, dude."
Trump himself also dismissed the accusations.
"I do not tolerate ANY extreme violence. Defending ALL Americans, even those who oppose and attack me, is what I will always do as your President! Governor Whitmer-open up your state, open up your schools, and open up your churches!" Trump tweeted.
Update (10/20/2020, 5:50 p.m.): This article has been updated to include comment from Dean G. Greenblatt.