Former Deficit Hawk Mick Mulvaney Admits Trump Admin Is 'Spending a Bunch of Money on Stuff We're Not Supposed To,' as U.S. Debt Soars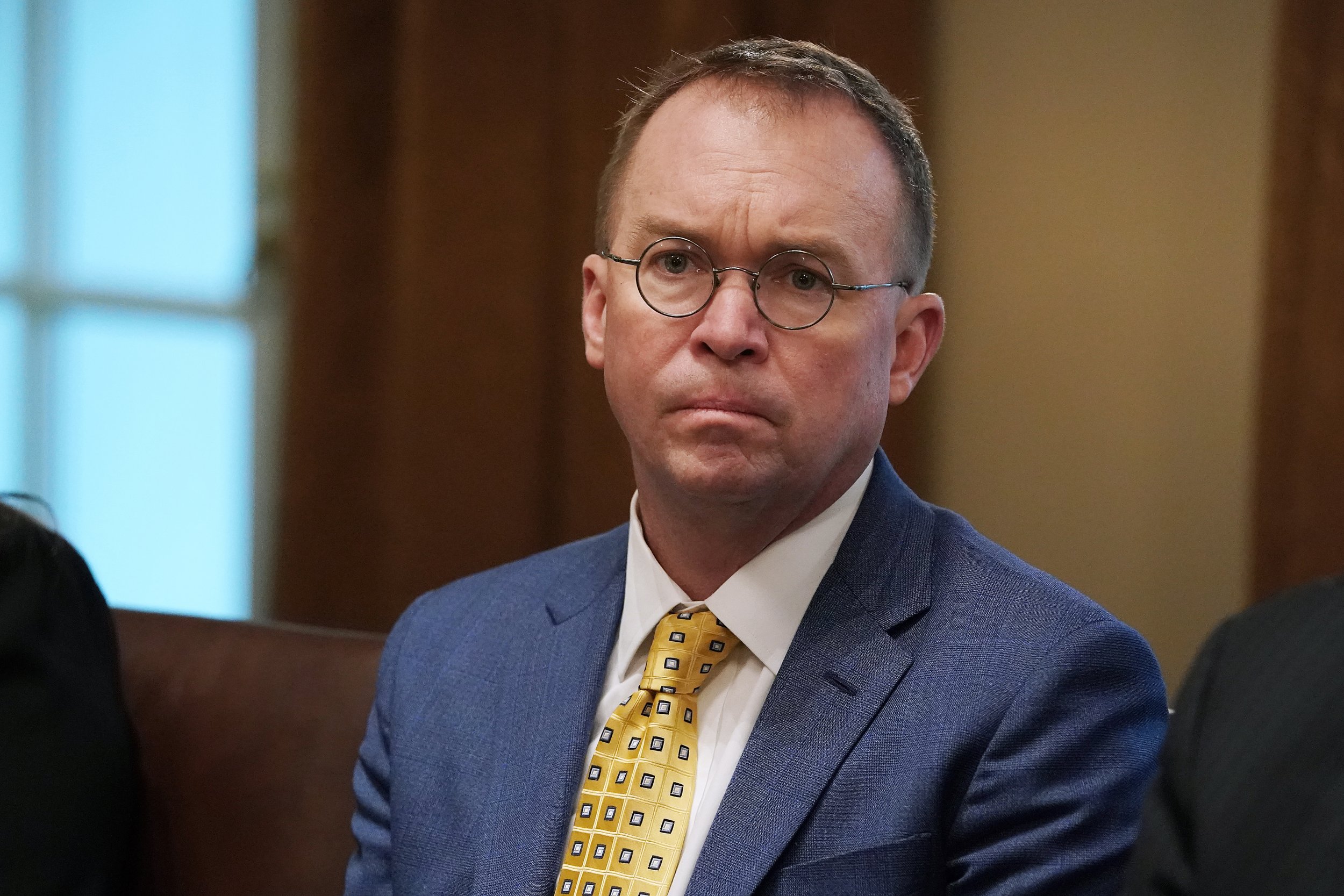 President Donald Trump's interim chief of staff Mick Mulvaney, founding member of the Freedom Caucus and former deficit hawk, defended the Trump administration's excessive spending bills and $1.5 trillion tax cut in an interview with The Atlantic Thursday.
The Trump administration, he said, is "spending a bunch of money on stuff we're not supposed to," and the former Tea Party congressman's colleagues "accused me of 'losing'" because of the excessive spending.
But, he said, "at least I'm losing at the very highest levels."
Mulvaney made his comments in response to Freedom Caucus Chairman Mark Meadows recent accusations that the former Office of Management and Budget director was "losing" after his administration helped contribute to a record-high national debt of $22 trillion.
"It sounds like my friend Mick Mulvaney is not winning on some of the fiscal issues down at the White House," said Meadows.
Spending hikes and tax cuts were responsible for 60 percent of this year's budget deficit. Without the Trump administration legislation, this year's budget deficit would have been the lowest since 2007, about $360 billion, instead of nearly $1 trillion, according to analysis by the Committee for a Responsible Federal Budget.
The Trump administration pushed for action to raise the debt ceiling this week, with Mulvaney at the helm, according to reports by The Washington Post. The U.S. government will likely spend $897 billion more than it makes in revenue this year, according to CBO projections.
Increasing the debt ceiling is necessary to pay back the debts the U.S. owes, but while in Congress, Mulvaney and the Freedom Caucus often held the debt ceiling hostage in exchange for spending-reform legislation.
Mulvaney isn't the first Republican deficit hawk to change his fiscal philosophy after working closely with President Trump. Former House Speaker Paul Ryan opposed spending increases and debt ceiling lifts while President Barack Obama was in office, but strongly supported Trump's large tax cuts and left Congress with a ballooning deficit.
"It's a great irony that not just Paul Ryan but Republicans who claim they care so much about the deficit have now presided over huge increases in the budget deficit," Maryland Senator Chris Van Hollen said at the time.
In The Atlantic interview, Mulvaney also described his plans to revive morale for White House staffers. He chronicled his installation of a popcorn machine in his office and his institution of office-wide happy hours.
"When I got here, morale wasn't what it needed to be," he said. He commented that he was having such a good time in his role that he had gained 10 pounds. "I eat more with the president now," he said. "He eats hamburgers all the time."