Mick Mulvaney Warns Bankers: I Only Spoke To Lobbyists Who Paid Me
Updated | Mick Mulvaney, acting head of the consumer finance watchdog, told a room full of bankers that the only lobbyists he met with as a congressman were those who made political donations to his office, and he urged them to continue lobbying lawmakers to weaken the regulator he runs.
Mulvaney, a former Republican lawmaker from South Carolina who sat in the House of Representatives between 2011 and 2017, was giving a speech to the 1,300 attendees of the American Bankers Association conference in Washington.
As well as acting director of the Consumer Financial Protection Bureau, Mulvaney is director of the Office of Management and Budget (OBM) after being appointed by President Donald Trump to the role in February 2017.
"We had a hierarchy in my office in Congress," Mulvaney told the conference, reported the New York Times. "If you're a lobbyist who never gave us money, I didn't talk to you. If you're a lobbyist who gave us money, I might talk to you."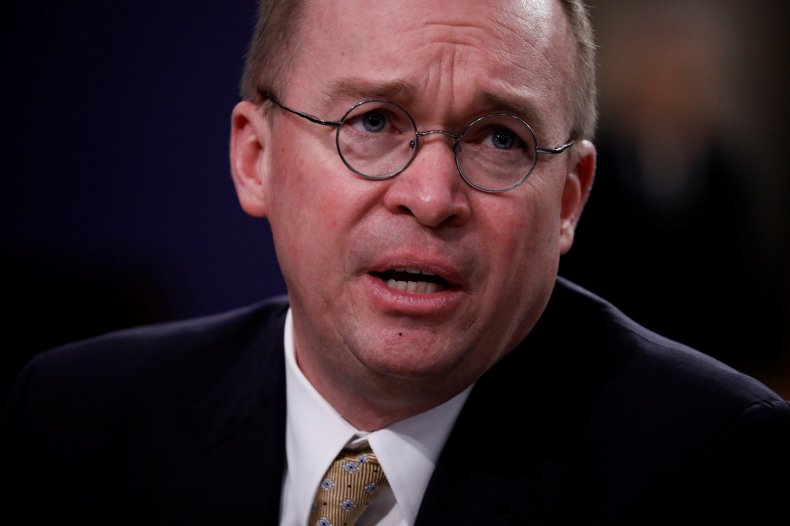 At the top of that hierarchy were his South Carolina constituents, Mulvaney said, whom he met with "without exception, regardless of the financial contributions."
Mulvaney's speech closed with an appeal to curtail the power of the consumer bureau, the New York Times reported, and said lobbying lawmakers is one of the "fundamental underpinnings of our representative democracy. And you have to continue to do it."
The OBM did not respond to a request for comment.
"Mulvaney's attitude is a thousand times worse for America than even Donald Trump," said Lawrence Lessig, founder of Equal Citizens, a campaign for democratic reform. "It is the perfect picture of all that is wrong with D.C.—and that will remain wrong with D.C., even after this administration is gone."
Lisa Donner, executive director of the Americans for Financial Reform campaign, called Mulvaney's leadership of the bureau "an absolute scandal."
"The harm that comes to the American public, because he does not want to take action against Wall Street banks and predatory lenders who abuse customers and break the law, grows each day," Donner said in a statement to Newsweek.
"Mulvaney just said that his time as a member of Congress was for sale, and he's taken money from the very companies he's now supposed to be overseeing at CFPB.
"He should resign or be removed swiftly. The president needs to nominate a director with a track record of protecting consumers now, and submit it to the Senate for consideration."
The Consumer Financial Protection Bureau was set up in 2010 out of the Dodd-Frank Act and was a response to the financial crisis.
As well as educating consumers about their rights and guiding them through financial decisions, it takes enforcement action against finance companies found breaking the law, securing compensation for victims of malpractice.
But the banking industry argues that the bureau is overreaching on its powers and is too aggressive, causing unnecessary damage to financial firms, a position Mulvaney agrees with.
"I intend to exercise our statutory authority to enforce the laws of this nation," Mulvaney wrote in the Wall Street Journal in January.
"I intend to execute the statutory mandate of the bureau to protect consumers. But we will no longer go beyond that mandate. If Congress wants us to do more than it set forth in the Dodd-Frank Act, it can change the law.
"The CFPB has a new mission: We will exercise, with humility and prudence, the almost unparalleled power Congress has bestowed on us to enforce the law faithfully in furtherance of our mandate. But we go no further. The days of aggressively 'pushing the envelope' are over."
This article was updated to include a comment from Lawrence Lessig and Lisa Donner.