Records show that Maggie Mulvaney, the niece of former Acting White House Chief of Staff Mick Mulvaney, played a key role in the "Save America Rally" on January 6 that occurred prior to President Donald Trump's supporters storming the U.S. Capitol.
Trump has been accused of inciting the Capitol riot with a speech to supporters of the rally held at the Ellipse. During the event, which was organized by the nonprofit Women for America First, the president urged his followers to "fight much harder" and walk down to the Capitol amid his baseless allegations of election fraud.
Violent pro-Trump rioters broke into the Capitol building hours later, forcing lawmakers to evacuate. The siege left five dead, including a police officer.
Maggie Mulvaney was listed as a "VIP Lead" in a Park Service permit granted for the event, according to an Associated Press review of records.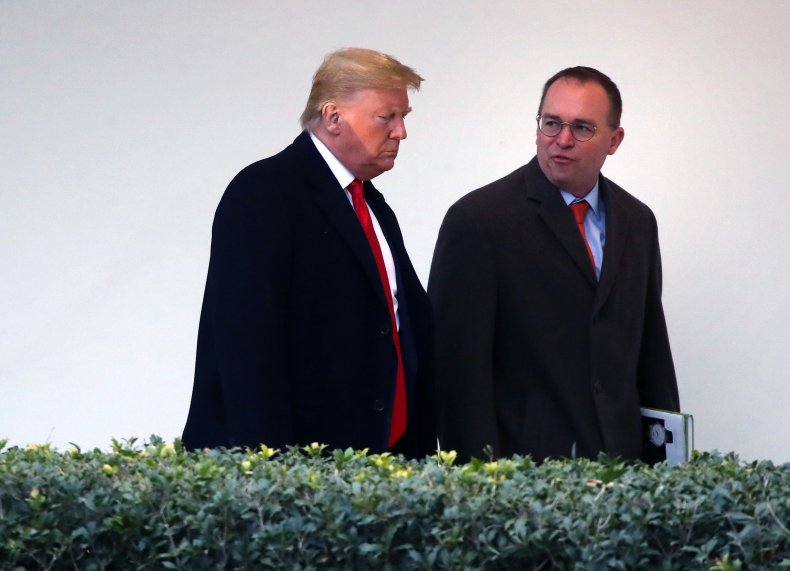 Since the incident, Maggie Mulvaney and several others figures listed in the document have attempted to distance themselves from the event. As of last Monday, she had suspended her Twitter account, which retweeted a slew of posts on January 6. However, the account reappeared recently after the AP questioned her about the removal.
The news outlet cited FEC records in reporting that Maggie Mulvaney was paid $5,000 by the Trump campaign every fortnight, with the latest payment made on November 13.
Maggie Mulvaney worked for Trump's 2020 campaign as a director of operations and manager of external affairs, according to her LinkedIn account.
Newsweek reached out to Women for America First for comment. This story will be updated with any response.
A day after the riot, Mick Mulvaney resigned as Trump's special U.S. envoy to Northern Ireland. "I can't do it. I can't stay," he said in an interview on Squawk Box. "Those who choose to stay, and I have talked with some of them, are choosing to stay because they're worried the president might put someone worse in."
Trump's reelection campaign denied its involvement in organizing, operating or financing the rally, which drew thousands of people. In a statement to AP, the campaign insisted that staff members were not involved in the event and that all former employees that took part "did not do so at the direction of the Trump campaign."
Caroline Wren, another name listed on records for the event, deleted posts or upped the privacy settings on her social media accounts in the aftermath of the siege. The AP reported that Wren had previously shared tweets that referred to or promoted the rally.
Trump became the first president to be impeached twice on Wednesday, after the House charged him with "incitement of insurrection" for his involvement in the attack on the Capitol. Ten House Republicans crossed party lines to vote with Democrats for one article of impeachment.