Mickey Rourke Accuses Amber Heard of Being a 'Gold Digger' After Verdict
Mickey Rourke has accused Amber Heard of being a "gold digger," following her high-profile defamation trial with ex-husband Johnny Depp.
Depp, 59, filed a $50 million lawsuit against Heard, 36, over a 2018 op-ed in The Washington Post, in which she said that she was a survivor of domestic abuse.
Following a six-week trial, the jury on June 1 awarded Depp $10 million in compensatory damages and $5 million in punitive damages. The judge adjusted the punitive damages to $350,000, as Virginia law limits punitive damages.
Heard, who had countersued for $100 million, was awarded $2 million by the jury, which found that Depp's former attorney, Adam Waldman, had made defamatory comments about the Aquaman star.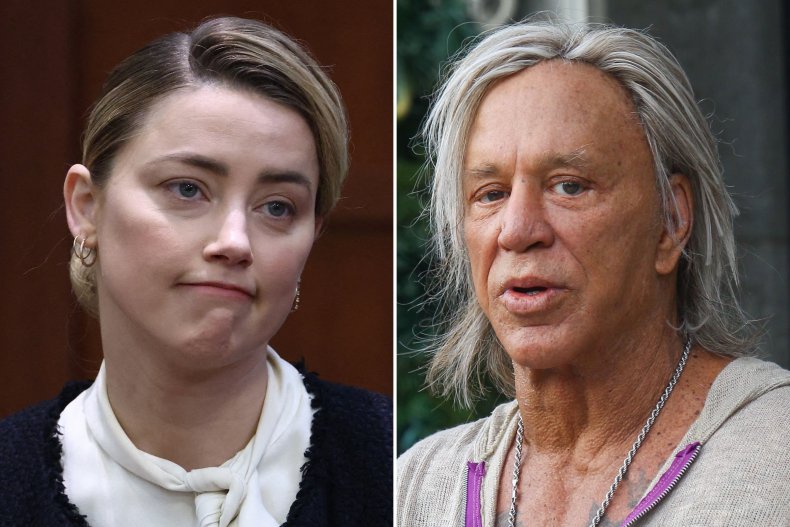 During an appearance on British TV show Piers Morgan Uncensored, the second part of which was released on Tuesday, host Piers Morgan asked The Wrestler star Rourke for his thoughts on the trial and its outcome.
"I know Johnny for many years, but I don't really know him intimately," Rourke, who had criticized Tom Cruise earlier in the interview, responded.
"All I could say is, I was in a situation one time where I was blamed for something that I didn't do," Rourke went on. "It cost me movie jobs for several years and it [gave] me a bad reputation. And finally the truth came out, but the truth came out after I lost movies and I lost jobs.
"And so I felt bad for somebody that is trying to get chopped down by some gold digger, you know?"
"Do you think that's what she was?" Morgan asked, prompting Rourke to drop an expletive before correcting himself to respond: "Absolutely."
Newsweek has contacted a representative of Heard for comment.
During Depp and Heard's court battle, the exes leveled a series of allegations at one another, including accusations of domestic violence. Both Depp and Heard, whose divorce was finalized in 2017, have consistently denied the allegations.
The legal team representing Heard recently moved to declare the process a mistrial, stating in court documents that someone who had been originally summoned to serve as a juror in the trial had not appeared and was replaced by someone else.
Depp's lawyers responded on Monday to Heard's request for a new trial, submitting a 36-page memorandum arguing that the actress' request was "outlandish."
"Mr. Depp respectfully submits that the Court should deny Ms. Heard's Post-Trial Motions, which verge into the frivolous," it added.
Additionally, Depp's team addressed Heard's claims that the damages were "excessive," saying: "While Ms. Heard slings an exceptional amount of mud at the wall in the hope that something might stick, the jury's verdict on damages was perfectly reasonable and supported by the evidence and testimony in this case."
Texas native Heard's lawyer, Elaine Bredehoft, has publicly stated that Heard is unable to pay Depp the full amount that she owes him.