Mickey Rourke has shared his memories of Vladimir Putin being "a man with empathy" while discussing the Russian president's invasion of Ukraine.
Putin has faced widespread condemnation from world leaders and members of the public alike, after launching military action in neighboring Ukraine in February.
As the shelling continues, Rourke, 69, told Fox News Digital in a recent interview that the war was a "nightmare kind of scenario" as he also praised Kyiv Mayor Vitali Klitschko and his brother, Wladimir Klitschko, for defending their country from invading troops.
However, Rourke, who was photographed wearing a T-shirt with Putin's face on it back in 2014, also said that he had positive memories of meeting the Russian leader.
"He took us to a very famous museum in St. Petersburg," Rourke said of meeting Putin. "And then later he took me to a children's cancer hospital. And we went in there and visited the really, really sick, little, tiny, tiny kids.
"I looked over at him and I saw him and, nobody's going to want to hear this, but I saw a man with empathy and who was really moved by what these children are going through."
Rourke, who sat down for the interview while promoting his new movie Man of God, said that he was praying for Putin to end the war.
"When I pray at night, I pray, 'Please, God, give, you know, let him find something inside his soul to just say, 'OK, that's it,'" the screen star said.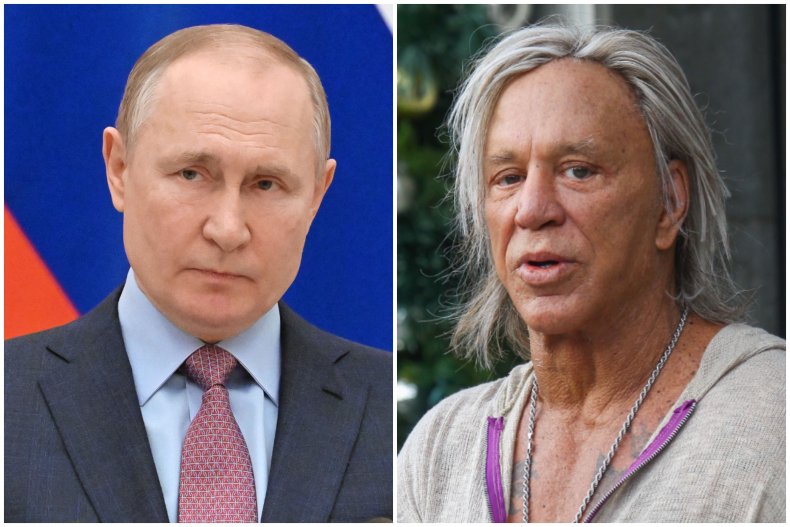 While Rourke said that he is not in favor of the military strikes in Ukraine, the actor and former boxer said the people of Russia should not be vilified because of the actions of their leader—particularly as they're bombarded with misinformation from state-run media.
"You can't hate every f****** Russian, 'cause most of them don't know what's going on," he said. "That was different than the rest of the world sees, but I also see what's going on now. So to me, it's like a nightmare kind of scenario."
Turning his attention to the Klitschko brothers, Rourke said that he knows the Ukrainian brothers "very well," saying that the former boxers are "not afraid to die."
"I mean, look, they have enough money where they could have gotten on a private plane and got the f*** out of there," the Sin City actor said. "And [when] I hear them talk, they're not frightened, they're angry and they're gonna, they'll take a bullet. It's written all over their faces."
"They're not afraid to die," he went on. "And I think that's the way the rest of Ukraine is also, but they're setting an example of, 'you're gonna have to kill me first.' And that's a very dangerous kind of adversary to beat, especially when you're on your homeland."
Rourke's movie promotional duties also saw him on Friday sit down for an interview on Newsmax, where he shared more of his views on the invasion of Ukraine.
Speaking with America Right Now host Tom Basile, Rourke shared his belief that it will likely take a divine intervention for the conflict to come to an end.
"I don't really believe this thing can be settled diplomatically myself," Rourke said, per The Wrap. "Putin is very—he wants what he wants. Ukraine is fighting harder than anyone expected them to fight.
"The Ukrainians are putting up such a hard fight. I don't care if there's two of them left, they're going to fight until they're dead. I was thinking about it a lot, and what came to me is the only thing that is going to stop this madness, when it's the right time, it will be stopped from above, not from down here."
Follow our live blog for updates on the Russia-Ukraine conflict.