Microsoft Is in Second on Consoles, and It Hopes PC Gaming Has the Fix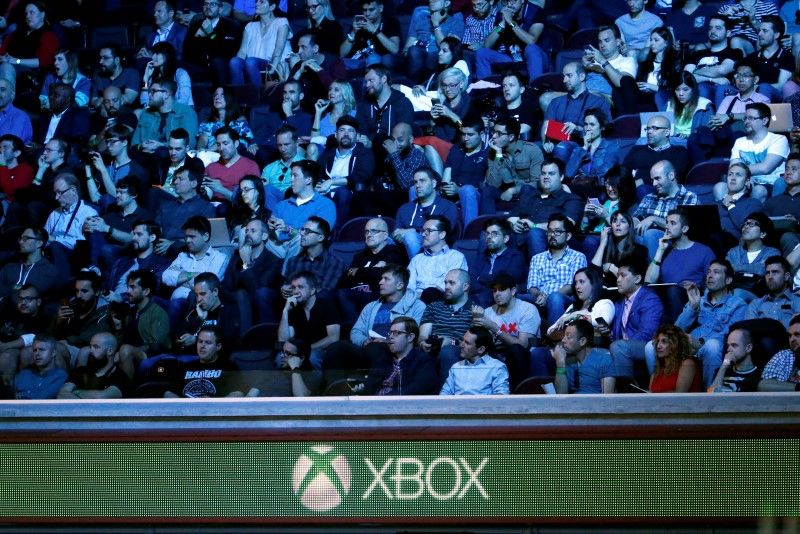 In 2001, The New York Times said the Xbox was "anything but a sure thing." Fifteen years later, this is still true. Microsoft spent a lot of time during the annual Xbox E3 briefing emphasizing its renewed commitment to a very sure thing: the PC. For Microsoft, PC means "place where we have cash." It's often reported how Microsoft has lost billions on the Xbox brand. The home console venture seems to have a long history of doing poorly on earnings but thriving in living rooms nonetheless. Such is the case for the Xbox One, with modest estimates putting it some 18 million units behind Sony's PlayStation 4. But Microsoft is still hoping to put PC-style gaming in your living room.
As the Xbox came to market, it found a foothold online, and PC gamers were voice-chatting over the internet. So Microsoft brought the tech to consoles and called it Xbox Live. It quickly changed the way its audience played games and the way its competitors made them. Sony's PlayStation Network service tried to catch up for years. Today, Microsoft is launching several new initiatives combining console and PC gaming in the hopes it will help the company catch up with Sony.
E3 2016 saw the introduction of Microsoft's Xbox Play Anywhere program. Through Play Anywhere, you can buy a digital version of a game online and play it both on a PC and a console. The Xbox division is really in the business of selling games, not consoles. It's an open secret that console hardware sells at a loss. And PCs represent the largest audience of potential game buyers, with nearly 1 billion PC gamers worldwide. When you're behind by 18 million, that's an encouraging pool to fish in for customers. And because Microsoft is Windows, it owns the pool they swim in too.
Microsoft has already begun to leverage its desktop dominance into console exclusivity with the launch of mods for Bethesda Game Studios' Fallout 4. Mods are basically the love letters of gaming. They're additional content for a game, ranging from stories and quests to cosmetic changes to absurd juvenile humor, all created by fans on their own computers with their own time. It's an egalitarian community; frequently, mods are available free of charge or for a modest suggested donation. They're like NPR without the pledge drives.
Just like the advantage of voice chat in 2001, mods give PC gamers a tremendously attractive perk that console gamers would love to have. Todd Howard, the head of Bethesda Game Studios, told Newsweek earlier this week there have been nearly 20 million downloads on Xbox since the program launched last month. There's a thirst for this content, and Microsoft is uniquely positioned to control the supply. Mods may eventually find their way to Sony's platforms, but for now it's Microsoft's court.
The short-term problem for Microsoft is that the Xbox One hardware is not the same as a PC. Mods often require the latest and greatest hardware to function, and PC users frequently upgrade things like video cards and RAM. No such upgrades come to consoles, and they exist in an archaic market space compared with other consumer electronics. Microsoft's previous console, the Xbox 360, was on the market virtually unchanged for nine years. Can you imagine Apple releasing one iPhone every decade?
The smartphone boom of the last decade proves that consumers are willing to upgrade their high-end electronics more than once a decade. And in order to make the Xbox One into the mod machine Microsoft wants it to be, it needs an overhaul. The end of Microsoft's E3 presentation debuted Project Scorpio, an Xbox console expected to launch in 2017. The video package for the announcement included industry luminaries like Howard espousing the virtues of the powerful system. Sony has a new console in the works too, but current rumors suggest it's about a third as powerful as Microsoft's Project Scorpio.
It's clear that Microsoft—which is pushing its console to look more like PC gaming—is putting a lot into getting out of second place.