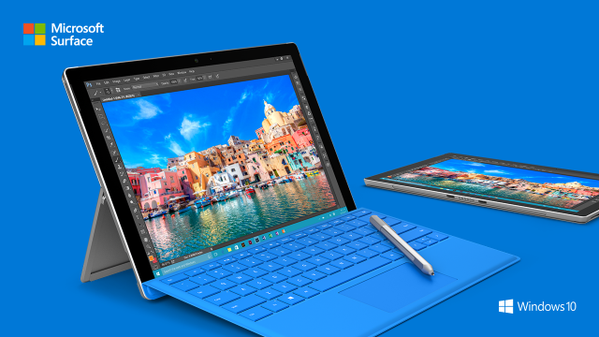 First, hold your horses. Both the Surface Pro 4 and the iPad Pro have not hit the stores yet. The Surface Pro 4 comes out on October 26 (although you can pre-order now) and the iPad Pro comes out in November.
But you, eagle-eyed tablet lover, know it's never too early to start doing your homework. While the iPad Pro is an enticing selection with which you can't go wrong, here are four reasons why you should think about the newest Surface Pro.
1. Selfie game is stronger on Surface Pro: It's still considered a faux pas by some to take photos with your tablet, but that gripe is losing its grip. The iPad Pro provides a 1.2 megapixel front-facing camera, but Surface Pro 4 has higher-resolution 5 megapixel camera. While megapixels aren't the end-all-be-all of photo quality, they do make a huge difference.
2. Surface Pro runs the full Windows 10: It can't be understated how powerful Surface Pro 4 is, compared with other tablets on the market. The iPad Pro (and all past iPads) will run iOS 9, a mobile operating system that has a lot less power than the desktop's OS X. In terms of operating system, the Surface Pro 4 should be compared more with the MacBook Air than the iPad Pro.
3. Surface can store up to 1 terabyte: Yes, 1 terabyte! You don't see that much storage on laptops these days. (And speaking of laptops, Microsoft's laptop Surface Book also has 1 terabyte of storage.) The iPad Pro, meanwhile, goes up to 128 GB, a relatively modest amount. It's unclear how much a 1 TB Surface Pro 4 will cost (one rumor says it is may be a whopping $3,199).
4. The keyboard and the pen are cheaper: One of the main selling points of the past Surface Pros has been the attachable keyboard. While the keyboard does not come with the Surface Pro 4, it is available for $130, which is $40 cheaper than Apple's Smart Keyboard. But an even bigger point for Microsoft is the new Surface Pro Pen, which comes included for free in the Surface Pro 4. Apple Pencil, meanwhile, will cost you $100.