Microsoft Suspends Sales in Russia, Continues Helping Ukraine Cybersecurity
Microsoft has announced in a statement on its website that it will suspend the sale of all of its products in Russia amid a growing technological boycott of the country.
In the statement posted on Friday, president and vice-chair Brad Smith reaffirmed support for the Ukrainian government and the company's partnership with supplying cybersecurity help to the nation.
"We are coordinating closely and working in lockstep with the governments of the United States, the European Union and the United Kingdom, and we are stopping many aspects of our business in Russia in compliance with governmental sanctions decisions," wrote Smith. "Since the war began, we have acted against Russian positioning, destructive or disruptive measures against more than 20 Ukrainian government, IT and financial sector organizations. We have also acted against cyberattacks targeting several additional civilian sites."
These attacks, Smith says, could be a violation of the Geneva Convention. Because of this and other potential law violations, Microsoft has begun dispatching other aid teams to the region.
"Our Microsoft Philanthropies and UN Affairs teams are working closely with the International Committee of the Red Cross (ICRC) and multiple UN agencies to help refugees by providing technology and financial support for key NGOs and, where needed, we are defending these groups from ongoing cyberattacks," he said.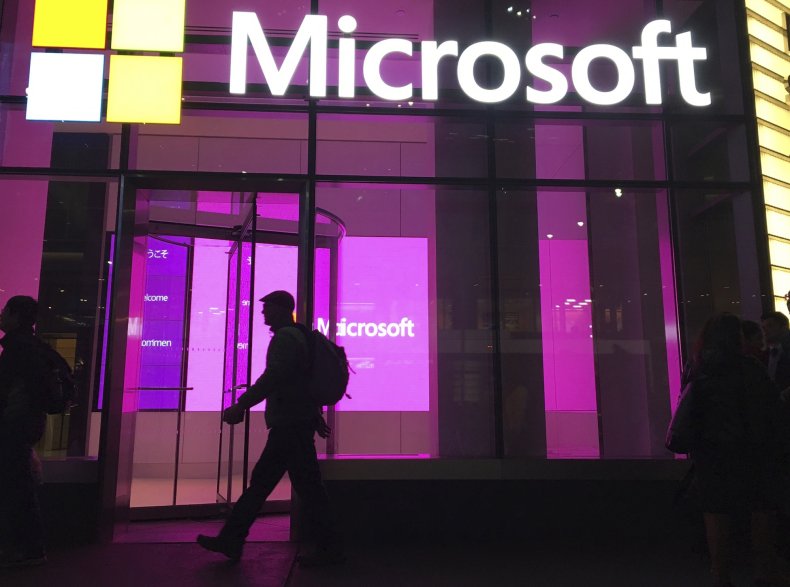 Microsoft is far from the only tech company to suspend services in Russia amid the ongoing conflict. Newsweek previously reported that Apple was asked to stop the sale of all its products in Russia by Ukrainian officials, who have also asked CEO Tim Cook to block Russian access to the App Store.
"I appeal to you and I am sure you will not only hear, but also do everything possible to protect Ukraine, Europe, and, finally, the entire democratic world from bloody authoritarian aggression," wrote Digital Transformation Minister Mykhailo Fedorov to Cook, "to stop supplying Apple services and products in the Russian Federation, including blocking access to App Store!"
Apple has not publicly commented on these requests, and Newsweek was unable to receive a response from the company after prior attempts at contacting them.
Google also recently announced that it was expanding cybersecurity efforts in Ukraine, while also suspending some services in Russia. Facebook has also publicly condemned the invasion into Ukraine, but will not shut down its services in Russia in order to assist anti-government protesters organizing events.
Update 3/4/22 at 12:00 p.m. ET: This article was updated to include more information on Microsoft's cybersecurity efforts.