Microsoft's 'Malware-like' Windows 10 Automatic Upgrades Cost Anti-Poaching NonProfit Thousands, Group Says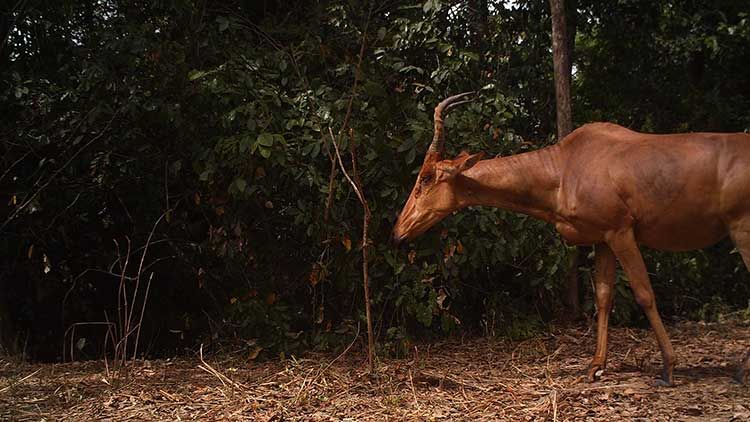 Updated | The Chinko Nature Reserve is a pristine area lying in the center of Africa, unperturbed for millennia by civilization. Located in the southeastern part of the Central African Republic, the reserve is over 400 miles from the country's capital, Bangui, to the west and touches South Sudan to the east.
The reserve is home to dozens of species, including African elephants, Lelwel hartebeests and leopards. These animals are under constant threat by ivory poachers, bushmeat sellers and armed cattle herdsmen from Sudan. A nonprofit called the Chinko Project resides in the reserve to educate the herdsmen and monitor poachers via planes. But in the past week, the Chinko Project has been dealt with an unexpected threat: Microsoft.
Last week, Chinko Project's computers discreetly downloaded 17.4 gigabytes of Microsoft's Windows 10 software, because Microsoft has been upgrading Windows 7 and 8 computers to the software's latest version when the machines are set to accept automatic updates. In the United States, such downloads are hardly a big deal. But considering the nonprofit pays its satellite internet provider by the megabyte for downloads, over 17,400 megabytes could cost the cash-strapped organization up to $87,000 in one estimation.
But the outrage goes beyond the monetary damage, according to Brian, the Chinko Project's part-time pilot and makeshift IT expert. Had he not caught the computers automatically installing Windows 10 and stopped it from resetting the computers, the damage could have been much worse. "If a forced upgrade happened and crashed our PCs while in the middle of coordinating rangers under fire from armed militarized poachers, blood could literally be on [Microsoft's] hands," he wrote on a Reddit post over the weekend.
(Brian asked that his last name not be used for personal reasons because he has such a dangerous job. He also asked if Newsweek could share the Chinko Project's Indiegogo campaign to raise $50,000 to repair a damaged plane and to rent another plane.)
As a pilot who delivered medical services to villages in rural Tanzania and worked in non-flying jobs in Antarctica, Brian is an expert on flying in remote regions without on-the-ground coordination. He tells Newsweek via Skype that he signed up with the Chinko Project to fly planes to patrol the forests for armed poachers. At present, he works on IT matters after one of the two planes was damaged in May by a hard landing on the airstrip, which disfigured the propeller and wheels.
Microsoft issued a statement to Newsweek that said the Chinko Project had the "choice" to turn off its computers' default setting for automatic updates. "The Windows 10 upgrade is a choice—designed to help people take advantage of the most secure and most productive Windows," a Microsoft spokesperson says. "People receive multiple notifications to accept the upgrade and can reschedule or cancel the upgrade if they wish."
Brian, who arrived at the Chinko Project in late April, when his designated plane made the hard landing, says the responsibility shouldn't fall solely on his colleagues, a large portion of whom are local Africans. "A lot of the local staff—who grew up in the bush in tiny villages—don't have any computer savvy at all and wouldn't even know what version they were running," he writes.
Sharing a screen shot of Microsoft's alert on upgrading to Windows 10, Brian noted that only the vigilant and tech-savvy will know to click on the tiny "here" button to cancel the upgrade. "Most will click the X [to exit out of the alert], and local villagers trained to use the software on these PCs have no clue," he says.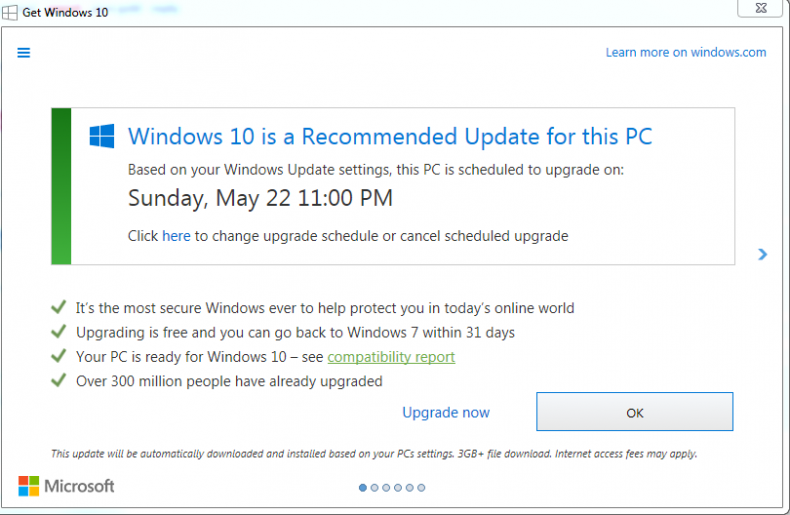 Thanks to the viral spread of Brian's original Reddit post, which prompted him to do a follow-up "Ask me anything" post, some Microsoft employees reached out to him to lend some unofficial help. Some say they plan to use this incident to talk about the automatic upgrades—which have been compared in the press to "malware-like tactics." There were even users who said they would ask if Microsoft can reimburse the internet service cost and other IT needs, according to Brian.
But first Brian will need to figure out the exact cost, and that has proved to be a challenge. He says he doesn't know what internet provider is used and how much it costs. "Basically, the norm for trying to operate an NGO in a place like this: roadblocks for the simplest things everywhere," Brian writes. (Some Redditors found internet providers charge between $1.75 and $5 per megabyte—or $30,450 to $87,000 for 17.4 gigabytes.)
In the end, Brian expressed skepticism that Microsoft will make changes to its Windows 10 upgrading, but he said he was heartened by the global interest in this issue. "I never expected this attention, but I've been blown away by the kindness of the people who dug deep into the comments and found the link for our crowdfunding," he says. "We're so far away from everything here. This has been a crazy connection to so many people."
The article originally incorrectly stated that Brian flew operations in Antarctica and monitors Joseph Kony's Lord Resistance Army (LRA) for Chinko Project. Brian worked in non-flight jobs in Antarctica and the LRA merely operates around the Chinko Nature Reserve. The article also said the plane was damaged in late April. It was actually damaged in early May.