Microsoft's New Fifth Avenue Store Is a Giant Playground for Nerds
Imagine an Apple store mated with a rowdy gaming hub and somehow landed on a stretch of Manhattan's toniest luxury retailers.
You'd wind up with the new flagship Microsoft Store, which opened Monday on a spot of prime New York real estate that once housed a Fendi location. Though not the first retail storefront for the Apple rival, it is perhaps the most strikingly located—nestled between a Stuart Weitzman and a Tommy Hilfiger on the corner of 53rd Street and Fifth—and the biggest, with three stories and more than 20,000 square feet of merchandise space.
I expected to see a modest crowd on opening day. Instead, swarms of customers and spectators, numbering in the low hundreds, gathered in the new store as rock and pop music blared, making it difficult to navigate from the grand glass doors to the main displays. Outside, a line of gamers, nearly all men, stretched all the way to Madison Avenue. They were awaiting the October 27 release of the Halo 5: Guardians shooter game.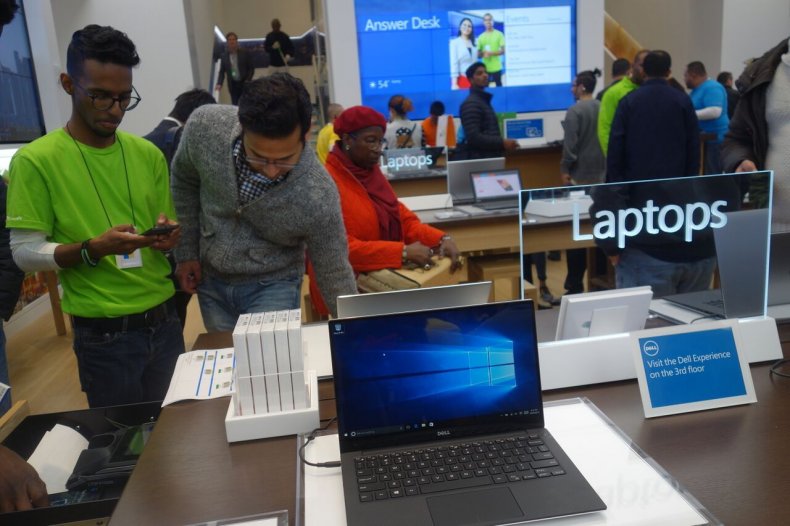 The store's main level seemed to borrow the most from the Apple Store, which is just up the street at 59th Street. Much of the main floor is filled with wooden stools and open tables, where customers can demo Microsoft computers, including the new Surface Book laptop. The decor is neat and clean, though the dark blue color scheme contrasts with the sleek white Apple Store. There are no busy aisles of merchandise. Most of the additional products are shelved on the walls—from the HoloLens, a mixed-reality headset, to more kid-friendly fare, like the LEGO Minecraft—with an "Answer Desk" awaiting customer queries in the back.
A staircase emblazoned with dramatic stills from the Halo game leads up to the second level, which more closely resembles the GameStop stores in the malls of your youth. Employees call it the "Xbox Experience"; the walls are filled with screens for demos and racks of packaged games. A father helped his son try out a soccer game for Xbox 360, while just a few feet away employees scurried into action to accomodate the event for Halo fans.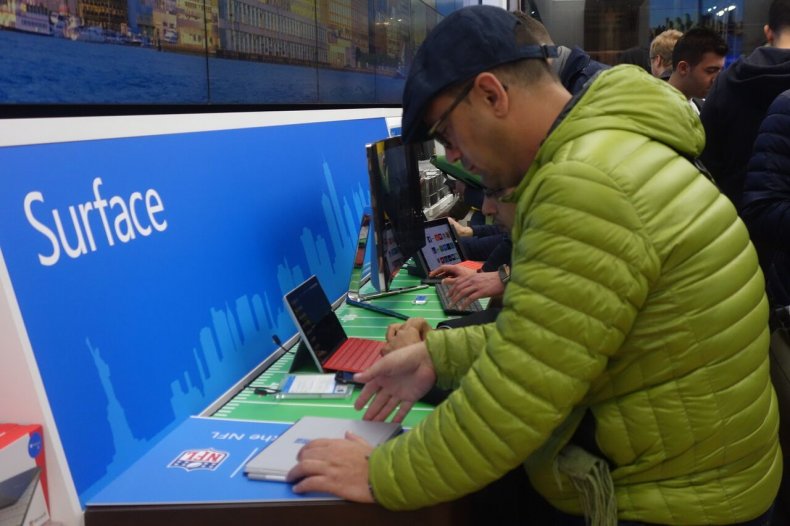 There is another help desk on this level, where staffers will even help customers with their iPhones and other non-Microsoft devices. An elevator leads to a somewhat hidden third level devoted to Dell computers and a vertical screen spotlighting Alienware, Dell's hardware division.
The retail strategy has not been a great success for Microsoft in the past, though customers at this store seemed enthusiastic about its prospects.
"I like it a lot more than the Apple store because I feel like there's a lot more community," said 23-year-old Sarah Sanon, who was examining the Lenovo Yoga laptop with some interest. "There's people playing games. It just seems more alive than the Apple store."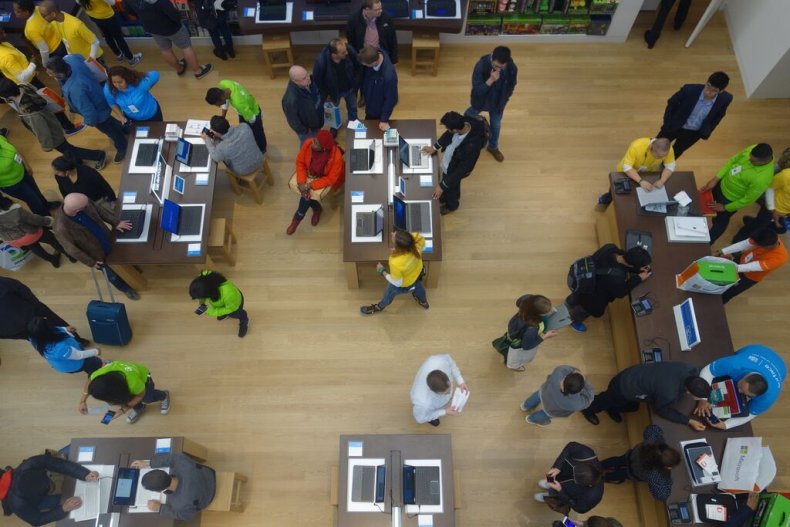 Elman Isakov, who was considering buying a Dell XPS 15 computer, said he noticed the Microsoft storefront while walking in the neighborhood and looked online to see when it would open. "I didn't expect it to be so showy," he said of the store. "There's more color to it compared to Apple, which is more plain."
Software developer Mitchell Lampert said the store seemed similar to the Microsoft store in White Plains, where he lives.
"If they had a demo of the HoloLens, that would be cool," he said.
"The Microsoft store in Westchester when it first opened felt too much like an Apple store ripoff," Lampert added. "This store does veer from that kind of mentality a little bit. They are going in their own little funky, wild direction."