Microsoft's New Permanent 'Remote Work Policy' Could Devastate Host Communities
Microsoft's decision to allow employees to work remotely on a permanent basis is part of a trend that could lead to widespread economic changes.
The area surrounding the corporate headquarters, like others across the country where employers are adopting permanent remote work, may see business closures and job losses.
"When you go to the community around it, that is potentially devastating," said Carl E. Van Horn, Distinguished Professor of Public Policy and the director of John J. Heldrich Center for Workforce Development at Rutgers University. "In many places, the businesses grow up almost across the street from the mothership, and then no one's coming there anymore, going to and from work, or during work or lunch time. That's a big problem."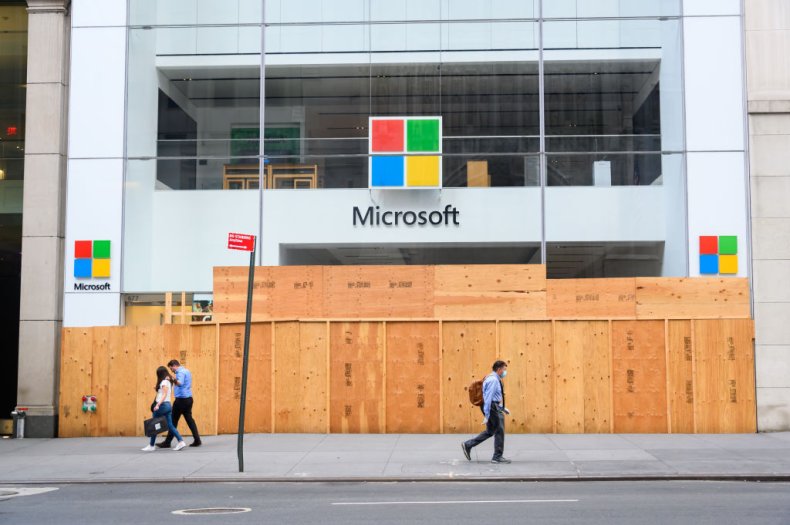 The impact on the neighborhoods immediately surrounding corporate locations when there is a dramatic drop in the number of employees coming and going can be dramatic, he said.
"It's not as easy to tap into that spending in a physical location because the workforce is spread out all over the place," Van Horn told Newsweek. They're not concentrated in one place throughout the day."
Microsoft's hybrid model is intended to offer flexibility to employees and allow some to continue to work remotely, rather than return to the workplace when others do.
In a blog post on Friday, Microsoft's Chief People Officer Kathleen Hogan detailed the company's new policy, which she called "guidelines," with remote work requiring manager approval.
"We recognize that some employees are required to be onsite and some roles and businesses are better suited for working away from the worksite than others," she wrote. "However, for most roles, we view working from home part of the time (less than 50%) as now standard–assuming manager and team alignment."
Van Horn said he's been hearing for months about the advantages and pitfalls of remote work.
Businesses have learned that employees can be very productive when not coming into the office. Working remotely has also struck a chord with employees as well, allowing them to save time because they don't have to commute, and giving them more opportunity to be at home for more of the day to spend time with family.
But there are exceptions. People working remotely with school-age children must help with schooling at home, which makes for extremely long days.
"In general, having children at home both stresses out the workers and their productivity," Van Horn said. "The quality of their work may decline because they're trying to do too many things over too long a period of time."
Van Horn said the lack of "water cooler interaction" that generates ideas and produces solutions between and among departments is a significant loss for companies who are trying to replace that environment.
"It's hard to capture that creativity on a Zoom call or on a scheduled event," he said, "because it's literally happenstance."
Van Horn said the trend in shifting to remote work accentuates the serious societal and equity issues of accessibility and affordability.
"All of this means that those who don't have the broadband internet and devices in their homes or apartments are disadvantaged even more than they were before," he said. "To me, that's worrisome."
Microsoft has its corporate headquarters in the suburbs of Seattle, in Redmond, Washington. It has 97,867 employees in the U.S., 58,248 of them in the Seattle area, which it lists as Puget Sound, and 166,175 employees worldwide, according to the company's website.
Households in the Seattle-Tacoma-Bellevue, Washington, metropolitan area spent an average of $84,864 per year in 2017-18, significantly higher than the $60,580 average expenditure level for U.S. households, who spent their money on similar items such as food, clothing, housing, and other items, the U.S. Bureau of Labor Statistics,reported in November 2019.
Microsoft stock (NASDAQ:MSFT) closed 215.81 up 5.23, or 2.48 percent.
Microsoft announced in July that for its fourth fiscal quarter of 2020, ending June 30, 2020, it had revenue of $38 billion and a net income of $11.2 billion.
Last month the company said it would pay a dividend of 56 cents per share payable Dec. 10, 2020.
In May, Twitter told employees they would be allowed to work remotely "forever."
"So if our employees are in a role and situation that enables them to work from home and they want to continue to do so forever, we will make that happen," Jennifer Christie, VP of People at Twitter, wrote on the company's website in May.
Facebook announced earlier this year it will have employees working remotely until July 2021.