During Donald Trump's bid for the Republican nomination for president in 2016, the HuffingtonPost tagged every news story about him with a disclaimer calling him "a serial liar, rampant xenophobe, racist, misogynist, birther and bully."
Four years later, CNN anchor Brian Stelter told NPR he rejected the "both sides trap" because he wants to "be proud of how I covered the Trump presidency." He also acknowledged CNN journalists were doing more opinion monologues (usually anti-Trump) than before, all in the name of "truth and decency."
Conservatives have a another name for it: liberal media bias, and with Joe Biden winning the popular vote (if not more), many also said that this election put a stake through the heart of the notion of a fair mainstream press, and there's no looking back.
Even the CNN chyron, the scroll at the bottom of the screen once reserved to report breaking news, has been opinionated. In July, for example, one read: "Trump says he's been tough on Russia. Nah," and another read, "Trump baselessly claims 99% of Covid-19 cases 'harmless.'" A month later on the same topic, it read: "Trump displays lack of understanding, delusion over tests."
These are the sorts of things that had Trump denouncing many stories at various outlets as "fake news," and Tuesday's election arguably means that the accusation resonated with nearly half of the voters "who gave a middle finger to the media," conservative commentator Dinesh D'Souza told Newsweek.
Conservatives also point out that CNN—generally considered down the middle compared to Fox News with its right-wing commentators and MSNBC with its left-wing commentators—allowed two of its contributors, John Kasich and Andrew Yang, to speak at the Democratic National Convention while Ana Navarro (sometimes labeled a "Republican strategist" at CNN) hosted a Joe Biden event in August. And a decade ago, CNN's top executive, Jeff Zucker, held a fundraiser for Senator Kamala Harris.
On MSNBC, Joy Reid on Wednesday presumably didn't do her network any favors—presuming its goal is to at least be respectful of the other side—when she belittled Supreme Court Justice Clarence Thomas as "Uncle Clarence." Conservatives quickly called her remarks "disgusting" and "racist" and Black radio host Larry Elder, who made a movie this year called Uncle Tom, tweeted: "Notice her 'woke' colleagues at @MSNBC said nothing."
Then there were the numerous polls that predicted Biden would win the presidency easily instead of in a multiday nail-biter of vote recounts, causing conservatives to re-examine the media's alleged biases.
The media and the Democrats largely cast the 2020 election as a referendum on Trump's first term, hammering him for mismanaging a pandemic that has killed more than 230,000 people and triggered the deepest recession since the Great Depression.
Trump faced relentlessly negative media coverage of his character, conduct and policies throughout his term, including a two-year investigation of allegations that he and associates colluded with Russia to skew the 2016 election in his favor. He was impeached last year for abuse of power.
Such unprecedentedly hostile media coverage should have turned off voters and helped elect his rival in a landslide. Instead, more people voted for Trump than any presidential candidate except Biden, and the president expanded his base with every major ethnic and gender group except white men.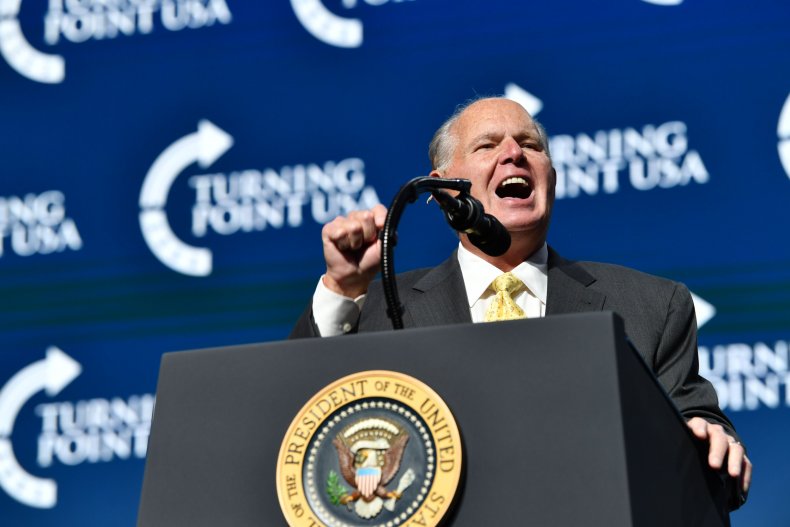 Rush Limbaugh was among those who suggested after the election that the pollsters, in league with the media, had accomplished the job they set out to do by ensuring Trump's accusations of irregularities fell largely on deaf ears, since Biden's lead in the polls was so large to begin with. Some also said the lopsided polls encouraged fence-sitters to cast their ballots for Biden so they'd be on the winning side.
Speaking of polls, one in September from Gallup indicated that just 9 percent of Americans have "a great deal of trust" in the media while 31 percent trust it "a fair amount" and 33 percent do not trust it at all. But Republicans are far more leery, with 58 percent saying they have zero trust in the news media, up 10 points from just one year prior.
CNN and MSNBC did not respond to Newsweek's request for comment, though Fox News talent Greg Gutfeld told Newsweek that it is "healthy" for consumers to mistrust mainstream news.
"Americans have figured out that a lot of what they're getting is manufactured. It's not just how the stories are written, it's the stories the mainstream media chooses to ignore," Gutfeld said. "When Trump brought up the idea of 'fake news,' it was as meaningful to me as when Ronald Reagan said 'tear down this wall,' because it was about an obstacle that was false and destructive. It was a big deal."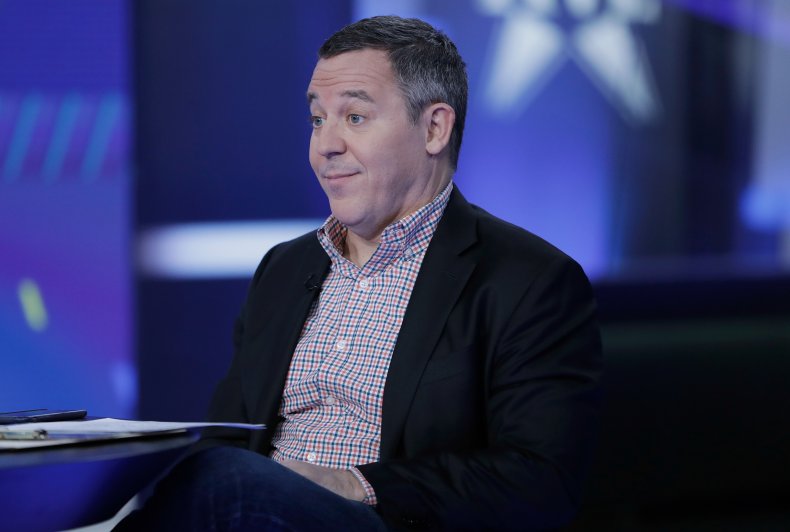 But pollster Frank Luntz, author of Words That Work: It's Not What You Say, It's What People Hear, told Newsweek that "the most dangerous underlying trend in America is how voters choose their news sources to affirm them rather than inform them. If this continues, there will be no hope for common ground."
Leading up the election, Gutfeld said that, every story the mainstream media "didn't like they dismissed as a conspiracy, and every story that they treated as real actually was a conspiracy," using as an example the New York Post story alleging that Hunter Biden was leveraging his father's influence to profit from companies in the Ukraine and China.
"They said they won't report the Hunter Biden story because it's unverified," Gutfeld said. "If they used that standard for the last four years, they wouldn't have been able to report anything about Trump!"
Christos Makridis, a research professor at Arizona State University and senior adviser at Gallup, also doesn't see a problem with mistrust of the media because "a more beautiful and prosperous foundation will emerge," he told Newsweek. "Consider, for example, how Charlie Kirk at Turning Point USA or Candace Owens have galvanized such wide support and effectively created platforms that would not have been possible two decades ago."
Gutfeld agrees, adding that journalists like Matt Taibbi and podcasters Adam Carolla, Joe Rogan, Dave Rubin, Sam Harris and Brett Weinstein with Heather Heying are stealing audiences away from the mainstream outlets. "I don't see them as left or right, I see them being above politics," he said.
Adding fuel to the fire of conservatives' mistrust of media is that National Public Radio, partially funded by U.S. taxpayers, announced it would not cover the Biden laptop scandal story because it didn't want to "waste" time "on stories that are not really stories," prompting the House Judiciary GOP to tweet: "Defund NPR."
And on October 29, Pulitzer-Prize winning journalist Glenn Greenwald quit the Intercept, a news outlet he co-founded, after it balked at publishing an article he wrote that essentially defended the New York Post's reporting on the Biden "laptop from hell," as some have called it.
"The mainstream media can't recover because once someone doesn't believe you, it doesn't matter what you say," said D'Souza. "You have private businesses doing the bidding of the state, without the state cajoling the press."
Conservatives even accuse the Drudge Report of going mainstream (thus "fake"), and are leaving in droves, according to data. The Righting, a website that alerts "liberal audiences to today's headlines from the right," reported that Drudge garnered 1.29 million unique visitors in September, down a whopping 45 percent from the same month a year ago and the ninth straight month of declining traffic.
Naturally, several alternatives have sprung up, many of which look very much like Matt Drudge's iconic and influential website, such as NewsAmmo, Gab Trends, The Liberty Daily, Citizen Free Press, Rantingly and Happening Daily.
Perhaps making the biggest wave is Revolver.news, given Trump tweeted about it on September 14: "Our people have all left Drudge. He is a confused MESS ... They like REVOLVER and others!"
Bongino.com, run by Fox News personality Dan Bongino, said The Righting, is the fastest-growing conservative site, with traffic surging to 2.6 million unique visitors in September (double Drudge's traffic) up 780 percent from the same month last year. Where Drudge makes his hay is in repeat visitors, thus in September his traffic was 79.4 million, according to Similarweb, still down a dramatic 36 percent from September 2019.
Howard Polskin, who founded The Righting in 2017, said he does not consider Drudge to be a conservative site eligible for his Top 20 list, though even if it was, it wouldn't have cracked it, as in September Hannity.com was the 20th-largest conservative site with 1.4 million unique visitors. Polskin also said that 19 of the 20 sites on his list grew their traffic year-over-year, a trend he's been seeing since March due to the pandemic and presidential election.
"Roger Ailes figured out there was an underserved audience when he created Fox News," Polskin said. "He captured that, and it's only been increasing. In the past four years, there's been a growing appetite for different ways to interpret things."
"The most damaging thing the media has done," added Gutfeld, "was to claim that half the population is deplorable and unsalvageable for supporting Trump. You brand someone evil, then anything done to them is OK."