The Loser of the Cold War Between Iran and Saudi Arabia May Be Obama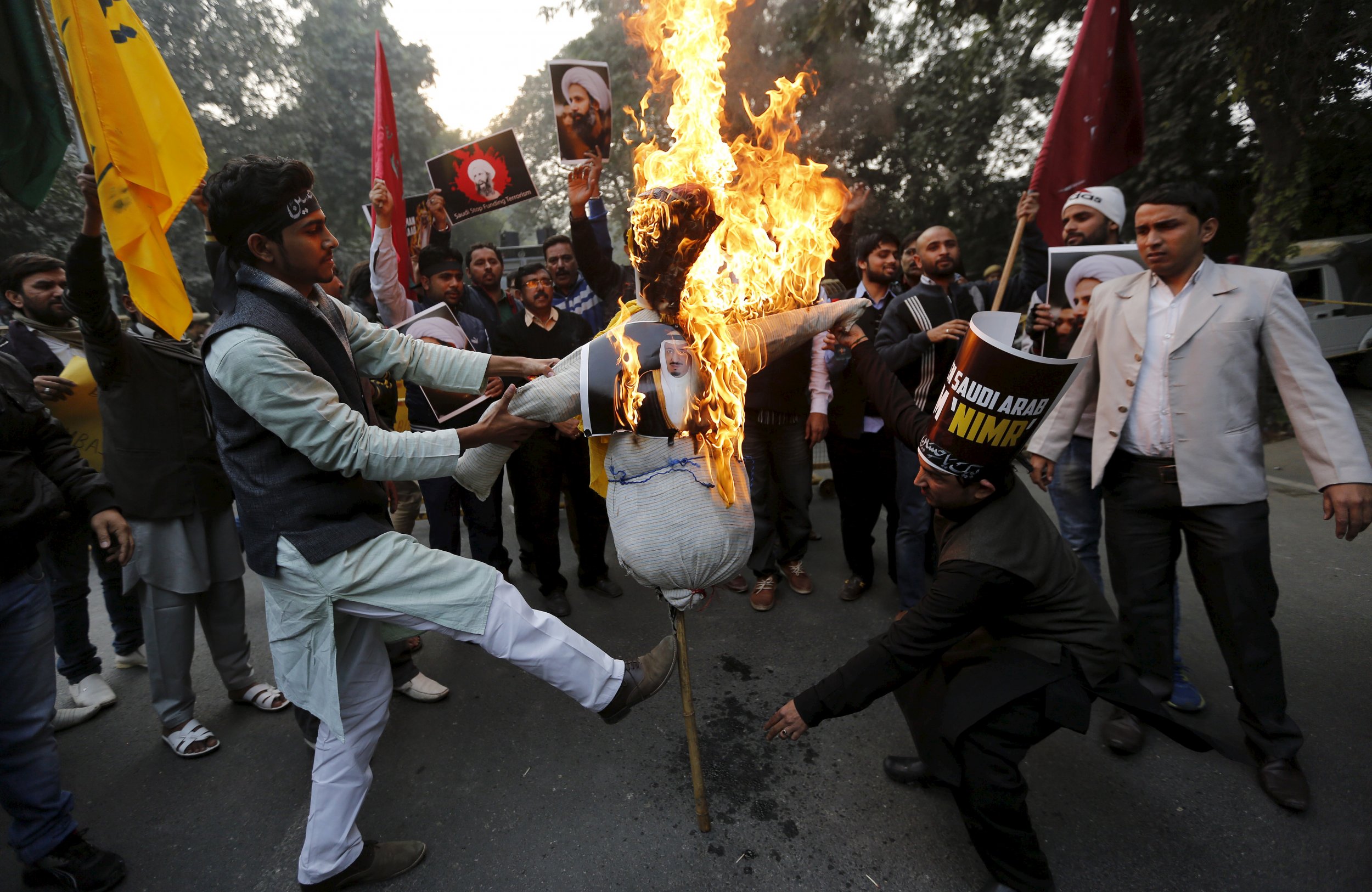 A few weeks ago, as the Syrian civil war continued to rage, U.S. Secretary of State John Kerry persuaded his Saudi and Iranian counterparts to sit at the same table for a meeting in Geneva. The goal was to create a framework for a peace deal to end the war. Since the conflict began, roughly 300,000 people have died and 9 million have been displaced, so agreeing on a seating arrangement at a preliminary meeting may not seem like a breakthrough. But given the bitter rivalry between Riyadh and Tehran and their support for opposing sides in the four-year conflict, getting them show up was a major diplomatic accomplishment.
Today, with the talks set to begin on January 25, that accomplishment seems in jeopardy. On January 2, Saudi Arabia beheaded Sheikh Nimr al-Nimr, a prominent Shiite religious leader. In response, angry mobs in Tehran torched the Saudi Embassy. Riyadh then severed diplomatic ties with Iran, and in solidarity several Sunni Arab countries made similar moves. Now the prospects for a Syrian peace deal seem increasingly remote, and while few expect the Saudi-Iranian cold war to escalate and lead to war between the two powers, their proxy battles, which fall along the region's ancient Sunni-Shiite divide, are likely to intensify. "This rivalry isn't going away," says Aaron David Miller, a former senior Middle East adviser to Democratic and Republican administrations.
The intractable nature of the conflict is bad news for President Barack Obama, who for years has been trying to shift America's focus away from the Middle East. But analysts say the flare-up between Riyadh and Tehran may hinder the U.S.'s most important efforts in the region—from the war against the Islamic State group in Iraq and Syria, known as ISIS, to resolving the civil war in Yemen, where a local Al-Qaeda affiliate is gaining strength. As Vali Nasr, a former senior State Department adviser for the Obama administration, puts it: "The Saudis have basically shredded American policy in the region."
Nimr's execution is the latest sign of the increasingly fraught relationship between Washington and Riyadh after decades of close cooperation. Ever since Iran's 1979 revolution, when the country's theocratic leaders began exporting their brand of radical Islam to minority Shiites throughout the Middle East, the United States has supported Saudi Arabia in its rivalry with Tehran. As Iran gained a foothold in Lebanon through the Shiite Hezbollah movement and formed an alliance with Syria's Alawite Shiite rulers, the U.S. remained silent as Riyadh pushed back. The royal family, which owes its legitimacy to the kingdom's Sunni clergy, used its vast oil wealth to build puritanical mosques and madrassas around the world to contain what its religious leaders have long regarded as a heretical form of Islam. So when war erupted between Iraq and Iran in 1980, Saudi Arabia—with a quiet nod from Washington—helped bankroll Saddam Hussein's army in Baghdad, pumping in roughly $1 billion a month. Later, in 1988, Riyadh severed diplomatic ties with Tehran after Iranian demonstrators attacked the Saudi Embassy to protest a deadly stampede during the annual pilgrimage to Mecca.
The two countries restored official ties in 1991, and over the next decade their relationship improved under the moderate leadership of Iranian Presidents Akbar Hashemi Rafsanjani and Mohammad Khatami, who sought better relations with the Sunni world. But after the U.S toppled Hussein in 2003 and Iran-backed Shiite leaders took power in Baghdad, Riyadh became increasingly concerned that Iran was once again gunning to be the dominant religious and political force in the Middle East. In the years that followed, Iran and Saudi Arabia competed for influence on the opposing sides of proxy wars in Iraq, Lebanon, Afghanistan and the Palestinian territories. The outbreak of the Arab Spring in 2011 further exacerbated tensions between the two nations. Saudi Arabia blamed Iran for fomenting Shiite protests against Bahrain's Sunni royal family and sent troops to quell the uprising. The Islamic cold war then spread to Syria and Yemen, where they continue to rage. And many experts say the beheading of Nimr was a blunt message to Tehran to stay out of the kingdom's internal affairs.
Yet the Iran-Saudi rivalry is also about domestic politics, and analysts say pressure at home played a role in Nimr's execution. An outspoken critic of Sunni discrimination against the kingdom's 5 million Shiites, Nimr outraged the royal family in 2012 for celebrating the death of Prince Nayef bin Abdulaziz, an iron-fisted official who once led a bloody crackdown against Shiite protesters. "Let the worms eat him," Nimr said on a video circulated on social media. Those remarks led to his arrest that year for treason. Two years later, a Saudi court sentenced him to death. Since then, Western diplomats say Sunni clerics had been demanding that Riyadh carry out the sentence. Because of Nimr's popularity, Washington quietly urged the Saudis to spare his life, fearing sectarian backlash. The Saudis, however, saw Nimr as another Osama bin Laden—a traitor and terrorist who didn't commit murder himself but inspired others to kill.
In the aftermath of Nimr's death, current and former U.S. officials fear ISIS could benefit from the tension between Riyadh and Tehran. With his death stirring sectarian passions, these people say, Saudi Arabia's proxies will be far more focused on fighting Iran's allies, leaving ISIS with more freedom to operate. "As these struggles intensify and escalate," says Robert Jordan, a former U.S. ambassador to Syria, "it creates more of a vacuum in Iraq and Yemen for ISIS to come in and spread its influence."
The president has yet to take a side in the Iran-Saudi conflict, leaving the U.S. without the trust of either country and unable to influence the Middle East's growing sectarian divide. Washington's indecision has further stoked Riyadh's fear that the U.S. is no longer committed to the U.S.-Saudi alliance. Saudi Arabia's concerns began during the Arab Spring in Egypt, when Obama called for the resignation of President Hosni Mubarak, another longstanding U.S. ally. But what really changed the relationship was Obama's recent nuclear deal with Iran—an agreement that severely restricts Tehran's nuclear program in exchange for lifting international sanctions against it. Saudi officials have always viewed the deal in zero-sum terms and fear it signals the beginning of an alliance between Washington and Tehran. "It makes the royal family question whether Obama really has their backs," says a person who is familiar with official Saudi line but not authorized to speak for the government.
The U.S. has tried to allay Saudi concerns with continued arm sales to the Gulf kingdom, among other things. But Riyadh's doubts now lie at the center of an aggressive new Saudi policy. Over the past year, King Salman has stepped up his support for Syrian rebels trying to overthrow the Iran-backed regime of Bashar al-Assad. The king and his son, Deputy Crown Prince Mohammad, have also doubled down on their military campaign in Yemen, where Shiite Houthi rebels, allegedly backed by Iran, are fighting a Saudi-led coalition. As Miller puts it: "The Saudis are going their own way."
With so much at stake in the region, Kerry has been working the phones, pressuring his Iranian and Saudi counterparts to dampen their feud and focus on defeating ISIS and resolving the civil wars in Syria and Yemen. "There's a lot on the agenda in the Middle East," says State Department spokesman John Kirby. "The secretary wants to make sure that we're all—all of us—still pulling on the oars."
So far, however, little has come of Kerry's efforts. Saudi Foreign Minister Adel Jubeir says he will attend the Syrian peace talks in Geneva. But in light of the growing tension, analysts say the chances for a meaningful compromise appear increasingly dim. The prospects for a similar deal in Yemen don't look much better. United Nations peace talks adjourned in December with no real progress. That leaves U.S. policymakers with a depressing possibility: getting Tehran and Riyadh to sit at the same table may be as good as it gets for a long time.