Middle School Teacher Compares Testing Mandate to Holocaust in Viral Video
A middle school teacher in Red Bluff, California compared the COVID testing mandate to the Holocaust in a TikTok video which was removed after it went viral.
In the clip, Stacy Pearce, a teacher at Berrendos Middle School, appears wearing a yellow star on her chest, protesting the mandate as she explains her views concerning the regular testing mandate among school staff who have not received the COVID vaccine. She also urges others to join her in denouncing the requirement.
"Why am I wearing this yellow star on my chest? In Nazi Germany, the Jews were required to wear this yellow Star of David on their clothing to identify them, to humiliate them, and to isolate them, what's happening today is not much different in our school system," Pearce says in the video, which is now only posted on an advocacy page set up by Tehama County residents in support of the school teacher.
"Vaccinated or not—wear this yellow star to stand up for our freedom," she adds.
Pearce told Newsweek on Friday that TikTok took down the video after it has been reported for violating community standards.
Pearce's remarks outraged some individuals on social media who argued that it is "disgusting" to make a comparison between the health measure and the Holocaust.
"This is not really how this is. That makes you a monster. That's disgusting," one TikTok user said.
"This is disgusting and just an FYI, Jews had to wear the yellow star so they could be identified and killed," one person wrote on Twitter.
Pearce said in a statement sent to Newsweek that she didn't intend "to hurt, or offend anyone in the Jewish community," and that her intention was to refer to the "discrimination against the unvaccinated."
"[The video] was meant to point out the similarities between the treatment of the Jews at the beginning of the Holocaust and the way in which the unvaccinated are being treated today," she said. "At the beginning of the Holocaust Jews were forced to wear the yellow Star of David to identify, isolate and humiliate them. They lost their jobs and their houses. Today, the group of people being singled out are the unvaccinated."
She further stated that the purpose of the video was not to compare the Holocaust to the COVID vaccine mandate, but rather to the health measures that were taken against people who are unvaccinated in some states such as mandating regular COVID tests among public schools' staff and showing proof of vaccination to enter indoor settings.
"The vaccinated are contracting and spreading COVID, similar to the unvaccinated. If this testing were about protecting school staff and students, then all staff and students, vaccinated and unvaccinated, would be required to test. That was the extent of my video," she said.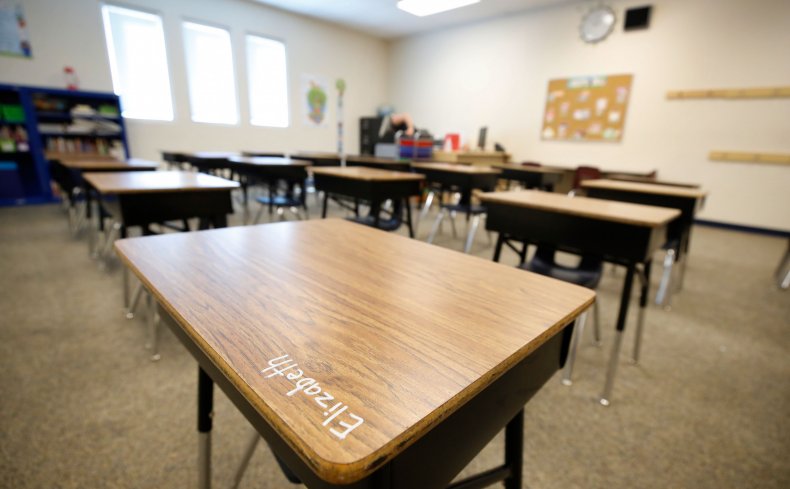 Amid the backlash, others believe that Pearce had the right to express her opinions.
"As long as it wasn't in the classroom and she was at home or whatever, I don't see anything wrong with it," parent Dennis Galloway told Action News Now.
Newsweek contacted Berrendos Middle School for comment.
On Monday, thousands of parents protested against California Governor Gavin Newsom's COVID vaccine mandate for students. The "Our Children, Our Choice" protest, held at the California State Capitol in Sacramento, demanded the freedom of choice when it comes to making decisions about their children's health.
"We're fighting for the freedom to make the medical choices that are best for our children. We are fully prepared to pull our kids from public school and hire our own teaching staff if that's what it takes. We do not co-parent with the government," Tess Van Dusen, the event organizer, said in a statement.
Pearce also echoed these remarks as she explained that she is not "anti-vaxx" but believes in the right to choose whether to get vaccinated or not, arguing that "we have no idea the short term, or long term effects of these vaccines."
Newsom's office this month announced that California would be the first state to require school students to be vaccinated against the virus after the FDA grants full approval of the COVID vaccine for students in seventh grade and above, as well as K-6 grades.
Update 10/23/21, 8:29 AM ET: This article was updated with comments from Stacy Pearce.