#MidnightMitch Trends As McConnell Is Accused of Trying to Cover Up Trump Impeachment Trial 'In the Dark of Night'
Democrats are taking aim at Senate Majority Leader Mitch McConnell after the Republican released a resolution outlining a plan to rush through President Donald Trump's impeachment trial "in the wee hours of the night."
In the hours following the release of McConnell's four-page resolution, the hashtag "#MidnightMitch" spread across Twitter, with many questioning how the senator could justify trying to speed through the impeachment trial with a two-day timetable.
Branding McConnell's plan a "national disgrace," Democratic Senate Minority Leader Chuck Schumer accused the Senate majority leader of trying to "hide information and evidence from the American people" with his push for a rush job.
Noting that McConnell had repeatedly promised that his rules for Trump's impeachment trial would be on par with those enforced during President Bill Clinton's impeachment trial in 1999, Schumer said it was clear that his Republican peer was "hell-bent" on burying evidence and "rushing the trial through."
"Senator McConnell's proposed rules depart dramatically from the Clinton precedent—in ways that are designed to prevent the Senate and the American people from learning the full truth about President Trump's actions that warranted his impeachment," Schumer said in a statement published online.
The McConnell rules, he noted, "don't even allow the simple, basic step of admitting the House record into evidence at the trial. Under this resolution, Senator McConnell is saying he doesn't want to hear any of the existing evidence, and he doesn't want to hear any new evidence.
"A trial with no evidence—no existing record, no witnesses, no documents—isn't a trial at all. It's a cover up, and the American people will see it for exactly what it is," Schumer said.
"Furthermore, Senator McConnell's resolution stipulates that key facts be delivered in the wee hours of the night simply because he doesn't want the American people to hear them. Any senator that votes for the McConnell resolution will be voting to hide information and evidence from the American people."
Senator and war veteran Tammy Duckworth also accused McConnell of trying to help orchestrate a "cover-up," writing on Twitter: "#MidnightMitch has already admitted he's working hand-in-hand with Trump on the #impeachment trial & violating his oath to be impartial—but his proposed rules for the trial (holding the trial at 1am??) are yet more evidence that he's helping the White House perpetrate a cover-up."
In a statement published on Twitter, Harvard University's Constitutional Law Scholar Laurence Tribe agreed, saying McConnell's rules "aren't rules for a real trial at all, much less a fair one. They're rules for a rigged outcome, with #MidnightMitch making sure that as much of the so-called trial as possible takes place in the dark of night."
Newsweek has contacted Tribe for further comment.
In his four-page resolution, which was released on Monday, McConnell outlined a two-day schedule that would give House prosecutors just 24 hours over two days to make their opening arguments.
Trump's legal team would be given the same amount of time, with Senators then getting up to 16 hours to submit questions to the prosecution and defence, with another four hours dedicated to debate. Only after that time would lawmakers be allowed to vote on whether to call in other witnesses.
The short schedule appears to be aimed at rushing through Trump's impeachment trial at rapid pace.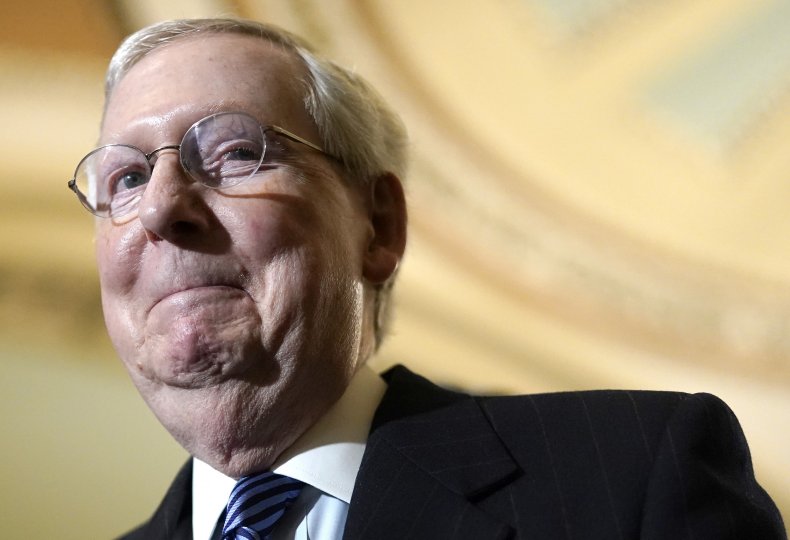 Clinton's own Senate impeachment trial took more than a month to conclude, with the trial beginning on January 7, 1999 and only reaching its conclusion on February 12, with senators acquitting Clinton on both charges against him.
In a trial memorandum released on Monday, the White House argued that the two articles of impeachment brought against Trump of abuse of power and obstruction of Congress do not qualify as impeachable offences.
It is important to note that Trump has already been impeached, however, with the House having voted to impeach, or lay charges against, the U.S. leader on December 18. The Senate's impeachment trial will see lawmakers vote on whether the president is guilty of the charges and should be removed from office.
The charges against the president stem from Trump's efforts to push Ukrainian President Volodymr Zelenskiy to investigate Democratic 2020 election rival Joe Biden and his son, Hunter Biden, with military aid allegedly withheld as a means of coercion.
Newsweek has contacted McConnell's office and the White House for comment.