Midseason Winter TV Lineup 2020: Premiere Dates and Schedule For New and Returning Shows to Prime Time
The holidays have come and gone, which means one thing: All your favorite primetime shows will soon return with midseason premieres.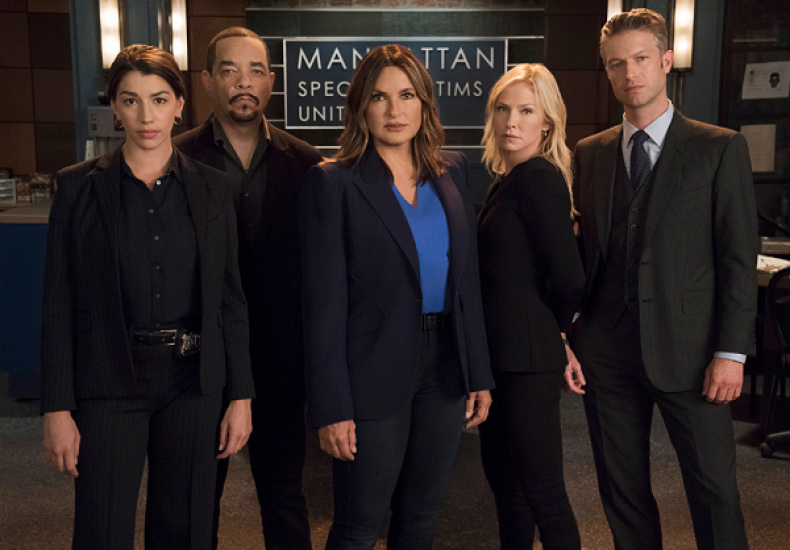 Long-running series like Grey's Anatomy, Law & Order: SVU, NCIS, Criminal Minds and dozens of others are set to debut new episodes on their respective broadcast networks while a couple of new shows are slated to premiere at the top of the new year too. Meanwhile, fans will say goodbye to their favorite characters on a few shows, including Modern Family and The Good Place, both of which will air their final episodes of the series following premiere week.
Check out the full winter primetime lineup for ABC, CBS, CW, Fox, and NBC below.
January 1
Fox
Flirty Dancing, 8 p.m. ET
Almost Family, 9 p.m. ET
January 2
Fox
Last Man Standing, 8 p.m. ET
Deputy, 9 p.m. ET
January 3
CBS
Hawaii Five-0, 8 p.m. ET
Magnum P.I., 9 p.m. ET
Blue Bloods, 10 p.m. ET
Fox
WWE Smackdown Live, 8 p.m. ET
January 5
ABC
America's Funniest Home Videos, 7 p.m. ET
CBS
God Friended Me, 8 p.m. ET
NBC
Golden Globe Awards, 8 p.m. ET
January 6
ABC
The Bachelor, 8 p.m. ET
CBS
The Neighborhood, 8 p.m. ET
Bob Hearts Abishola, 8:30 p.m. ET
All Rise, 9 p.m. ET
Bull, 10 p.m. ET
NBC
America's Got Talent: The Champions, 8 p.m. ET
Manifest, 10 p.m. ET
January 7
ABC
Jeopardy!: The Greatest of All Time, 8 p.m. ET
mixed-ish, 9 p.m. ET
black-ish, 9:30 p.m. ET
Emergence, 10 p.m. ET
CBS
NCIS, 8 p.m. ET
FBI, 9 p.m. ET
FBI: Most Wanted, 10 p.m. ET
Fox
The Resident, 8 p.m. ET
24 Hours to Hell and Back, 9 p.m. ET
NBC
Ellens's Game of Games, 8 p.m. ET
Zoey's Extraordinary Playlist (preview), 10 p.m. ET
January 8
ABC
Modern Family, 9 p.m. ET
Single Parents, 9 p.m. ET
Stumptown, 10 p.m. ET
CBS
Undercover Boss, 8 p.m. ET
Criminal Minds, 9 p.m. ET
NBC
Chicago Med, 8 p.m. ET
Chicago Fire, 9 p.m. ET
Chicago P.D., 10 p.m. ET
January 9
CBS
Young Sheldon, 8 p.m. ET
The Unicorn, 8:30 p.m. ET
Mom, 9:00 p.m. ET
Carol's Second Act, 9:30 p.m. ET
Evil, 10 p.m. ET
NBC
Superstore, 8 p.m. ET
Perfect Harmony, 8:30 p.m. ET
The Good Place, 9 p.m. ET
Will & Grace, 9 p.m. ET
Law & Order: SVU, 10 p.m. ET
January 10
NBC
Lincoln Rhyme: Hunt for the Bone Collector, 8 p.m. ET
January 13
ABC
The Good Doctor, 10 p.m. ET
January 14
CW
Arrow, 8 p.m. ET
NBC
This Is Us, 9 p.m. ET
New Amsterdam, 10 p.m. ET
January 15
ABC
The Goldbergs, 8 p.m. ET
Schooled, 8:30 p.m. ET
CBS
S.W.A.T., 10 p.m. ET
CW
Riverdale, 8 p.m. ET
Nancy Drew, 9 p.m. ET
January 16
CW
Supernatural, 8 p.m. ET
Legacies, 9 p.m. ET
January 17
ABC
American Housewife, 8 p.m. ET
Fresh Off the Boat, 8:30 p.m. ET
CW
Charmed, 8 p.m. ET
Dynasty, 9 p.m. ET
January 19
CW
Batwoman, 8 p.m. ET
Supergirl, 9 p.m. ET
Fox
911: Lone Star, 10 p.m. ET
January 20
CW
All American, 8 p.m. ET
Black Lightning, 9 p.m. ET
Fox
Prodigal Son, 9 p.m. ET
January 21
ABC
The Conners, 8 p.m. ET
Bless This Mess, 8:30 p.m. ET
CW
Arrow spinoff, 8 p.m. ET
Legends of Tomorrow, 9 p.m. ET
January 23
ABC
Station 19, 8 p.m. ET
Grey's Anatomy, 9 p.m. ET
A Million Little Things, 10 p.m. ET
Fox
Outmatched, 8:30 p.m. ET
January 25
NBC
Saturday Night Live, 11:30 p.m. ET
January 30
NBC
The Good Place, 8:30 p.m. ET
February 2
Fox
Super Bowl LIV, 6 p.m. ET
The Masked Singer, 10:30 p.m. ET
February 4
CW
The Flash, 8 p.m. ET
February 5
CW
Lego Masters, 9 p.m. ET
February 6
NBC
Brooklyn Nine-Nine, 8 p.m. ET
Indebted, 9:30 p.m. ET
CBS
Tommy, 10 p.m. ET
CW
Katy Keene, 8 p.m. ET
February 7
CBS
MacGyver, 8 p.m. ET
February 9
ABC
The Academy Awards, 8 p.m. ET
February 11
ABC
For Life, 10 p.m. ET
February 12
CBS
Survivor, 8 p.m. ET
February 16
ABC
American Idol, 8 p.m. ET
CBS
NCIS: New Orleans, 10 p.m. ET
Fox
Duncanville, 8:30 p.m. ET
NBC
Good Girls, 10 p.m. ET
February 10
CBS
Criminal Minds, 9 p.m. ET
February 24
NBC
The Voice, 8 p.m. ET
March 16
CW
Rosewell, New Mexico, 9 p.m. ET