Democrats picked up two more House seats over the holiday weekend to improve their majority in the chamber while two Senate and two governor's races remain undecided as of Tuesday morning.
The Democrats bolstered their House majority to 227 to the Republicans' 198 on the heels of Harley Rouda's win over incumbent Republican and 15-term Representative Dana Rohrabacher in the hotly contested California 48th, historically a strong Republican district.
But Republicans also proved victorious in North Carolina's 9th District, with Mark Harris defeating Democrat Dan McCready to keep a seat for the GOP.
All told, Democrats have captured 32 House seats from Republicans and could win even more. Of the remaining 10 races, four lean toward Democrats and six toward Republicans.
Two Senate and two governor races are also still undecided. Amid unsubstantiated accusations of voter fraud and mishandling of ballots, Florida's Senate and governor races are undergoing recounts while Mississippi's Senate race is heading for a runoff.
Here are the remaining uncalled races for the House, Senate and statehouses.
House
California: 10th, 39th, 45th Districts
Georgia: 7th District
Maine: 2nd District
New Jersey: 3rd District
New York: 22nd, 27th Districts
Texas: 23rd District
Utah: 4th District
Slim Republican leads in California's 39th and 45th Districts dwindled Monday, leaving the chance for Democrats to win two more seats. Republican Young Kim saw her lead over Democrat Gil Cisneros dip from 50.6 percent to 49.4 percent, or fewer than 2,000 votes, in the 39th District.
With ballots still being counted, Republican incumbent Mimi Walters also witnessed her more than 6,000-vote advantage over Democrat Katie Porter whittle down to a little more than 1,000 votes in the 45th District.
Senate
Florida and Mississippi
Florida Governor Rick Scott has accused election officials of mysteriously finding more ballots to count after he declared victory over incumbent Democrat Bill Nelson. Scott has offered no proof of any nefarious actions while his lead over Nelson has dwindled from about 56,000 votes on election night to just over 12,500 votes as of Monday, or 0.15 percent. With the difference less than 0.5 percent, a mandated recount is currently underway, and local election officials have until Thursday afternoon to complete the recount.
Republicans could see their current 51-47 lead in the Senate slip by one seat if Democrat and former Agriculture Secretary Mike Espy manages to defeat Republican Senator Cindy Hyde-Smith in Mississippi's runoff election on November 27.
Neither Hyde-Smith nor Espy managed to win 50 percent of the vote a week ago, which triggered a runoff. Espy claimed 40.7 percent of the vote and Hyde-Smith 41.4 percent.
Espy has a significant battle ahead. Mississippi has not elected a Democrat to the Senate since the early 1980s.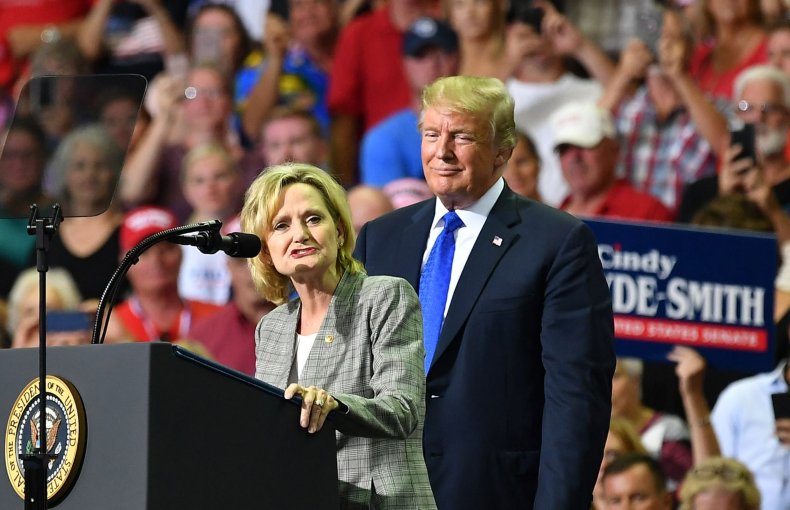 Governor
Georgia and Florida
Florida's Senate race is also in the midst of a recount with Republican Representative Ron DeSantis leading Democrat Andrew Gillum by less than 33,000 votes, or 0.41 percent. Gillum rescinded his concession to DeSantis over the weekend, while President Donald Trump made unfounded claims of voter fraud in the Sunshine State.
In Georgia, Democrat Stacey Abrams saw her hopes of defeating Republican Brian Kemp kept alive after a federal judge ruled the new secretary of state could not yet certify the election's results.
Georgia election officials have said that more than 21,000 provisional ballots had been cast, and if 19,000 of those votes were for Abrams a runoff election would take place next month.