The 2018 Midterm Elections in Photos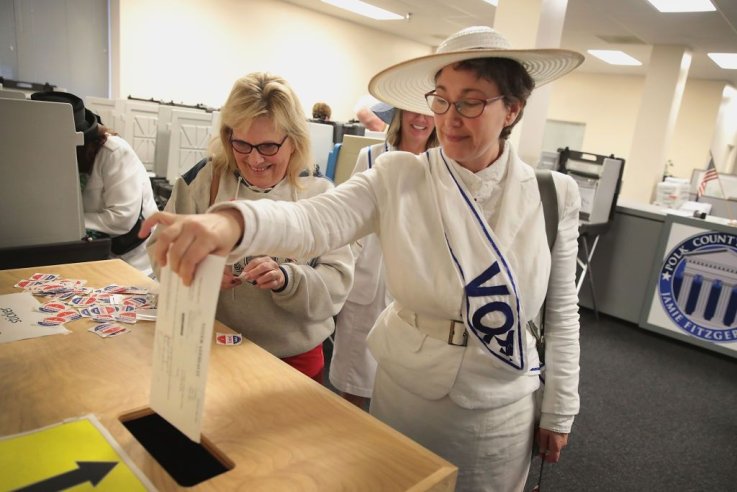 The U.S. midterm elections rarely garner as much attention as the presidential races, but this cycle has been one of the most watched in years: After two years of being muzzled by Republican majorities, Democrats are hoping to flip the House and mount a reasonable offense against the GOP.
For many, Election Day 2018 is really a vote on Donald Trump—his policies, his appointments, his rhetoric. Though the presidential elections are two years off, he's been hitting the campaign trail hard to bolster Republicans in crucial states.
One of the most watched races is in Texas, where Democrat Beto O'Rourke hopes to unseat GOP stalwart Senator Ted Cruz. Though most polls favor Cruz, O'Rourke has benefited from high-profile endorsers and a savvy media strategy, and more recent polls do show him closing the gap.
"The enthusiasm is absolutely real," Harris County Democratic Chairwoman Lillie Schechter told The Texas Tribune. "Our statewide polling and now our turnout demonstrates that Democrats all over the state are not happy with the Republican leadership and are demanding changes."
GOP political consultant Brendan Steinhauser told the paper a Republican surge was fueling early turnout in Texas. "Everyone's on the same page in that they're taking every race up and down the ballot seriously. Everybody's sprinting through the finish line in a way that I haven't seen since I've been working elections here."
But even beyond partisanship, Tuesday's elections are also an opportunity for our government to bring women, people of color, LGBT Americans and other minorities into the political system, some for the first time. In Georgia, Democrat Stacey Abrams is hoping to become the first African-American woman elected governor. While in Florida, Democratic Tallahassee Mayor Andrew Gillum is vying to become Florida's first black governor.
And more Americans are invested in the very act of voting than ever before. Perhaps because of the threat of foreign interference or voter suppression or voter fraud. Or because the stakes just seem so high. In Iowa, a group of Democrats dressed as suffragettes marched to the Polk County Courthouse to vote on October 8, the first day of early voting in the state.
"Our grandmothers marched for the right to vote, for being left out of the political discussion and we feel that women here a century later have the same complaints," said Allison Engel of Windsor Heights. "Women need to mobilize and vote and have a blue wave this November."
Click through the slideshow below for a visual diary of the 2018 midterm elections.