Five states are holding primary elections on Tuesday to decide which candidates will appear on the ballot come November's midterms. History is being made as Maine poll-goers test out a new voting system that will allow them to rank candidates in order of preference. In Virginia, six Democrats are competing for the opportunity to chase down Republican Representative Barbara Comstock in November. Meanwhile, in South Carolina, it's a battle between Republicans as incumbent Congressman Mark Sanford and businesswoman Katie Arrington duel it out in the GOP primary. Here's what else you need to know:
Maine
Maine voters are making history by being the first to use a preferential voting method in a statewide election in the United States.
Preferential voting, also commonly referred to as ranked-choice voting, allows poll-goers to rank political candidates in order from their first choice to their last choice. Most voting systems in the United States operate on a winner-takes-all method, meaning that a voter only chooses one candidate and the candidate with the most amount of votes at the end is deemed the winner.
It is unclear how this new voting system may affect the two seats that are up for grabs in the House of Representatives. The most competitive race to watch, though, is happening in Maine's Second District where Democrats are looking to oust the last remaining Republican New England House member Bruce Poliquin.
Jared Golden, Lucas St. Clair and Craig Olsen will be battling in the Democratic primary on Tuesday. Golden, currently serving in Maine's House of Representatives, is the only candidate with political experience.
Poliquin is a longtime Republican who has served in the House since 2014. The second district is GOP-leaning, but has gone back and forth in recent presidential elections favoring Barack Obama in 2012 but voting Donald Trump in 2016.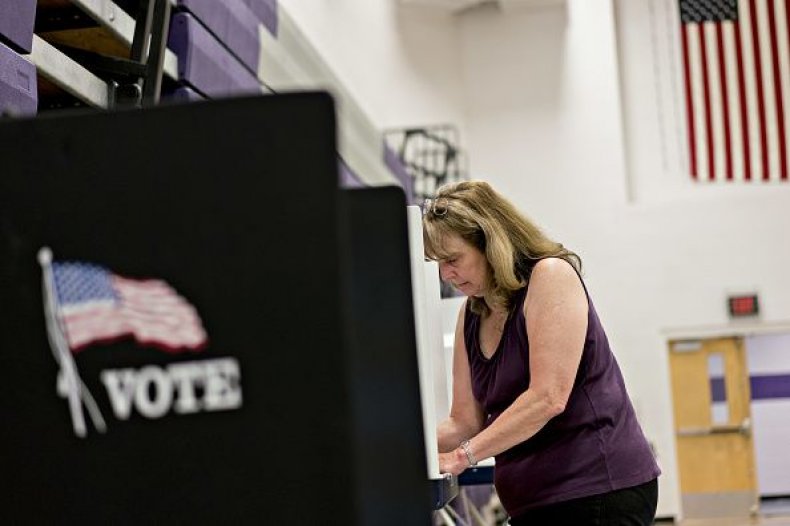 Virginia
Representative Barbara Comstock, a loyal Donald Trump supporter, is expected to win the GOP nomination in Tuesday's primary against challenger Shak Hill, a retired U.S. veteran.
But six Democrats running in Tuesday's primary hope to use that backing of Trump to take down Comstock in November's election in a state that has been leaning increasingly Democratic in recent presidential elections. The state went to Hillary Clinton in 2016 and Comstock narrowly won her House race in the same election, garnering 53 percent of the votes against her Democratic challenger.
On Comstock's side, however, is the National Rifle Association. During her career as an elected official, she has received over $137,000 from the NRA, according to
The New York Times.
Comstock's Democratic opponents have made gun reform a central issue in their campaigns. Dan Helmer, one of the six Democrats looking for the party's nomination on Tuesday, posted a video of him buying a gun to show the industry's lack of background checks.
Nevada
All eyes will be on the Senate race in Nevada as incumbent Dean Heller attempts to hold onto his seat in a state that has voted Democrat in the past three presidential elections. Flipping his seat will be crucial to Democratic hopes of reclaiming control of the Senate in November.
After businessman Danny Tarkanian was persuaded to drop out of the race and instead take Trump's endorsement in the pursuit of a House seat, Heller is expected to easily secure the GOP nomination on Tuesday.
On the Democratic side, Representative Jacky Rosen is the frontrunner to face Heller in a keenly contested general election. A poll in late April showed that the two likely opponents would be virtually neck-and-neck with 39.7 percent favoring Heller and 39.3 percent favoring Rosen.
Rosen has experience fighting a tough battle against a Republican, as evidenced in her narrow House victory over Tarkanian in 2016 when she was a political newcomer. Another good sign for Rosen is that she has managed to double Heller's campaign fundraising since January.
North Dakota
Democratic Senator Heidi Heitkamp is running unopposed in the state's Democratic primary. Heitkamp, currently serving her first term in the Senate, is one of the biggest targets of Republicans hoping to swing Democrat-held seats in the 2018 midterms.
Her likely opponent running for the Republican nomination is Kevin Cramer. And in a state that voted for Donald Trump in 2016, Cramer promises to be a formidable threat if the two are pitted against one another in November.
But Heitkamp has made herself well-liked among Republicans and even has President Donald Trump on her side.
That embrace of Heitkamp has irritated Cramer, who believes that she is receiving praise from Trump simply because she is a woman, according to The Washington Post. He even accused Heitkamp of going out of her way to be near the president and called her movements to shake his hand "obscene."
South Carolina
The state is unlikely to flip any House seats this November, but there is one primary race that is keeping voters interested. In a microcosm of a wider national debate within the Republican Party since 2016, Mark Sanford, a Republican incumbent in South Carolina's First congressional district, has been slammed by his opponent, state representative Katie Arrington, for not doing enough to support President Donald Trump in Congress.
Sanford has critiqued Trump's latest tariffs against major U.S. allies and has voted against several pieces of legislation backed by the president. His criticism has sparked outrage from fellow Republicans, but Sanford has said he is simply following "the American way."
"I think it's entirely appropriate to say 'I agree' when I agree and 'I disagree' when I disagree. That's the American way. That's what our entire political system is based on, is the fact that we can have dissent," Sanford told Politico. "And it can be painful—going along to get along is the way of Washington. But keeping that as a part of our political tradition, I think, is vital."