Midterm Results 2018: Elections Latest as Democrats Flip Another Seat, Make New Jersey Almost Entirely Blue
Update – 12:50 p.m. EST: Democrat Jared Golden pulled out a narrow victory over incumbent Republican Rep. Bruce Poliquin for Maine's 2nd Congressional District, the Associated Press confirmed Thursday. The election marked the first time a state had used ranked-choice voting.
Poliquin was up by 0.7 percent as of Thursday morning, according to The New York Times, but his loss handed Democrats a 35th flipped seat and a 230 to 198 House majority with seven more elections still undecided.
Original Story
Democrats flipped yet another House seat and pulled further ahead in a California race Wednesday as the Party continues to tout a "blue wave" around the country and Florida and Georgia's key elections remain mired in recounts and court battles.
Democrat Andy Kim, who previously worked in the Obama administration, flipped New Jersey's 3rd Congressional District and defeated incumbent Republican Representative Tom MacArthur 49.9 percent to 48.8 percent.
The win was the 34th flip by Democrats in this year's midterms, four of which occurred in New Jersey. When the new Congress takes office in January, Democrats will have at least a 229 to 198 advantage over Republicans in the House, with eight other House elections still undecided.
New Jersey now has only one Republican seat in the House, with Representative Christopher Smith handily defeating Democrat Joshua Welle by over 12 percent of the vote.
A Democrat also took a big lead in California's 45th District Wednesday, setting up the potential for another flip. Katie Porter now has a 3,797-vote advantage over two-term incumbent Representative Mimi Walters after pulling ahead by 261 votes on Tuesday and could represent the fifth district flipped by Democrats in California.
However, Republican Young Kim still has a 122-vote lead over Democrat Gil Cisneros for California's 39th Congressional District. The candidates are vying for retiring Rep. Ed Royce's seat in a district that has been staunchly Republican for decades.
Republicans still have a chance to retain California's 39th District, as well as Georgia's 7th, Maine's 2nd, New York's 27th and Texas 23rd Districts, with all leaning toward the GOP candidates as of Thursday morning.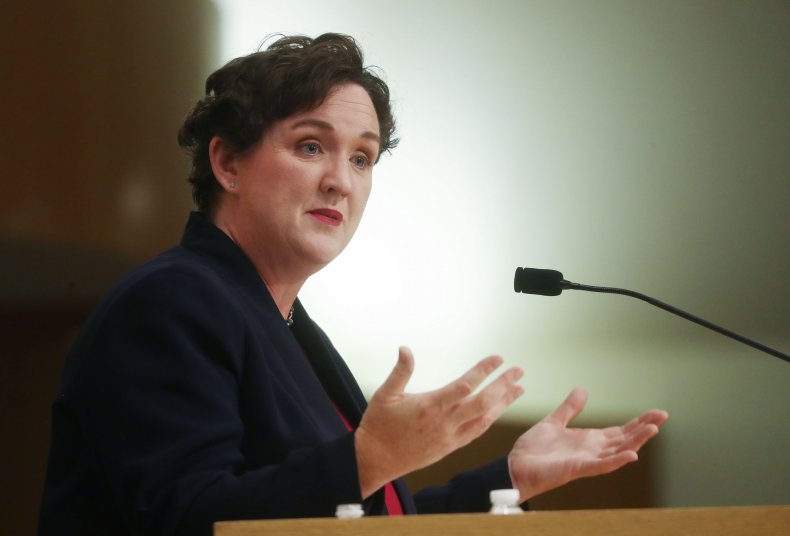 Democrats can also still gain California's 45th, New York's 22nd and Utah's 4th. But Utah's remaining House race could change by the end of the week. Incumbent Republican Representative Mia Love saw Democratic opponent Ben McAdams's lead dwindle to 873 votes on Wednesday as more than 12,000 votes were tallied in the district, according to The Salt Lake Tribune.
President Donald Trump, reportedly angered by Republicans' failure to keep the House, specifically called out Love last week for not accepting his "embrace" to make her potential re-election easier.
Florida's Senate race took another twist Thursday morning. A federal judge ruled voters who used mail-in or provisional ballots but were rejected due to issues with their signatures would get two days to fix their votes, a decision that came just hours before the official deadline of 3 p.m. local time.
Florida Governor Rick Scott has accused local officials of fraud, without offering proof, while declaring victory over Democratic incumbent Senator Bill Nelson.
In Georgia's governor race, Democrat Stacey Abrams and Republican Brian Kemp received mixed results from a federal judge on Wednesday. The judge ruled Georgia's secretary of state could not certify the election until absentee ballots with incorrect dates of birth, from every county, were counted. But the judge also stated counties did not have to include provisional ballots from voters who went to the wrong poll.
Kemp maintains a 50.3 percent to 48.8 percent lead over Abrams, whose campaign has made claims of voter suppression throughout Georgia.