The Clintons Come to Rescue Democrats in the Midterms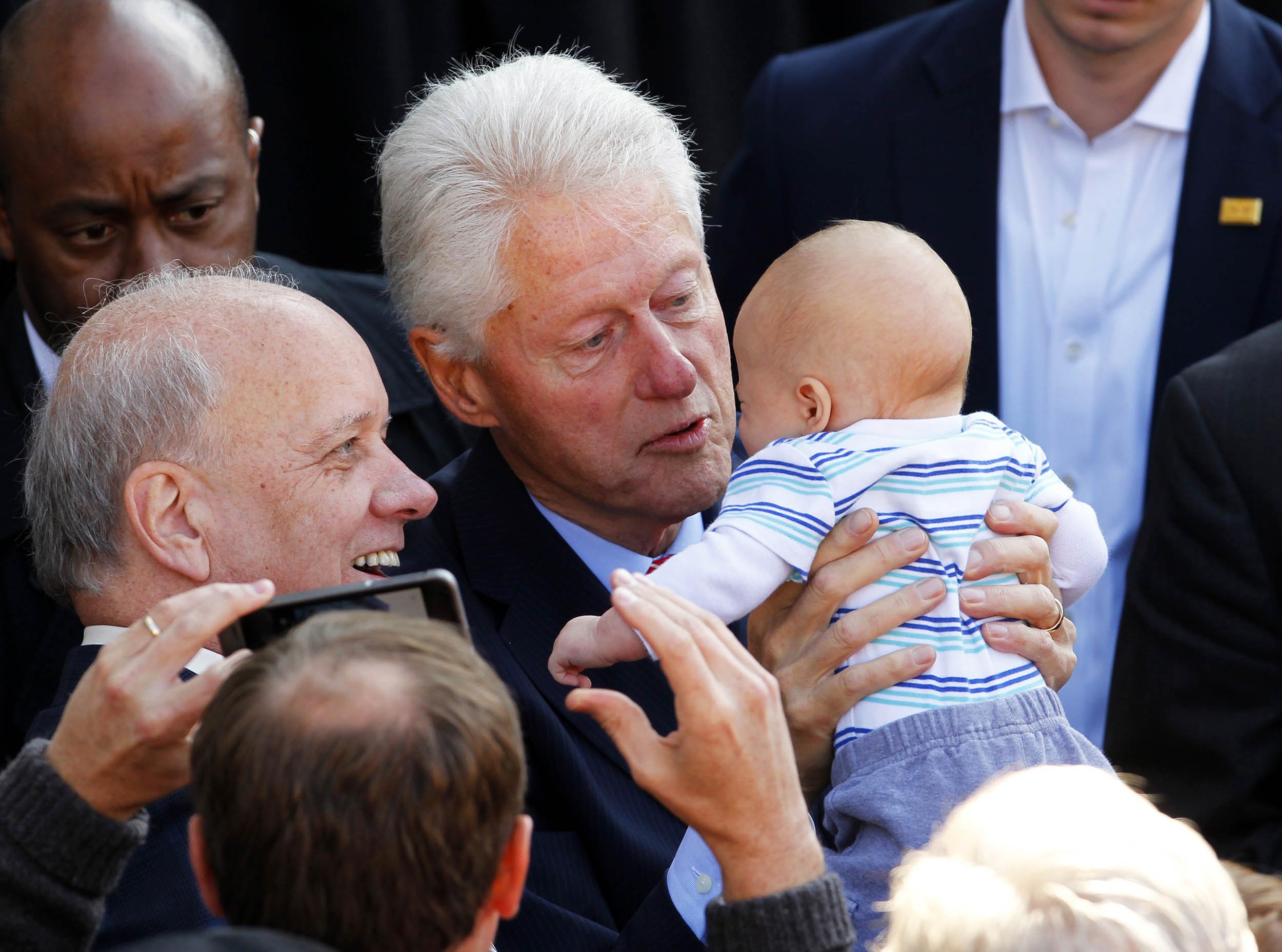 President Barack Obama may be toxic on the campaign trail these midterms, with some candidates even refusing to say if they voted for him. But another president—and his wife—are in hot demand.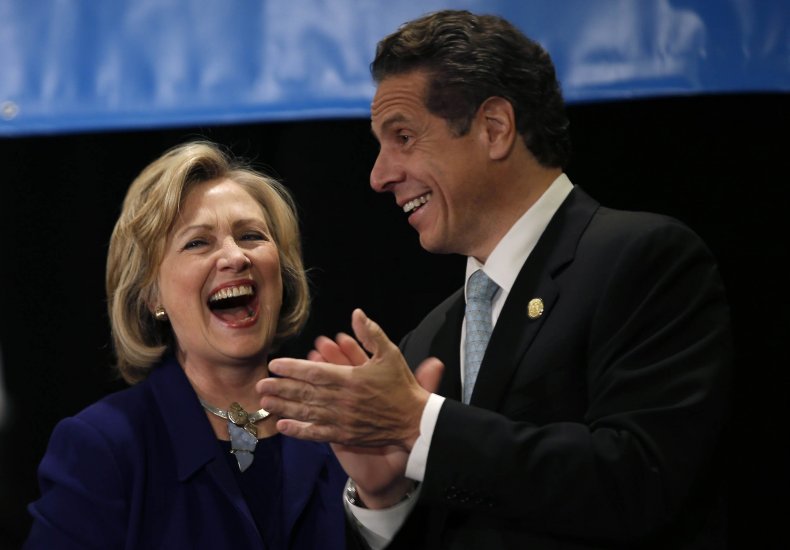 In Focus
Together, the Clintons will have traveled over 50,000 miles to 25 states and stumped for more than 30 candidates, according to an analysis by ABC News.
Launch Slideshow

8 PHOTOS
Former President Bill Clinton is on the road for Democrats, headlining fund-raisers and joining candidates on the trail.
And former secretary of state Hillary Clinton has also been out campaigning big-time in the month leading up to the election. As she contemplates a presidential run in two years, a frenetic schedule zigzagging the country has brought her to nearly every close Senate race as the two parties battle for control of the upper chamber.
Together, the Clintons will have traveled over 50,000 miles to 25 states and stumped for more than 30 candidates, according to an analysis by ABC News.
Though Democrats are expected to have a rough year, the Clintons' work in the midterms cements their place as both rock stars among Democratic voters and as loyal team players for the party—a particularly useful launching point to gain brownie points for a presidential campaign.
"President Clinton and Secretary Clinton have been particularly effective," Guy Cecil, executive director of the Democratic Senatorial Campaign Committee, said Thursday at a Politico event, adding that no other surrogate is as good as Hillary Clinton at motivating voters to turn out.
While Obama suffers from dismal approval ratings in the low 40s, particularly in some of the battleground states that will decide who runs the Senate, the Clintons are much more welcome as party champions. Back in July, Gallup found that Hillary Clinton was the most well-known and best-liked among the potential 2016 candidates of either party, with 55 percent of respondents from across the political spectrum viewing her favorably.
Despite their charisma and celebrity, the Clintons still have their work cut out for them if they are to make a difference to next week's midterm results. Polls show Republicans leading in most of the tight Senate races, and FiveThirtyEight.com on Thursday said the GOP's chance of taking control of the Senate has risen to 67 percent. Democrats are working hard to win key gubernatorial races in states like Florida and Wisconsin, while retaking the House of Representatives remains way out of reach.
In the lead-up to an expected Hillary presidential campaign, the former first lady's work on the stump serves multiple purposes. Think of it as a dress rehearsal, a chance for her to hone her message and get back into the swing of campaigning. On the road, she has focused on issues that will likely become pillars of her presidential campaign: economic security, equal pay for women and access to pre-kindergarten education and affordable child care, to name a few.
In one story she has shared a few times in recent weeks, Clinton talks about feeling "the squeeze" of balancing being a mother and having a job. She recalls one morning when, as a young lawyer due in court at 9 a.m., she struggled to find someone to look after her 2-year-old daughter, who woke up sick that morning. She found help that morning, Clinton says, but too many women don't have any. The story appeals to women voters and also makes Clinton, who has now spent decades in public life, a relatable figure.
Just as important, her hard work on behalf of Democrats—even Democrats who are struggling in the polls—will create a reservoir of good will from national and state party leaders. If Clinton runs for president, she will need the strong backing of the party and will want to avoid a divisive primary race like the one she lost to Obama last time around. It would be much harder for a Democrat to challenge Clinton in a Democratic primary after she has brought in money and votes all over the country for her fellow Democrats
With control of the Senate on the line, the Clintons have focused hard on supporting Democratic Senate candidates, but they haven't limited their work to just helping those running for the upper chamber. The former secretary of state and the former president have also headlined fund-raisers in New York and California, campaigned in gubernatorial races from Florida to Rhode Island, and even dabbled in House races from Iowa to New York.
In the weekend before the election, Hillary will headline an event for embattled incumbent Mary Landrieu, the Louisiana senator, in New Orleans; Alison Lundergan Grimes, who is challenging Senator Mitch McConnell in Kentucky; and Democratic Senator Jeanne Shaheen in New Hampshire, according to CNN.
Bill Clinton, whose eloquent defense of Obama's record during the 2012 campaign led Obama to call him the "secretary of explaining stuff," has tried to cut through the Republican messaging this cycle. In his home state of Arkansas, for example, he tried to counter Republican attempts to make the Senate race there a referendum on the unpopular president.
"They want you to make this a protest vote," he said earlier this month, campaigning for Democratic Senator Mark Pryor. "They're saying, 'You may like these guys—but, hey, you know what you've got to do, you've got to vote against the president. After all, it's your last shot.' It's a pretty good scam, isn't it?"
Added the former president, "Give me a six-year job for a two-year protest, that's Mark Pryor's opponent's message."
In the final days of the campaign, he is parachuting into North Carolina, where Democratic Senator Kay Hagan's lead has slipped and Republican challenger Thom Tillis is gaining ground. On Friday, Bill Clinton will headline an early-voting event in Raleigh less than a week after his wife campaigned with Hagan in Charlotte—a signal that in tough races, the Clintons are a key part of the Democrats' turnout strategy.