Midterms Election Forecast: If Only Women Could Vote, They'd Give Democrats Massive House Majority
If only women were allowed to vote in the upcoming midterm elections, they would overwhelmingly elect Democrats to lead the House of Representatives according to a new generic ballot tracker.
FiveThirtyEight's hypothetical election forecast indicated that if only women were able to head to the polls this November, there would be 275 Democratic candidates elected to the House. That would shift the scales dramatically, putting the Democrats in control of the chamber by a 115-seat majority over their Republican counterparts. The last time either party won more than 270 seats was over 40 years ago.
By comparison, if only men were allowed to cast their vote this fall they would elect Republicans over Democrats 249 to 186. Still, the total number of seats held by conservatives is still significantly lower than the 275-seat Democratic majority favored by female voters.
The forecast previews how women are likely to vote in this year's heated election cycle. Early voting polling released by CNN indicated women outvoting men by several percentage points in key battleground states like Arizona, Florida and Georgia.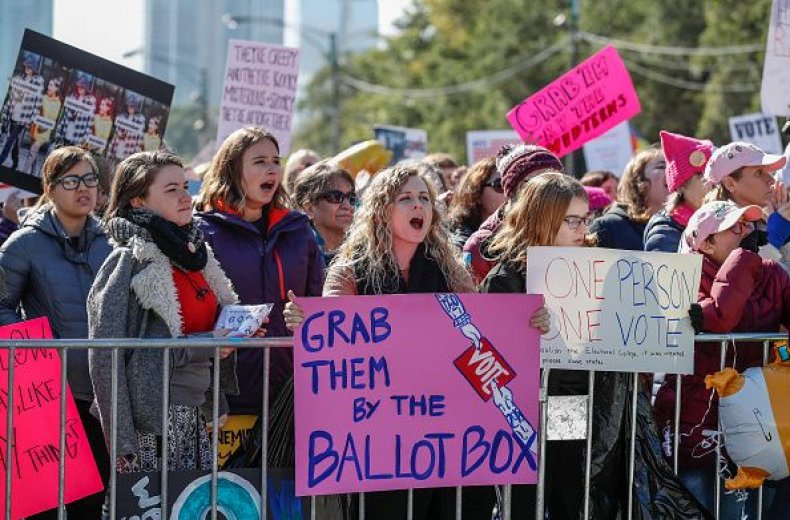 Pollsters and political strategists have long noted that President Donald Trump and the Republican Party are alienating female voters across the country, a demographic that helped the billionaire real estate mogul ascend to the presidency in 2016. Exit polls show Trump won 52 percent of white female voters against his opponent Hillary Clinton.
But it's highly unlikely that Republicans will continue that trend heading into the midterm elections. Polls have indicated that suburban white women who usually identify as Republican are favoring Democratic candidates this year. In some cases, suburban women are favoring liberal candidates by 20 points or more, and could be the key in helping to decide the next House majority.
Plus, the 2018 election cycle has already been heralded as the second "Year of the Woman" as a record-breaking number of females run for political office. Over 250 women will appear on the ballot this November as congressional candidates.
This "pink wave" could see the first black woman to serve as governor, the first Native American woman in Congress and the first openly bisexual senator.
The "Year of the Woman" comes on the heels of the #MeToo movement, which has left behind a trail of once-powerful men like Harvey Weinstein and Bill Cosby, who have been taken down due to sexual harassment and assault allegations.
#MeToo was reignited in recent weeks over the confirmation of Trump's Supreme Court nominee Brett Kavanaugh. During his confirmation process, Kavanaugh was accused of sexual misconduct and assault by three women. One of his accusers, Christine Blasey Ford, took the stand against the judge in front of the Senate Judiciary Committee in September, prompting viral social media campaigns #WhyIDidntReport and #BelieveSurvivors.
Trump, in an effort to salvage his nominee, mocked Ford's testimony at a campaign event in Mississippi. "How did you get home? I don't remember. How'd you get there? I don't remember. Where is the place? I don't remember. How many years ago was it? I don't know," Trump jeered, prompting laughter and applause from the crowd.
Despite his controversial comments about women, Trump has signaled continued confidence that female voters remain supportive of his administration's agenda and will cast their ballots for Republicans come November.
Earlier this month, Trump tweeted: "College educated women want safety, security and healthcare protections - very much along with financial and economic health for themselves and our Country. I supply all of this far better than any Democrat (for decades, actually). That's why they will be voting for me!"