Midterm Elections 2018 Governor Polls: Updates on Key Gubernatorial Races
Republicans have worked hard to gain control of statehouses throughout the country over the past decade, and they now hold nearly two-thirds of gubernatorial seats around the country. But this year a number of tight races in historically red states threaten to reverse that trend.
The chart below from Statista illustrates voting attitudes before Tuesday's midterms.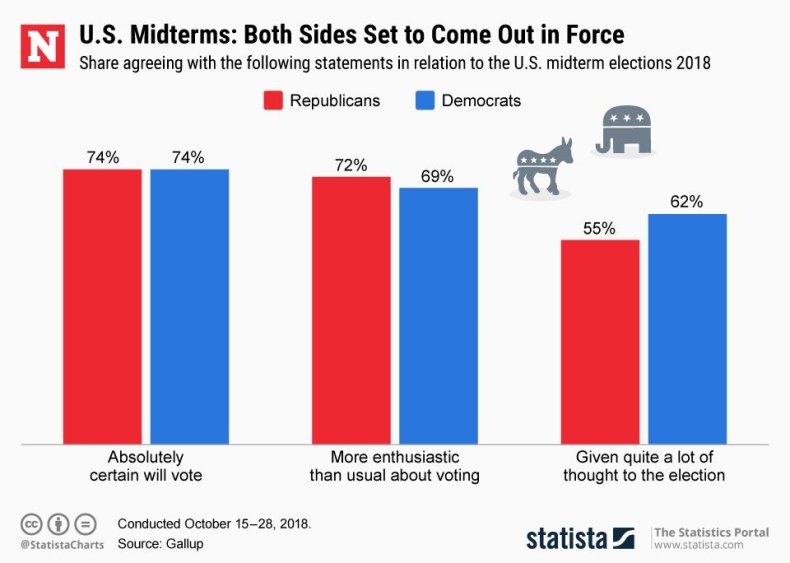 Here are five gubernatorial races to keep an eye on:
Georgia
In one of the most closely watched races in the country, Democrat Stacey Abrams and Republican Brian Kemp are in a dead heat. If Abrams wins the race, she'll become the first African-American woman governor in the United States, but Georgia is a historically red state.
The race has been riddled with voter suppression controversies, as Kemp is the secretary of state and therefore oversees the election process in a race in which he is also a candidate. He has been accused of delaying voter applications for more than 50,000 Georgians and expelling record numbers of voters from the rolls. Former President Jimmy Carter last month sent a letter to Kemp asking him to recuse himself from his duties during the election, but Kemp has refused. "I took an oath to serve as secretary of state, and that is what I will continue to do," he said.
The close race has brought a number of celebrities and political bigwigs to Georgia. President Donald Trump and Vice President Mike Pence have campaigned for Kemp, while Oprah Winfrey and former President Barack Obama have come to Georgia to support Abrams.
Florida
Tallahassee mayor and Democratic gubernatorial candidate Andrew Gillum is giving his Trump-aligned competitor, former congressman Ron DeSantis, a run for his money in Florida. New polls have Gillum up by 2 points over his opponent, which is within the margin of error. Recent St. Pete Polls results are consistent with the small lead Gillum has maintained over his opponent throughout the summer and fall.
On Sunday evening, recording artist Rihanna endorsed Gillum. "You have the opportunity to make history this election," she wrote on Instagram. "The U.S. has only had four black governors in its entire history, and we can help make Andrew Gillum the next one and Florida's first!"
Florida has seen record-high early voting, with turnout more than double what it was in 2014. Republicans are leading in early ballots by about 60,000 votes.
Connecticut
An average of all recent polls puts Democrat Ned Lamont in a toss-up race against his Republican opponent, Bob Stefanowski.
Still, a recent poll by Gravis has Lamont up by about nine points, a large lead with less than 48 hours before Election Day. Another Hearst Connecticut Media Group/Sacred Heart University poll, over the same period, however, put Stefanowski up by 2 points.
With nearly 12 percent of voters still undecided, the election could easily sway either way.
Alaska
A Democratic governor could win in the very red state of Alaska. The gubernatorial election appeared as if it would be an easy win for the incumbent, independent governor Bill Walker, until Walker suprisingly dropped out of the race and endorsed the Democratic candidate, former Senator Mark Begich, against Republican Mike Dunleavy.
Most polls have Dunleavy up significantly, but there is a chance that Begich takes the race, according to FiveThirtyEight. Its model, the site explained, shifted significantly after Walker resigned, and went from giving Dunleavy a significant advantage to a modest one.
Wisconsin
Incumbent Republican governor and 2016 presidential candidate Scott Walker is in a tight race against Superintendent of Public Instruction of Wisconsin Tony Evers. The latest Marquette Universitypoll had both candidates with 47 percent of the vote.
During his tenure as governor, Walker cut public school funding by hundreds of millions of dollars and controversially broke the Wisconsin teachers' union in 2011. Evers, a proponent of public education, has attracted potential voters as a perfect foil to Walker.
The polling tie means the race is in the hands of the 6 percent of undecided voters who will cast their ballots this Tuesday.