Which party ultimately prevails in the 2018 midterm elections could come down to a handful of House and Senate races. Democrats have largely focused on the issue of health care, while President Donald Trump has targeted alleged voter fraud and immigration issues, including the migrant caravans headed toward the U.S.-Mexico border.
After months of campaigning, Democrats and Republicans now eagerly await voters' decisions on Tuesday. The stakes are clear: Democrats need at least 23 more seats to take control of the House, while Republicans need only two or three victories to strengthen their hold on the Senate.
Here are several key races that could indicate whether the prediction of a "blue" or "red" wave was correct.
Kentucky's 6th Congressional District
Incumbent Republican Reprentative Andy Barr is either ahead by a point or in a tie with Democrat Amy McGrath. The tight margin is shocking in a district that overwhelmingly chose President Donald Trump in 2016 and Mitt Romney in 2012, and has not elected a Democrat since 2010. And even in that election, Democrat Ben Chandler won by less than 700 votes, or 0.3 percent of the overall vote.
A McGrath victory could spell trouble for Republicans in the House.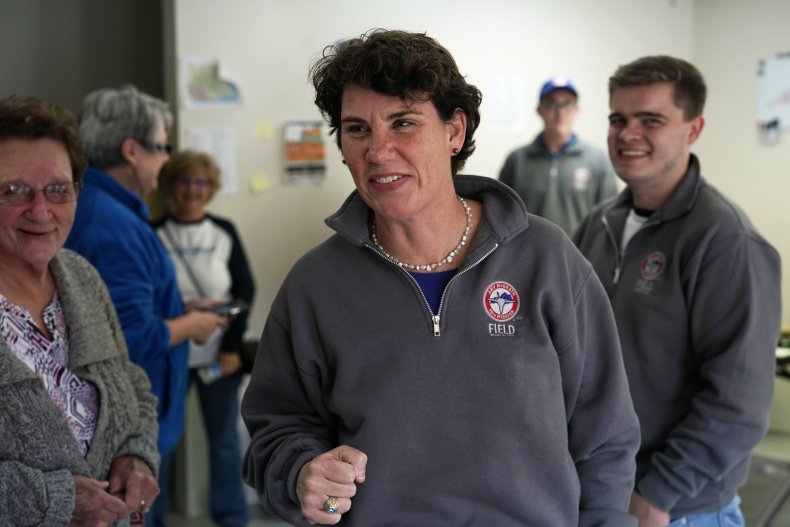 New York's 19th Congressional District
This upstate New York district has not elected a Democrat since 2008, when Barack Obama swept his way to the presidency, and any Republican who has won since did so by a strong margin—by roughly 6 to 27 percent of the vote. Incumbent Republican John Faso, however, faces a stiff challenge from Democrat Antonio Delgado.
A New York Times/Siena College poll conducted in early November gave Delgado an edge of 1 point, while a poll by Monmouth University put Delgado ahead by as much as 5 points in October. Siena College showed Faso with a 5-point advantage in August.
Virginia's 7th Congressional District
Two-term Republican Dave Brat has garnered between 57 to more than 61 percent of the vote since first winning in 2014, but he maintained a mere 2-point lead over Democrat Abigail Spanberger, according to a New York Times/Siena College poll. Nine percent in that poll were undecided, and the results had a 4.6 percent margin of error within a district that includes the state's capital of Richmond.
Alaska Governor
Alaska last elected a Democratic governor in 1994 and elected independent Bill Walker before any Democrat ever since. But Walker withdrew from the race last month and endorsed Democrat Mark Begich over Republican challenger Mike Dunleavy. Despite the state's recent history, Ivan Moore Research gave Dunleavy only a 4-point lead late last month and called the race an essential tie in a poll conducted between October 26 and 29.
Missouri Senate
This race could be a referendum on whether or not voters back Trump's Supreme Court picks.
Two-term Senator Claire McCaskill is one of two Democratic senators the Show-Me state has elected since 1980, and she's held the post since 2006. But the state's attorney general, Republican Josh Hawley, presented a challenge to McCaskill, even though she outraised him 2 to 1 in the third quarter. McCaskill saw her slim 3- to 4-point lead over Hawley swing the other way in two polls released earlier this month from Emerson College and Trafalar Group, a possible sign that Missouri voters did not side with McCaskill's decision to vote "no" on Trump's Supreme Court nominee Brett Kavanaugh.