Midtown Manhattan Helicopter Crash Sparks Confusion Online After Conflicting Reports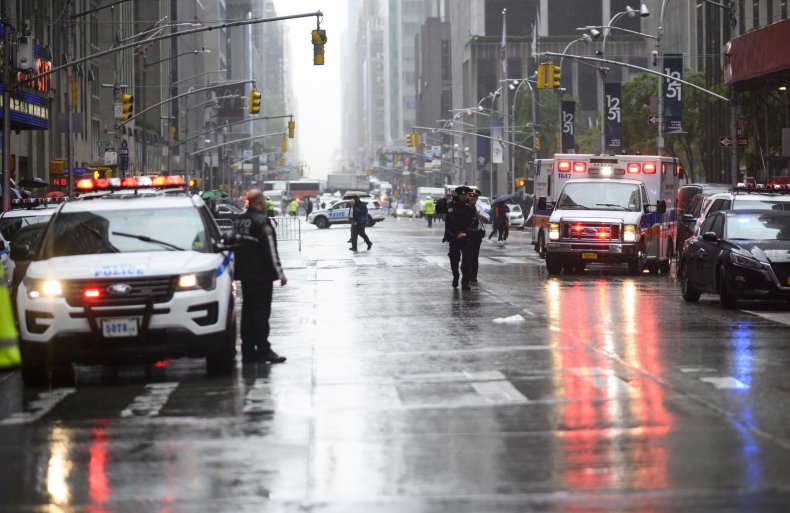 A helicopter crashed into a Manhattan building Monday afternoon, but conflicting reports jumbled what really happened after early reports claimed it was a plane crash.
Though some facts are unclear, what's known is that a small helicopter crashed into a Midtown building, address 787 7th Ave, on Monday afternoon. The crash started a small fire. Whether or not there are any fatalities is still unconfirmed.
Some reports, like an early post from PIX11, claimed it was a plane that flew into the building at 787 7th Ave, and cited that police first used the term themselves. New York Police and Fire responders, however, clarified it was, in fact, a helicopter in a later version of the channel's reporting.
Newsweek subscription offers >
Outlets are also conflicted on injuries and fatalities. New York Governor Andrew Cuomo claimed there has only been one injury, but did note that there were "casualties" only on the helicopter—not in the office building. CNN and CBS, however, have both reported one death.
The governor explained the helicopter landed on top of the building, and it was the landing that sparked the fire. The helicopter's landing was first described as an "emergency landing," but Cuomo said that was not the case. The helicopter seemingly made a routine landing that went up in flames.
At the time, Cuomo claimed no one in the office building has been injured, though some people have been evacuated. Some felt the building shake, which brought Cuomo to comment on the relevance a helicopter crash has to New Yorkers who lived through 9/11.
"If you're a New Yorker you have a level of PTSD from 9/11, and I remember that morning all too well," he explained. He added that there is no reason to think this accident has any terrorist roots.
Newsweek subscription offers >
A giant response in firefighters, police and first responders has been seen in the area, with CBS reporting over 100 units have responded to the scene. In his conversation with reporters, Cuomo said the fire is "under control." The New York Police Department shared that the fire has been extinguished on their Twitter page around 2:15 p.m. Monday. The tweet also asked Manhattan folk to avoid the area.
The closest intersections of the office building are W 51st and 7th Ave.
Midtown Manhattan Helicopter Crash Sparks Confusion Online After Conflicting Reports | U.S.