Midwest Winter Storm Forecast, Path: North Dakota, Nebraska, Minnesota Bracing for Storm, Post-Holiday Travel Hindered
A winter storm moving across the Midwest and the Plains Tuesday caused travel delays and hazards across multiple states, including North and South Dakota, Minnesota, Kansas and Nebraska.
Winter storm warnings and winter weather advisories were in effect for much of the area as of Wednesday. The post-Christmas storm was snarling travel following the holiday, and more than a foot of snow was expected in some areas.
In North Dakota, much of the state was under a winter storm warning. The northeastern portion of the state near Minnesota was under a storm warning, while a part of the western portion was under a winter weather advisory, along with northeastern Montana.
Many of the warnings were in effect through Friday morning in the Midwest. The National Weather Service in Bismarck, North Dakota, warned that the counties of Foster, Kidder, Stutsman, Logan, La Moure, McIntosh and Dickey should expect heavy snow accumulation of 10 to 14 inches over the next two days. "Travel will be very difficult to impossible. Widespread blowing snow will significantly reduce visibility. The hazardous conditions will impact the morning and evening commutes," said the NWS warning.
In South Dakota, even more snow was expected. There the estimates for accumulation were from 13 to 17 inches, with wind gusts up to 50 miles per hour in some areas. The worst of the storm was expected to hit Thursday, but the warning was in effect beginning Wednesday afternoon.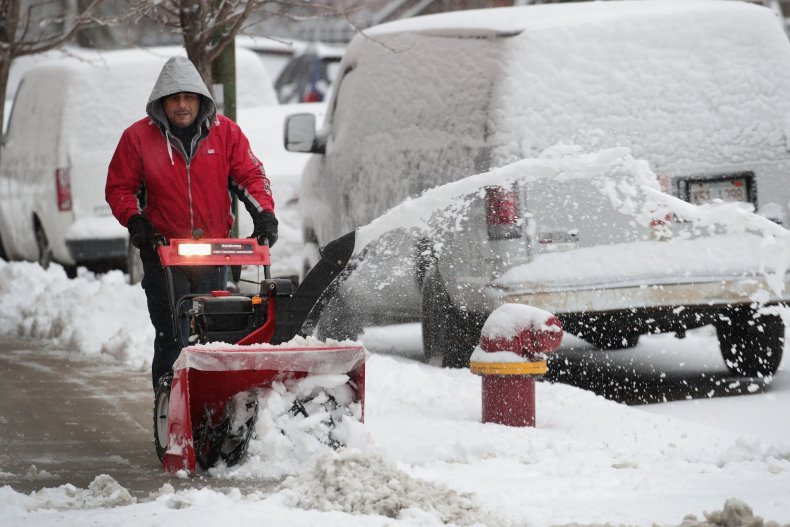 Central Nebraska was also at risk for the storm. There the accumulations were far more variable, depending on the strength of the storm as it moved. Some areas were under winter weather advisors and would likely get 2 to 5 inches though from Valentine to Ainsworth, and southwest to North Platte the snow could reach accumulations of 13 inches, according to the NWS.
There was already some wintery weather in the area, but it was expected to get worse as the storm progressed and moved over the state Thursday evening through Friday morning. The latest updates and forecasts for the storm, that the Weather Channel was calling winter storm Eboni, were available on the NWS website.
Those in the areas where the storm was expected to hit should keep an eye on their local forecasts and follow the direction of local authorities in the event of extreme weather.
​