'Midwest Nice' vs. 'Exciting Presenter': VP Debate Will Be Clash of Styles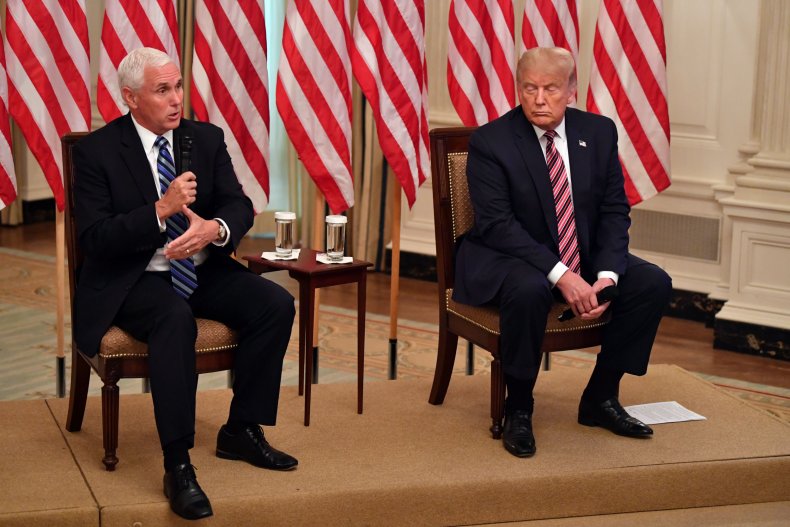 Since learning that U.S. Sen. Kamala Harris is officially his Democratic rival for vice president in the fall, incumbent Vice President Mike Pence has, almost giddily, been talking about how eager he is to meet her on the debate stage.
The sole vice presidential debate is scheduled to take place October 7 in Salt Lake City, Utah.
Pence was in Arizona, aboard Air Force 2, when Biden made his announcement via Twitter, sending the in-flight TVs tuned to Fox News into a breaking news announcement. About 30 minutes later, after a short motorcade ride and at his first public appearance after the news broke, Pence sent a "message" to the new addition to the Democratic ticket: "Congratulations. I'll see you in Salt Lake City!" he said from the stage of the Latter-day Saints for Trump campaign event.
Pence has continued to mention the debate in appearances and events in the days since.
"I think she is a skilled debater, but I can't wait to get to Salt Lake City and be on the stage with her," he told Sean Hannity during a Wednesday night interview on Fox News.
Newsweek spoke to more than half a dozen political consultants and Trump campaign officials about the looming Pence-Harris match-up and what they expect from the upcoming debate.
Biden's campaign didn't respond to Newsweek's request for comment, but in her first joint appearance with the presumptive Democratic presidential nominee, Harris said she is prepared to make her case.
"As somebody who has presented my fair share of arguments in court, the case against Donald Trump and Mike Pence is open and shut," she told reporters Wednesday.
Harris, 55, and Pence, 61, are near polar opposites.
Pence, a former Congressman who dropped his bid for a second term as Indiana governor to be Trump's vice presidential nominee, has a reputation of being mild-mannered, deeply loyal to Trump and staunchly conservative. A son of the Midwest, he identifies as an evangelical Christian and Reagan Republican. He had multiple unsuccessful U.S. House campaigns and became a conservative talk show host before making it to Congress in 2001.
Harris is the California-born daughter of two immigrants—her mother from India and her father from Jamaica, and she grew up immersed in both the Christian and Hindu faiths and is now married to a Jewish man. She spent most of her career as a prosecutor and was the Attorney General of California before she was elected to the U.S. Senate. Through the Democratic primary process, she's already shown her willingness to challenge Biden—a quality he praised in their first joint appearance after the announcement.
"I asked Kamala to be the last voice in the room, to always tell me the truth, which she will, challenge my assumptions if she disagrees, ask the hard questions because that's the way we make the best decisions for the American people," he said.
She also is seen as one of the Democratic standouts from the confirmation hearings for U.S. Supreme Court Justice Brett Kavanaugh, using a prosecutor's approach to quiz him on meetings and discussions.
During a call with reporters this week, U.S. Rep. Elise Stefanik, a New York Republican who was briefly and falsely rumored to be a potential replacement for Pence at Trump's side, foreshadowed the types of messaging the Trump campaign will use against Harris on the debate stage and beyond.
"What's very important about this vice presidential selection is not just how radical and far left this ticket is, it's also the fact that this is the new Democratic Party," Stefanik, a Trump campaign surrogate, said. "This is not the Democratic Party of a decade ago or a generation ago. This is the party of Kamala Harris, of leftist politicians that are out of touch with hardworking Americans across this country who will determine who wins this election."
Political onlookers are eagerly awaiting how the different styles of Pence and Harris will come to a head when they face off on the same stage.
"I think he needs to walk into the debate assuming she will be as tough as she would be in a courtroom," Brad Todd, a Republican political consultant who worked on U.S. Sen. Josh Hawley's successful campaign against incumbent Democratic U.S. Sen. Claire McCaskill in Missouri two years ago, told Newsweek. "He needs to be prepared to meet aggressiveness with aggressiveness."
For Harris, Todd said, the challenge is to focus on trying to appeal to swing voters.
"They are people who have a negative view of the president and Joe Biden," he said. "Her job is to win over people who Joe Biden can't win over by himself."
Two senior campaign officials told Newsweek that part of Pence's repeated mentions of the debate is due to the high visibility of the event and the preparations already underway.
Four years ago, former Wisconsin Gov. Scott Walker helped Pence prepare for his lone debate against then-Democratic vice presidential nominee U.S. Sen. Tim Kaine of Virginia. Pence was widely viewed as the "winner" of that debate.
"I think that Sen. Harris is going to be a much more formidable debate opponent than Sen. Kaine was," Walker told Newsweek. "Sen. Harris has been on the stump, in the Senate, a prosecutor—I just think she's going to be very, very strong."
More than one of the advisers Newsweek who spoke to described Pence as "Midwest Nice"—a quality that Walker said he should stick to.
"I think his best bet is to be who he is," Walker said. "He's very steady and calm. He has strong convictions but doesn't beat you over the head with it."
Walker said Kaine, normally viewed as even-keeled and calm, took on an unexpected aggressive posture when face-to-face with Pence.
"Clearly, they told him to be the attack dog and it was not a role that he was comfortable with," Walker said.
Walker said last time around, he and other Pence advisers deeply studied tape of Kaine from his rounds on Sunday morning shows and previous debates in his campaigns for governor and the U.S. Senate.
Harris took part in five Democratic debates in the past year. She also has appeared on numerous Sunday morning shows and there is considerable footage of her questioning during Congressional hearings.
"It's nice to have tape," Tucker Martin, a political consultant from Virginia, told Newsweek. "The more tape you have the better you can prepare."
Martin noted that there are two times when the vice presidential pick typically gets the most attention—the boost when he or she is named and then the debate.
"When it's new you place greater emphasis on the VP choice," he said. "The election really isn't about them. It never is."
Martin said it will be up to the Trump campaign to try to figure out how to define Harris, after sending mixed messages over the past week over whether she was too tough-on-crime or too liberal, and whether to alienate her from the left or from the moderates.
Todd said that Harris' election background in more liberal California politics and trying to appeal to Democratic primary voters presents a new challenge on a debate stage where she's trying to appeal to a broader base.
"She has a lot of energy and is an exciting presenter when she's on her game," he said. "I think the question becomes can she adapt to a general election audience."
Walker said one of the things stressed four years ago is that the vice presidential debate is more nuanced because the candidates have to constantly point back to the top of the ticket — touting their running mate or attacking the presidential candidate of the other part.
"That's really what it's about," he said. "It's about how do people come out fo the debate feeling about the standard bearer of each party."