Midwest Saw Record-Breaking Twisters and Deadliest December Day in Tornado History
An series of tornadoes that ravaged several states on Friday night killed at least 64 people in Kentucky alone, marking the deadliest 24-hour period in December for tornadoes in U.S. history.
There were at least 50 reports of the twisters from late Friday and into Saturday morning across states including Arkansas, Illinois, Indiana, Kentucky, Mississippi, Missouri, Ohio and Tennessee, CNN reported Monday. The storms were part of an intense weather system that experts said was highly unusual to happen so late in the season.
Search and rescue missions are still being conducted to determine if more people if there are more survivors; so far, at least 64 people have died in Kentucky. That makes the weather event the deadliest one-day period in December for tornadoes since records were first kept in 1950.
Additionally, more than 100 tornado warnings were issued on Friday before midnight, breaking records as the most tornado warnings ever recorded on a single day in December, according to CNN.
Researchers are also still working to determine if one tornado that wreaked havoc across Arkansas, Missouri, Tennessee and Kentucky touched down for more than 230 miles, which would make it the longest continuous tornado in U.S. history. Currently, the record for the longest single-track tornado occurred in 1925 and it touched the ground for 219 miles.
On Sunday, Federal Emergency Management Agency Administrator Deanne Criswell said that the weather event was "incredibly unusual." Tornado events are not unheard of for that part of the country, but experts have noted that such a powerful storm system in December is not typical.
"We do see tornadoes in December, that part is not unusual, but at this magnitude, I don't think we've seen one this late in the year. But it's also historic. Even this, the severity and the amount of time this tornado, or these tornadoes, spent on the ground is unprecedented," she said.
Unseasonably warm temperatures across much of the Midwest and South was a catalyst for the devastating weather. Randy Adkins, a senior meteorologist at AccuWeather, also told Newsweek on Monday that tornadoes are more likely to occur the closer a region is to a warm moisture source, such as the Gulf of Mexico.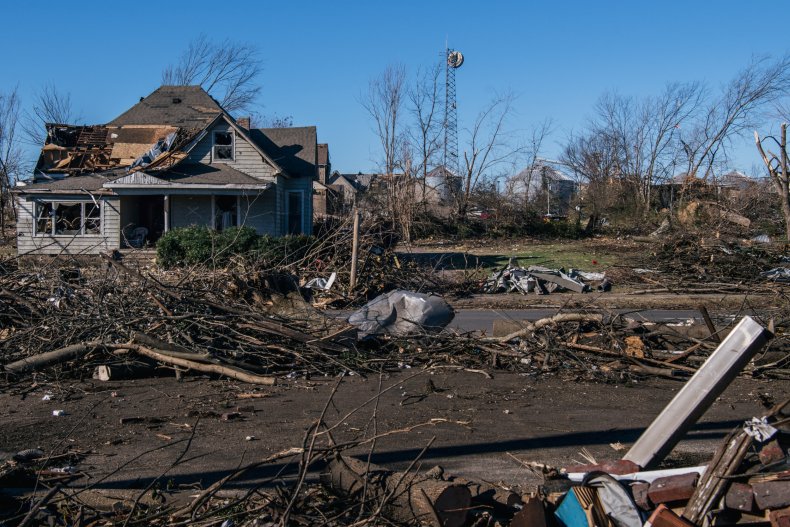 Officials have said that up to 100 people may have died and tens of thousands more were left without power. If the final death toll ends up above 90, it will become one of the top 10 deadliest days for tornadoes in more than 70 years, CNN reported.
Preliminary reports have so far found that several of the tornadoes were likely in the strongest or most violent categories of the Enhanced Fujita Scale, which is used to measure the scale of a twister. Since 1950, there have been only 21 tornadoes in the U.S. that were considered "violent" during the month of December, according to NBC.
"This has been the most devastating tornado event in our state's history. What it has done here is indescribable. The level of devastation is unlike anything I've ever seen," Kentucky Governor Andy Beshear said on Saturday.