This Might Be The Best College Football Weekend In Over a Decade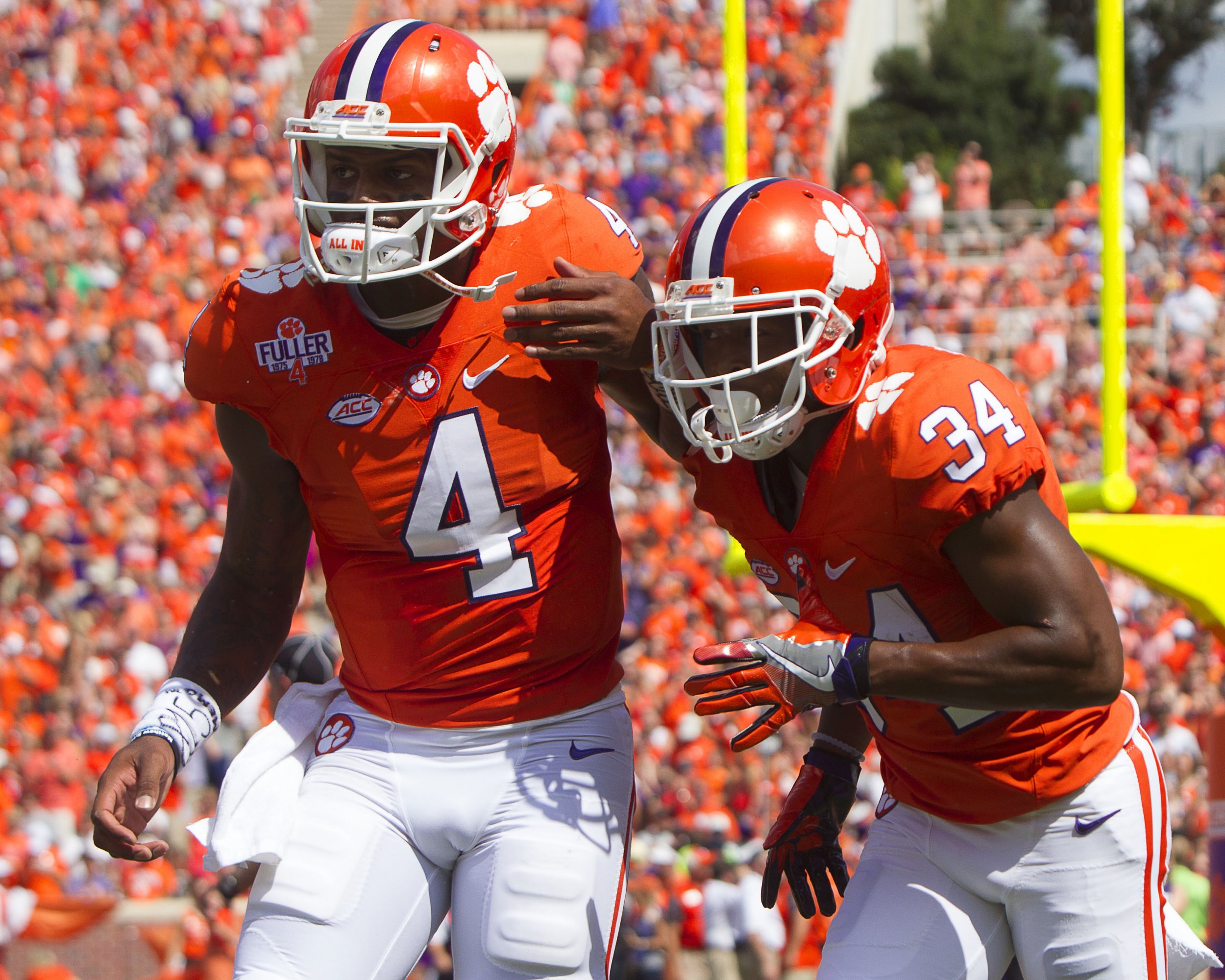 For college football fans, September began with what many aficionados considered "the greatest opening weekend ever." The month concludes with the beginning of what may be the game's most enticing weekend in more than a decade. For the first time since 2002, a trio of games featuring top 10 opponents will take place in one weekend, beginning Friday night in Seattle.
In terms of entertainment value, the Labor Day weekend was no doubt redoubtable. Four games pitted preseason top 25 teams against one another. Such are the vicissitudes of the game, and its fans, that the coach (Les Miles, Louisiana State) and starting quarterback (Blake Barnett, Alabama) of two of those eight teams are no longer affiliated with their programs.
If that weekend was the opening number ("Oklahoma," since it featured Oklahoma?), then this one is the showstopper ("You're the Top"). Here are four Heisman Trophy favorites competing in three games across two coasts in one 24-hour window with zero Southeastern Conference input. To dream, the impossible dream. Let's assess the lineup.
Friday
No. 7 Stanford (3-0) at No. 10 Washington (4-0)
ESPN 9 p.m.
The Cardinal, fresh off their improbable comeback and implausible backdoor cover at UCLA in Pasadena, travel up the Pacific coast to Seattle to meet the resurgent Huskies. Stanford's Christian McCaffrey, last year's Heisman runner-up, is second in the nation both in rushing (145 yards per game) and all-purpose yards (211.7). One curious note about the stellar junior, though: In 12 career games at an opposing school's stadium, he has never scored a touchdown.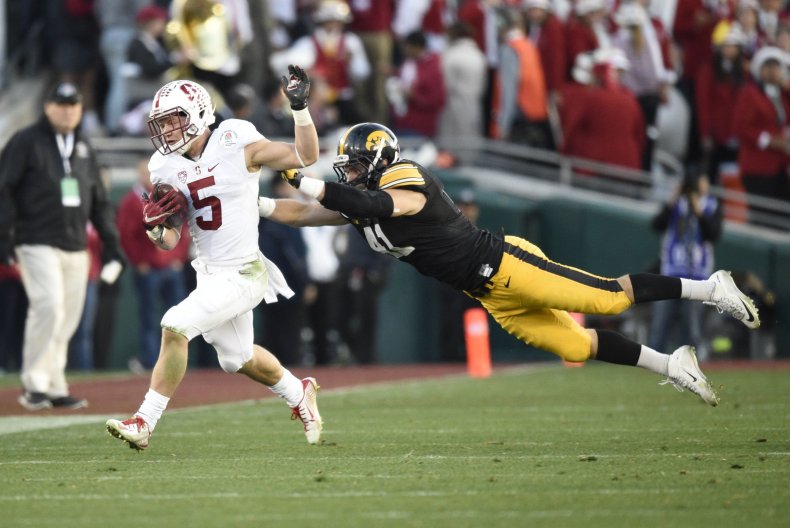 For U-Dub, it is less about the players than it is the moment. The Huskies have not hosted a game involving top 10 teams since 1997 (a 27-14 to eventual co-national champion Nebraska) and have not won one since November 6, 1982, when, as the nation's 10th-ranked team, they beat No. 9 UCLA 10-7. For Huskies third-year coach Chris Petersen, who lost as many games in his first two seasons in Seattle—12—as he did the previous eight as the coach at Boise State, Friday night marks his first true close-up as the coach of a Power 5 program.
Our call: Washington, 16-14. Two road games in a six-day span is a cruel gantlet, and the Huskies rank third nationally in turnover margin.
Saturday
No. 8 Wisconsin (4-0) at No. 4 Michigan (4-0)
ABC 3:30 p.m.
Moviegoers of the same era of Badgers coach Paul Chryst, 50, and his Michigan counterpart, Jim Harbaugh, 52, will recall the 1986 comedy Back to School. It was filmed on Wisconsin's Madison campus and starred Rodney Dangerfield, a comedian whose signature catchphrase was "I don't get no respect."
Wiscy knows the feeling, as two wins this month against schools ranked in the top 10 at the time, No. 5 LSU and No. 8 Michigan State in East Lansing, has lifted them to only No. 8 in the polls. On Thursday, The Wall Street Journal's Jason Gay, a Wisconsin alum, penned a humorous screed against all things maize and blue and khaki. His overlords at the bastion of journalism-and-sketched illustrations printed a rebuttal one day later.
Michigan's top two players are Butt and Peppers: tight end Jake Butt and outside linebacker/punt returner Jabrill Peppers, the latter of whom is a legitimate Heisman candidate.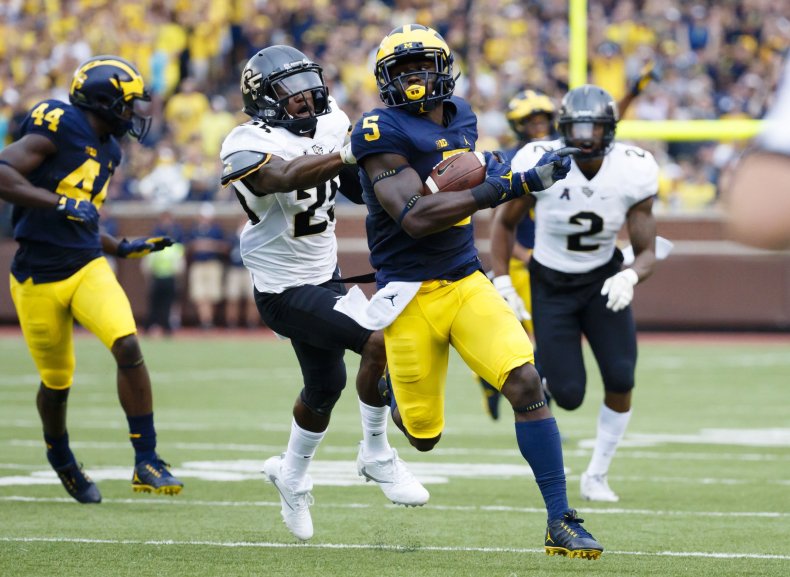 The Badgers are an unglamorous group led by a man, Chryst, who bears an uncanny resemblance to Marge Gunderson's husband in Fargo (you know, "that guy" whom you've seen again and again whose name you don't know). They win with defense, a unit whose stud is defensive end T.J. Watt, the younger brother of former Badger and NFL All-Pro J.J. Watt. Like the Cardinal, Wisconsin will be playing its second road game in as many weeks, but unlike Stanford, it will be playing its second top 10 opponent in that span.
This is a tall and fat order, as Thornton Melon (Dangerfield) might have said.
Our call: Sorry, Jason. Michigan 24, Wisconsin 13
Saturday
No. 3 Louisville (4-0) at No. 5 Clemson (4-0)
ABC 8 p.m.
This may be the first game Clemson quarterback Deshaun Watson has ever played in which he is not the most dynamic playmaker at his position. His Louisville counterpart, Lamar Jackson, is the Heisman front-runner after a September that saw him lead the Cardinals to a 63-20 evisceration of No. 2 Florida State. The 6-foot-3-inch sophomore from Boynton Beach, Florida, has the keys to the nation's most prolific scoring offense (63.5 points per game) and is himself second in total offense.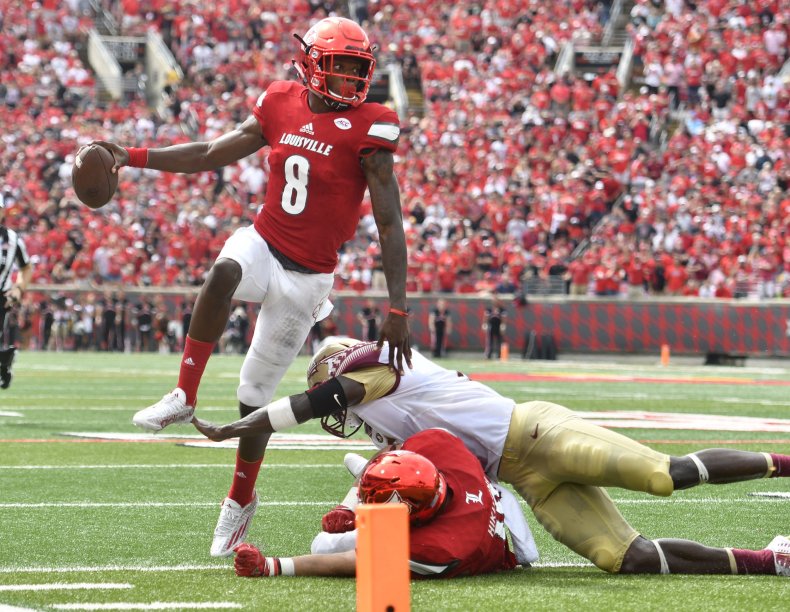 The Tigers have won 16 straight at Memorial Stadium, aka Death Valley, their last loss coming three years ago in October to the fifth-ranked team at the time: Florida State. Those Seminoles went on to win the national championship. If the Cardinals hope to duplicate that feat, they must overcome a Clemson defense that is ranked fourth in points allowed, as well as a raucous home crowd.
Our call: Louisville 35, Clemson 31
One final note, if for no other reason than to toss a Molotov cocktail into the comments section below: Ohio State is the best team in the country after one month.