The Mighty Ducks look set for a return to the ice, with a new TV series coming soon to Disney+. A report by The Illuminerdi has started rumors original star Emilio Estevez will be back as hockey team coach Gordon Bombay, training a batch of new teen players whose character bios have also been reportedly revealed.
When is The Mighty Ducks series out on Disney+?
No release date has been announced yet for the Mighty Ducks series, but the show is expected to start shooting soon. In November 2019, Slash Film reported that the series will be filming in Vancouver from February to June, though some reports have it that production has now been pushed to March. This suggests the show may be on Disney+ by the end of 2020. Per The Illuminerdi, the show will have 10 30-minute episodes, expected to be released weekly—as has been the tendency of Disney+ originals so far.
The original Mighty Ducks films are not currently on Disney+ in the U.S. (though they are in Canada), but are also expected to come to the streamer at some point in 2020 when Disney's deal with HBO comes to an end. The streamer, however, does currently have the 1990s Mighty Ducks animated series, starring a race of alien hockey-playing ducks.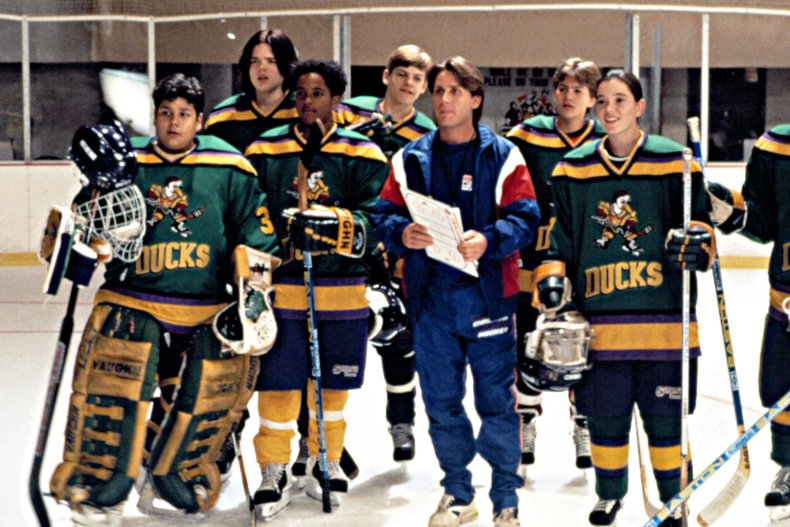 Who is in the cast of The Mighty Ducks?
Disney+ has made no casting announcements yet, but Emilio Estevez is rumored to be appearing in a lead role. This would be The Breakfast Club actor's first appearance in the franchise since 1996 when he cameoed in threequel D3: The Mighty Ducks. Original screenwriter Steven Brill is also to return to the series for this new show.
The Illuminerdi and What's On Disney Plus have reported on a number of possible character breakdowns for the young team members, though no casting has been announced yet. These are:
Nick: Likes to pretend he has his own imaginary tv show.
Mary: Only described as the popular girl both on the team and at school.
Lauren: An unpopular girl who likes to wear wings and a cape at school and pretend she's a fairy-magician. Tries to be friends with the more popular Mary but she ignores her.
Adib Samitar/"Sam" is an 11-to-13-year-old African American or Somali boy. Sam has mastered skateboard riding and always does things his way. The thrill-seeker rarely turns down a challenge, even deciding to befriend Evan after a violent collision on his trusty board. He joins the squad after realizing that he will be allowed to be a renegade.
Jaden Koobler/"Koob" is an 11-to-13-year-old-boy, who is said to be heavyset. Koob will never be mistaken for an Olympian, but instead is a hardcore video game player whose skin is pale from long hours of marathon gaming in his downstairs man cave. Though he rarely breaks focus from his monitors, he proves to have an almost superhuman level of dexterity and reflexes that are worthy of a kung-fu master. Koob is wary of joining the squad and will need to be dragged out of his safe space.
What will happen in The Mighty Ducks series?
Slash Film reported that the leaked synopsis reads: "After getting kicked off the junior division Mighty Ducks team, a 13-year-old boy and his mom decide to start their own team, finding players, a coach, and a place to play."
The Mighty Ducks is coming soon to Disney+.