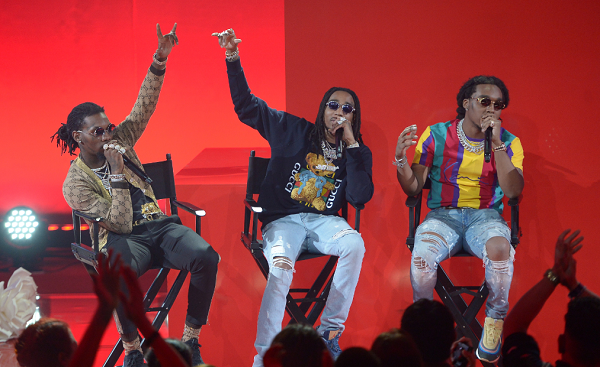 Migos released their highly anticipated album, Culture II, on Friday at midnight—and not everyone was impressed.
In the first few hours of being available, the 24-track project received mixed reactions from fans. Some expressed their delight over Culture II's arrival. Others, though, compared the new Migos music to Culture, the rap group's previous album.
Here's just a sample of the mixed reactions hitting social media:
"If Migos think I'm gonna spend my Friday morning by listening to all 24 tracks from Cutural 2 [sic], they're absolutely right," @arielle_adams commented on Twitter.
"Migos makin me think I was listening to Culture 2 when it was really just Culture," @KAlexander_Co added.
And then there were the people who used the release of Culture II to get a dig in on what the Atlanta trio has been putting out recently.
"Migos been giving us the same song for 5 years," @ChriStylezz said.
"The Migos is cool and all but their songs sound the same," @bryansav00 added, along with a sleepy-face emoji.
Although Migos operates as a unit—the group is composed of family members Quavo (Quavious Marshall), his cousin, Offset (Kiari Kendrell) and Quavo's nephew, Takeoff (Khari Ball)—fans debated who had the best verses on the album. A number of listeners were upset Takeoff hasn't received as much attention or recognition as his two amigos.
"Migos ain't shit w/out Takeoff, Quavo and Offset they're overrated tbh," @YoBoi_Crush opined.
"I don't wanna listen to any new music from the Migos until Quavo stops emulating Travis Scott and Takeoff starts getting more recognition," said @fuckwillie.
Culture II is loaded with guest appearances from rappers like Drake, Gucci Mane, 21 Savage, Travis Scott, 2 Chainz and Post Malone, among others. The production team is equally as impressive: Metro Boomin, Zatoven, Mike Dean, Cardo Got Wings and several others picking up credits on the album. Scott, who makes a guest appearance on the track "White Sand" with Ty Dolla $ign and Big Sean, executive produced the album along with DJ Durel. Quavo also co-produced a few tracks on the album.
Even with that many A-listers involved in the album, so people had a blasé response.
"Nah if that Drake verse is the standout for that new Migos album I need new ears," tweeted @stephxghost.
"Migos are the first people to give us a dead Drake feature. Tragic," @LORDJM_ added.
Despite the critics, some songs off the album are already gaining steam on the charts. "Motorsport," featuring Cardi B. and Nicki Minaj, is currently No. 10 on Billboard's Hot 100 chart—it peaked at No. 6 in December—while the Pharrell-produced "Stir Fry" moved from its No. 72 spot to No. 60 within a week.