Mother Screams For Lost Baby as Dinghy Carrying Migrants Sinks
Distressing footage of the moment a mother loses her baby as a migrant boat sinks in the Mediterranean Sea has been released by a rescue charity.
Footage of the heartbreaking moment was released by NGO Open Arms, a charity dedicated to search and rescue at sea, in which the mother can be heard screaming: "I'm not going to see my baby. I lost my baby. Why me? Where's my baby?"
The baby, Joesph, was eventually found by rescuers but had tragically died from drowning. He is now buried on the Italian island of Lampedusa where his mother was taken by the charity.
The footage also shows several others wearing lifejackets in the sea, as boats attempt to rescue them as well as another overcrowded dinghy. Riccardo Gatti, president of Open Arms, told the Guardian: "When our rescuers arrived, they found themselves in front of a dramatic scene. The boat had practically imploded and hundreds of people found themselves in the water, in the open sea – some were children."
Open Arms also said that there were about 100 migrants on the boat when it started to sink off the Libyan coast and that the rescue operation lasted all night.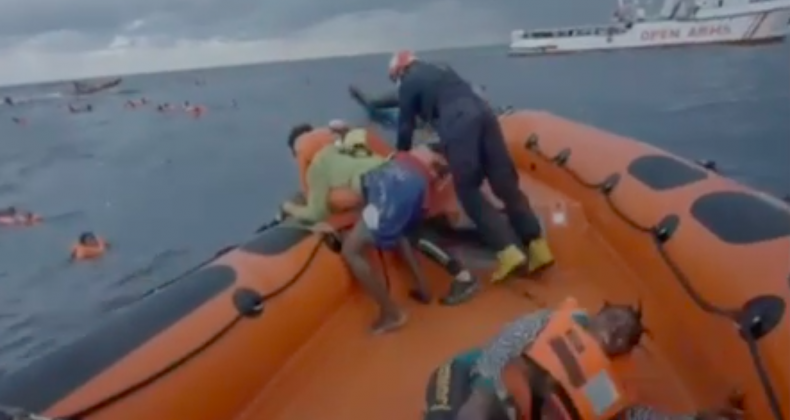 The charity said it had made the decision to release the footage in order to highlight the dangers experienced by migrants as they undertake perilous journeys crossing the Mediterranean after European countries decided to clamp down on rescue ships operating in the area.
It comes after the death of 74 migrants when the ship carrying them was wrecked off the coast of Libya, according to the United Nations (U.N.) Rescuers managed to reach 47 survivors, according to staff from the International Organization for Migration (IOM).
According to the IOM, at least 900 people have drowned while trying to reach Europe from Libya via the Mediterranean, with another 11,000 returned to Libya, where it says they face detention.
Federico Soda, IOM Libya chief of mission, said: "The mounting loss of life in the Mediterranean is a manifestation of the inability of states to take decisive action to redeploy much needed, dedicated search and rescue capacity in the deadliest sea-crossing in the world.
"We have long called for a change in the evidently unworkable approach to Libya and the Mediterranean, including ending returns to the country and establishing a clear disembarkation mechanism followed by solidarity from other states. Thousands of vulnerable people continue to pay the price for inaction both at sea and on land."