Migrant Caravan: DOJ Files 'Criminal Illegal Entry' Charges Against 11 People
The Department of Justice (DOJ) has filed criminal charges against 11 people believed to be part of the "caravan" of Central American migrants seeking asylum in the U.S.
The DOJ said in a press release shared by ABC News that the 11 would face charges for criminal illegal entry after border patrol agents found them in locations 2 to 4 miles west of the designated border crossing in San Ysidro, California.
"The United States will not stand by as our immigration laws are ignored and our nation's safety is jeopardized," Attorney General Jeff Sessions said in a statement.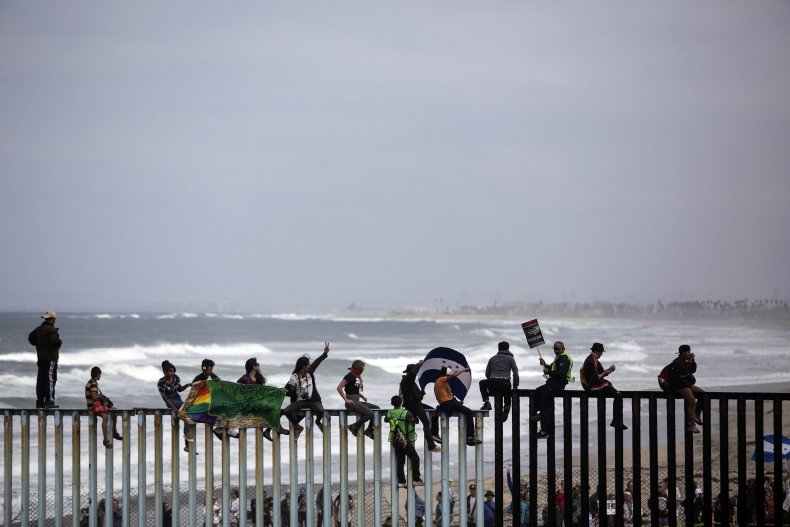 He said U.S. Attorney Adam Braverman and his team "should be commended for quickly filing illegal entry charges for individuals apprehended along the southwestern border," adding that the DOJ would continue to work with its partners in U.S. Attorney's Offices to "aggressively pursue prosecutions of criminal illegal entry."
In a statement, Braverman accused the 11 people arrested of having "believed themselves to be above the law," adding: "Those seeking entry into the United States must pledge fidelity to the law, not break them, or else face criminal prosecution."
More than 150 people traveling with the caravan arrived at the San Ysidro port of entry to make their asylum claims on Sunday, but they were told by Customs and Border Protection (CBP) agents that the crossing was at "capacity," with CBP Commissioner Kevin McAleenan announcing that migrants would likely "need to wait in Mexico."
On Monday, a handful of people, including children, were allowed to cross over onto U.S. soil to make their asylum claims, after camping out in front of the border crossing.
"We began processing undocumented arrivals again on Monday," a CBP spokesperson told Reuters, adding: "As in the past when we've had to limit the number of people we can bring in for processing at a given time, we expect that this will be a temporary situation."
However, dozens more had yet to be let onto the bridge leading into the U.S., with many spending Monday evening sleeping in an open plaza in Tijuana, on the Mexican side of the crossing. As of Monday evening, more than 100 people were still waiting to be let onto U.S. soil, according to Reuters.
Despite being an annual event, the caravan gained international attention after it roused the ire of President Donald Trump when news of its more than 2,000-mile journey from southern Mexico to the U.S. made its way to the White House just over a month ago.
Trump vowed to stop the caravan from entering the U.S. and called on Mexican authorities to crack down on its members, while also ordering thousands of National Guard troops to be stationed along the U.S.-Mexico border to monitor the situation.
Traditionally, the caravan has been used as a symbolic event, with protesters marching across Mexico to draw attention to the plight of asylum seekers, rather than making the journey all the way to the U.S.
This year, however, many migrants from countries including Guatemala, El Salvador and Honduras were determined to make it to the border to claim asylum, citing fears of violence and political prosecution. Many Hondurans have fled their country to escape instability and violence that has followed in the wake of President Juan Orlando Hernández's contested re-election in November.
Asylum seekers must be able to demonstrate well-founded fear of persecution in their home country, with those fearing persecution from a state entity being more likely to be granted asylum.
Central Americans typically do not fare well in making asylum claims in the U.S. because the state is rarely viewed as being directly responsible for the dangers they may face if they return.