Donald Trump kicked off his presidential campaign in 2015 using a less-than-friendly rhetoric on immigrants who came from Mexico. Today, in the wake of a Central American migrant caravan, a similar approach appears to have also resonated with some Tijuana residents—including the city's mayor.
In recent days, demonstrators gathered in the border city to protest the arrival of Central American migrants who are seeking to reach the U.S. Some of the national soccer jersey-clad locals held signs reading "No illegals," or "No to the invasion" while shouting "Mexico First," NPR reported. But even more surprising was Mayor Juan Manuel Gastelúm's stance on the issue, which has allegedly stoked more anger among the locals.
A Friday tweet from a Mexican journalist named Risco shows a photo of Gastelúm wearing a cap that reads "Make Tijuana Great Again."
"May I present to all of you the Tijuana mayor, Juan Manuel Gastelúm, who dared say 'I apologize in advance to human rights organizations, but human rights are for only upstanding humans,'" the journalist tweeted using Gastelúm's quote in an interview with Mexican broadcaster Milenio Televisión last week.
But like Trump, Gastelúm is not a popular leader. NPR cited a March poll that gave him 4 percent approval among locals. Tijuana has grappled with rampant violence during his tenure, the media outlet indicated.
Tijuana locals have complained via social media about the immigrants' alleged demeanor. Some of them have said that Central American migrants leave garbage on the streets and are ungrateful at times.
A 21-second video of a Honduran woman being interviewed by German broadcaster Deutsche Welle has made the rounds on social media, in which she complained about a plate of beans she had received at a Tijuana shelter. "Look at what they're giving us: sheer ground beans, as if they were feeding pigs. We have no choice but to eat this food, otherwise, we die of hunger," the woman told the TV channel.
The woman's remarks sparked outrage among the locals. As a result, BBC Mundo reached out to the woman identified as Miriam Celaya, who "apologized to all Mexicans" on Wednesday. She explained to the media outlet that she left Honduras so that her daughter could receive treatment in the U.S for her hearing and speech loss.
"We have walked across Mexico receiving a lot of help. I have everything to thank them for, and I have raised my children with a lot of effort feeding them tortillas and beans," she told the media outlet.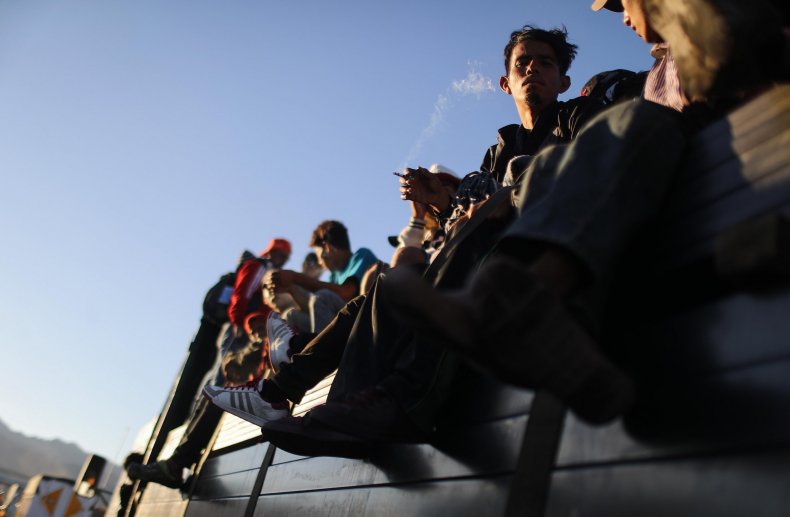 Meanwhile, Trump has attempted to thwart the migrant caravan by deploying thousands of active troops to the U.S.-Mexico border, but this hasn't deterred Central Americans from continuing their journey. A federal judge in San Francisco ruled Monday that the Trump administration must process asylum claims from migrants detained at the border, including those from the caravan, The Washington Post reported.
The president slammed the federal judge Tuesday and pledged to file a "major complaint," adding that "we will win that case in the Supreme Court of the United States."