Migrant Caravan: Glenn Beck Suggests Using 'Pain Ray' Military System on Asylum Seekers: 'Best Idea for the Border I Have Seen'
Political commentator Glenn Beck suggested using a nonlethal weapon known as the Active Denial System to use on the migrant caravan.
Beck tweeted a video of the ADS on Tuesday and tagged President Donald Trump in his message, claiming it was the "best idea for the border" he has ever seen.
"Caravan - meet new non lethal defense system. Best idea for the border I Have seen yet," Beck wrote on Twitter along with a video of how the system works.
ADS is "the first non-lethal, directed-energy, counter-personnel system" that can project a beam of millimeter waves that can control crowds, according to the U.S. Department of Defense website.
"The Active Denial System is an advanced, long-range non-lethal, directed energy, counter-personnel capability that projects a man-sized (1.5 m) beam of millimeter waves (not microwaves) at a range up to 1,000 meters. It will have the same compelling non-lethal effect on all human targets, regardless of size, age and gender," the Defense Department wrote.
The description added that ADS uses a "focused beam of millimeter waves at a frequency of 95 gigahertz (GHz)" and will give those in its path a "heating sensation." The sensation of the beam, it continued, "is intense enough to cause a nearly instantaneous reflex action of the target to flee the beam."
The beam is supposed to be safe and, according to the Pentagon, has only injured two people in 1999 and 2007 that required medical attention for second-degree burns.
Philip Sherwell, a reporter from The Telegraph who tried out the ADS in 2007, told the publication that the sensation from the weapon felt "unbearably uncomfortable, like opening a roasting hot oven door".
The system has been commonly referred to as the "pain ray."
The migrant caravan coming from Central American and traveling to the U.S. through Mexico has been a frequent target of attacks by President Donald Trump and his allies. About 6,500 people are expected to reach Guadalajara, Mexico, in the next few days.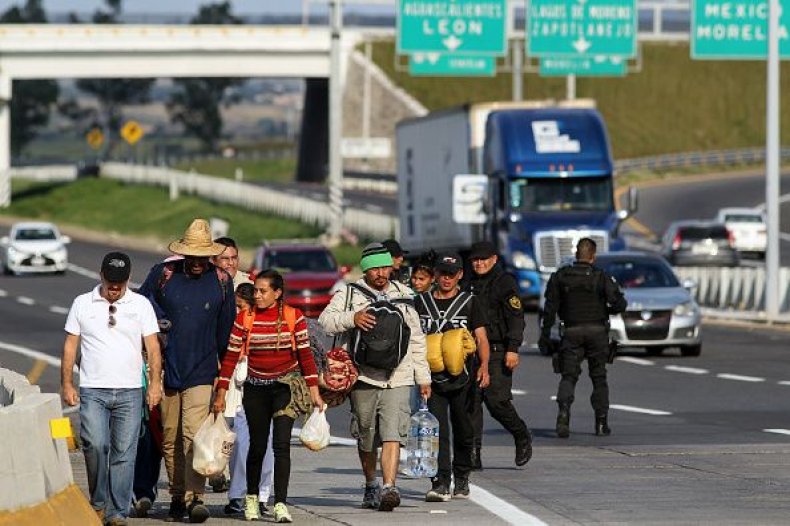 The Trump administration was told that "only a small percentage" of migrants traveling with caravans will reach the U.S. The information was received before the administration deployed more than 5,200 troops to the border, according to documents obtained by Newsweek.
On Friday, Trump signed a proclamation that stated he would deny asylum to those migrants who enter the country illegally. The order is likely to be challenged in court.
"People can come in, but they have to come in through the ports of entry, and that, to me, is a very important thing," Trump told reporters Friday. "We're not letting them in, but they're trying to flood our country. We need the wall."