Migrant Caravan Asylum Seekers Being 'Illegally' Turned Away at Border, Rights Group Says
As many as 50 Central Americans traveling with a migrant caravan that has drawn the ire of President Donald Trump for weeks have made it to the U.S.-Mexico border after an arduous journey that began in southern Mexico in late March—and they are being turned away, organizers say, calling the move illegal.
"There have already been cases of people being illegally turned away by border officials when trying to request asylum at the U.S. border," Alex Mensing, a spokesperson for Pueblo Sin Fronteras, an immigrant rights group that organized the event, told Newsweek.
"Others have been processed," the spokesperson said, adding that the organization planned to "document any abuses in [Department of Homeland Security] custody."
The caravan, which at one point consisted of as many as 1,500 people, saw its numbers dwindle in recent weeks, after Trump vowed they would not make it into the country and pushed Mexican migration authorities to crack down on the group.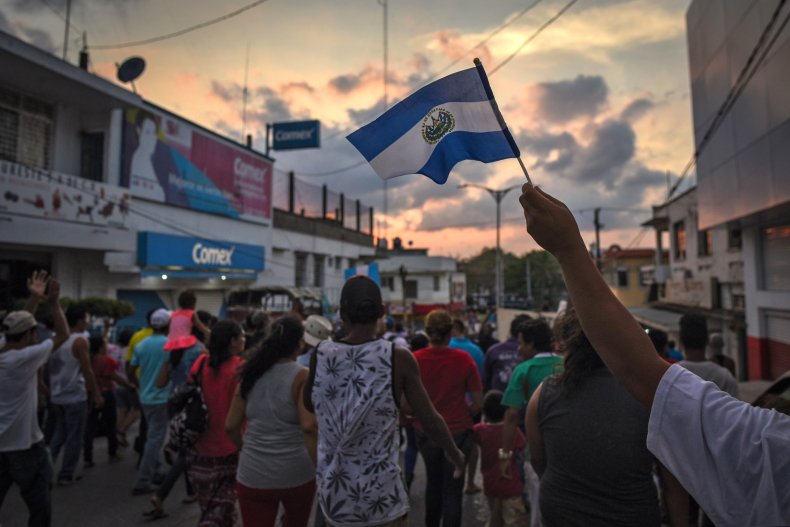 However, a number of people have stayed the course, crossing into the U.S. from Tijuana this week to request asylum, with more expected to follow.
"Since yesterday, some began to cross into the United States to turn themselves in from Tijuana and request asylum," José Maria García, director of Juventud 2000, an organization that assists migrants, told Reuters. "We understand more of [the migrants] will do the same."
The caravan takes place every year around Easter to raise awareness of the plight of asylum seekers. In previous years it was largely symbolic, with participants marching in Mexico rather than traveling all the way to the U.S. border.
This year, however, many who joined the caravan were determined to make it to the U.S., with most of the asylum seekers coming from Honduras in a bid to escape the instability and violence following the contested reelection of President Juan Orlando Hernández. Others traveled from countries like El Salvador and Guatemala, which, in addition to Honduras, are among the countries in the Americas most affected by violence and poverty.
The annual event gained international attention after Trump raged over news of the caravan's plans to reach the U.S. and brought a threat to send as many as 4,000 National Guard troops to watch over the border to fruition.
What should happen at the border
Members of the caravan who make it to the border join the thousands of migrants who risk the journey crossing Mexico to reach the U.S. each year.
Trump has railed against the caravan, but migrants have the right to request asylum in the U.S. and should not be turned away by border officials unless they fail to pass initial security screenings.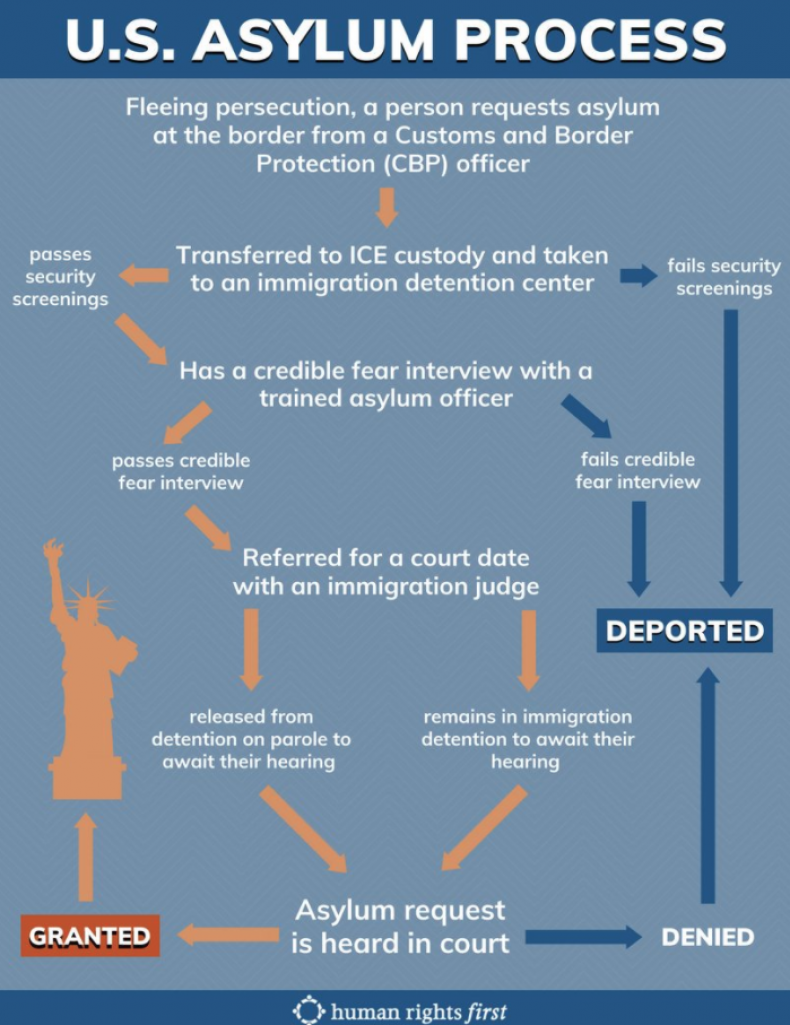 Caravan members who have already reached the border will have had to formally request asylum as "arriving" asylum seekers from a Customs and Border Protection (CBP) officer before being taken into custody by Immigration and Customs Enforcement agents at an immigration detention center.
If they pass initial security screenings, an interview with a trained asylum officer is arranged to determine whether an applicant has credible safety concerns over returning to their country and can be considered eligible for asylum.
Asylum is only granted by the U.S. government to people "who are at risk of harm in their home countries because of who they are—because of their religion, political opinion, sexual orientation, or ethnicity, for example—if the governments in their home countries will not protect them," Human Rights First says on its website.
Those who do not pass initial screenings or are not deemed to have credible fears for their safety will likely be deported. If their concerns are deemed credible, the applicants will be referred for a court hearing with an immigration judge.
Asylum seekers then either remain in detention while they await their hearing or be released from detention on parole to await their hearing. An immigration judge will then determine whether to grant each individual asylum, with those who are not deemed eligible facing deportation.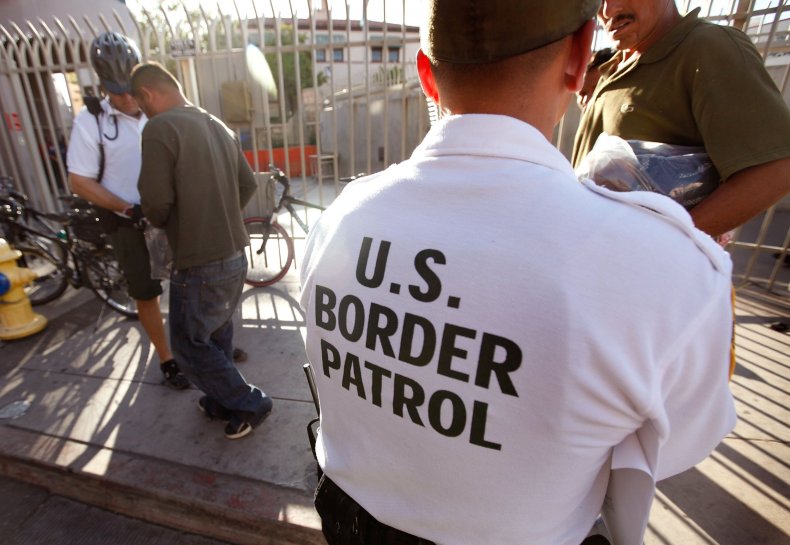 Those held at detention centers face uncertain conditions, with a December Department of Homeland Security report flagging concerning "problems that undermine the protection of detainees' rights, their humane treatment and the provision of a safe and healthy environment" at multiple facilities. Among the issues at detention centers were poor facility conditions, including bathrooms not having hot water, slow access to medical care, inappropriate treatment of detainees, including verbal abuse, and potential misuse of solitary confinement.
According to U.S. Citizenship and Immigration Services (USCIS), initial interviews for asylum seekers should take place within 45 days after the date their application is filed. A final decision should be made on applications within 180 days of the appeal, barring "exceptional circumstances."
The process for seeking asylum in the U.S. can be complicated, and rights advocates say those who are represented by a lawyer who understands the system have a better chance of being granted the legal status, with organizations like Human Rights First providing training to lawyers willing to represent clients on a pro bono basis. A number of legal groups, such as Al Otro Lado, have also vowed to provide assistance to asylum seekers arriving with the caravan.
CBP has not responded to a request for comment for this story.