Migrant Caravan: Here is What the CDC Will Check For at U.S. Border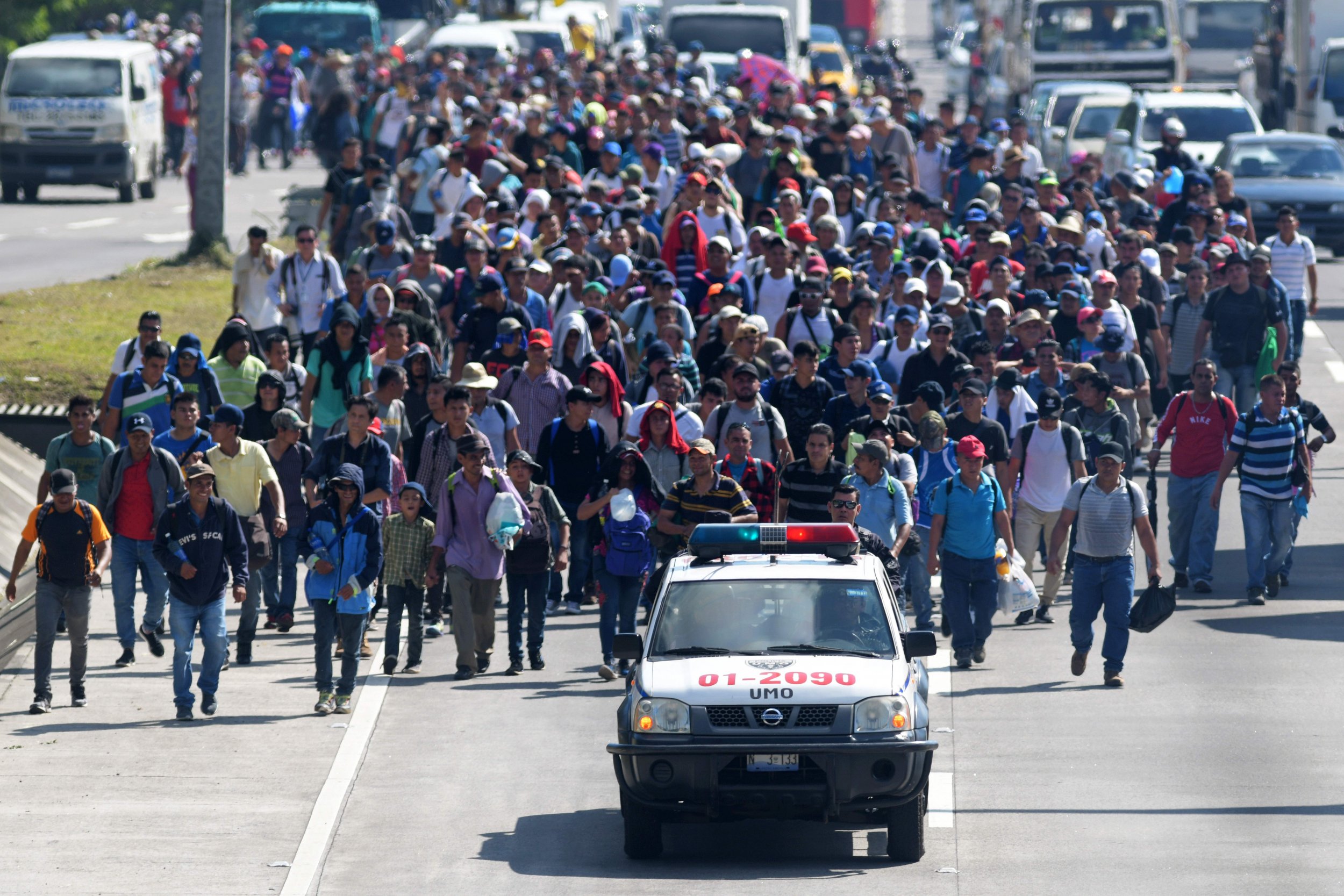 Thousands of migrants from Central America are heading towards the United States border to escape from their native countries.
President Donald Trump and others have raised fears that the migrants could bring with them infectious diseases including leprosy, tuberculosis and smallpox. The Centers for Disease Control and Prevention has been working with the Mexican Secretariat for Health to oversee health screening at the border.
Per CDC.gov:
"A medical examination is mandatory for all refugees coming to the U.S. and all applicants outside the U.S. applying for an immigrant visa. Aliens in the United States who apply for adjustment of their immigration status to that of permanent resident are also required to be medically examined. Aliens applying for nonimmigrant visas (temporary admission) may be required to undergo a medical examination at the discretion of the consular officer overseas or immigration officer at the U.S. port of entry, if there is reason to suspect that an inadmissible health-related condition exists.

"Outside the U.S., medical examinations are performed by approximately 600 physicians (panel physicians) selected by DOS consular officials. In the U.S., medical examinations are performed by approximately 5,000 physicians (called civil surgeons) designated by district directors of the USCIS."
Get your unlimited Newsweek trial >
Leprosy is now treatable with antibiotics and is almost nonexistent in the countries of origin of the people in the caravan. Smallpox has been virtually eradicated. The CDC does cite some risks arising from Mexican-U.S. border crossings.
The U.S.-Mexico border is a unique region where the geopolitical boundary does not inhibit the transmission of infectious diseases among residents on each side of the border.
The mobility of the U.S.-Mexico border population complicates prevention and investigation of infectious diseases.
Studies have identified the importance of cross-border movement in the transmission of various diseases, including HIV, measles, pertussis, rubella, rabies, hepatitis A, influenza, tuberculosis, shigellosis, syphilis, Mycobacterium bovis infection, brucellosis, and foodborne diseases, such as infections associated with raw cheese and produce.
Increased vaccination coverage has produced dramatic declines in the incidence of some infectious diseases, such as measles and hepatitis A.
As of Wednesday, the Trump administration confirmed that it was preparing to send thousands of U.S. troops to intercept the caravan.
Documents obtained by Newsweek from two Defense Department officials show that intelligence officials do not anticipate any terrorist infiltration and only limited involvement of criminal gangs as the caravan follows its projected route.
Get your unlimited Newsweek trial >
The refugees from Honduras, Guatemala and El Salvador are attempting to flee persecution, poverty and violence, sparking a national debate in the U.S.
The migration began in the Honduran city of San Pedro Sula on Oct. 12 when a group of 160 natives met at a bus terminal. The plan began one month prior and gained attention via Facebook, with news spreading and the total jumping to more than 1,000 Hondurans the following day.
The migrants have since crossed into Guatemala and later Mexico, adding thousands more people from the two countries en route to the United States, with a spokesman for the United Nations claiming the caravan has grown to more than 7,000 as of Oct. 22.
According to BBC, there is a "legal obligation to hear asylum claims from migrants who have arrived in the U.S. if they say they fear violence in their home countries," should they successfully reach the United States border. Therefore, migrants who flee due to a serious fear of persecution are considered refugees by international law.
Migrant Caravan: Here is What the CDC Will Check For at U.S. Border | World