Migrant Caravan Member Dies After Falling Off Truck As Donald Trump Warns of 'National Emergency'
A Honduran man who had joined the migrant caravan headed to the U.S.-Mexico border died Monday afternoon after he fell off a vehicle and was run over, according to local reports.
The corpse is still lying near the entrance of a garbage dumpster in Mexico's southern city of Tapachula, local newspaper El Universal informed citing federal authorities. Mexican police are conducting an investigation as they wait for forensic experts to take on the case.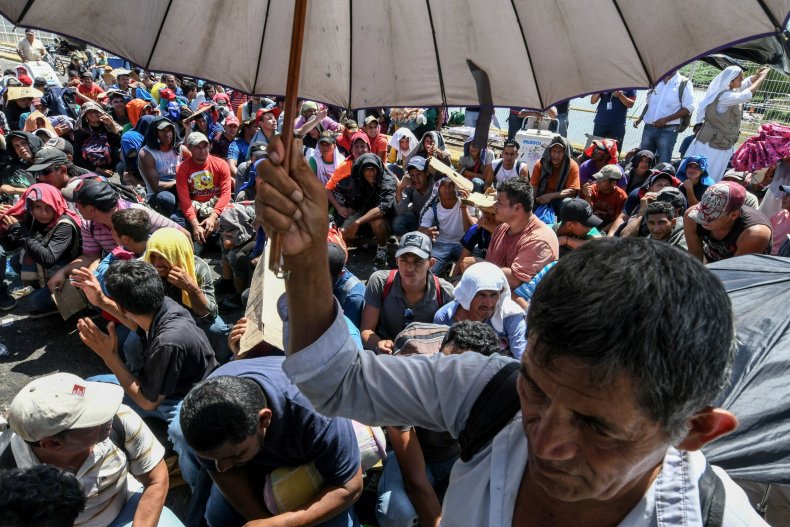 Some witnesses consulted by El Universal said the unidentified man was in a pickup truck when he fell on the highway in the town of Huitxla, 24 miles away from Tapachula, where the first group of the migrant caravan had arrived over the weekend. The victim was wearing a T-shirt that read "Colombia" and had wristbands with Honduran emblems, the paper noted.
In a separate incident, five men and one woman from Guatemala died Sunday morning in the Mexican state of Chiapas after the vehicle they were riding in overturned several times. The driver ran from the scene, leaving at least seven adults and four minors severely injured, according to Guatemalan newspaper Prensa Libre. Local agents said that none of the wounded victims could prove their legal status in Mexico and that their goal was to cross the U.S.-Mexico border illegally.
The tragedies occur amid vocal criticism from Washington. In a series of tweets, President Donald Trump has unsuccessfully urged Guatemala, Honduras and El Salvador to halt the migrant caravan, which is believed to have reached more than 14,000 members in southern Mexico.
"Guatemala, Honduras and El Salvador were not able to do the job of stopping people from leaving their country and coming illegally to the U.S.," Trump wrote Monday. "We will now begin cutting off, or substantially reducing, the massive foreign aid routinely given to them."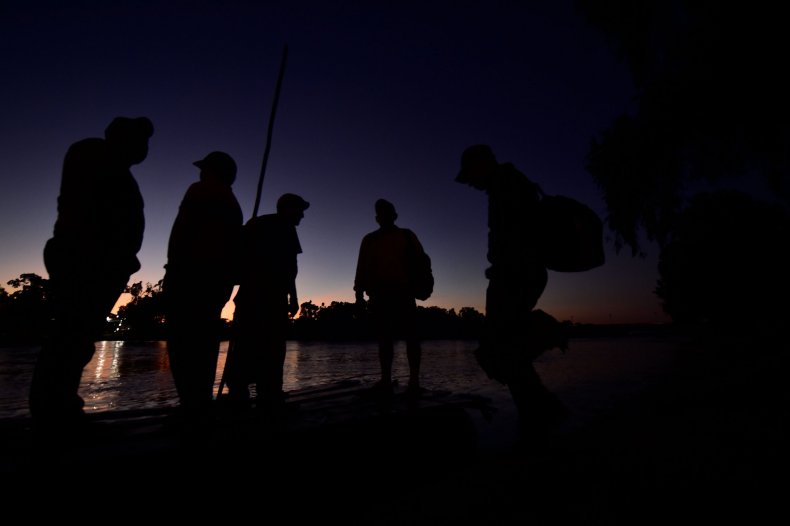 The president has reportedly alerted the U.S. military and border authorities that the U.S.-bound caravan of migrants fleeing violence and poverty from Central America is considered a national emergency, Reuters reported. He has also rebuked the Mexican government for not being able to stop the caravan.
"Sadly, it looks like Mexico's Police and Military are unable to stop the Caravan heading to the Southern Border of the United States. Criminals and unknown Middle Easterners are mixed in. I have alerted Border Patrol and Military that this is a National Emergy [sic]. Must change laws!" Trump tweeted Monday.
The president has used the movement of migrants to lay blame on the Democrats before next month's midterm elections. "Every time you see a Caravan, or people illegally coming, or attempting to come, into our Country illegally," he tweeted, "think of and blame the Democrats for not giving us the votes to change our pathetic Immigration Laws! Remember the Midterms! So unfair to those who come in legally."
Meanwhile, Mexican President Enrique Peña Nieto has called on Honduran migrants to enter Mexico legally, El Universal reported.
"We are asking members of the migrant caravan to heed our recommendation and begin their refugee status process," he said. "For those who have opted to keep this caravan out of the legal framework, they must bear in mind that they won't be able to achieve their objective if they maintain this attitude. They won't be able to enter the U.S. or stay in Mexico."