Migrant Caravan: Mexican Authorities Arrest Dozens Over Disorderly Conduct, Vow to Deport Them as Tensions Flare
At least 34 members of the caravan of Central American migrants who recently arrived at the border city of Tijuana, Mexico, are expected to face deportation after the Tijuana government accused them of a string of offenses, including drug possession, drunkenness, formenting social disorder and resisting authorities.
In a statement posted on Facebook on Monday, the Tijuana government said that the 34 caravan members, who were all men, had appeared before a judge at the instruction of Mayor Juan Manuel Gastélum.
The statement said it was expected that the caravan members would be deported from Mexico "to their country of origin."
After the men were arrrested, the government posted mugshots of 14 of them; their eyes were covered in an apparent bid to conceal their identities.
The arrests—and planned deportations—come amid growing tensions in Tijuana, where local residents have railed against the arrival of the roughly 3,000 Central American migrants who made their way to the border town in hopes of seeking asylum in the U.S.
Hundreds of protesters took to the streets over the weekend, calling for migrants to be removed from Tijuana, claiming they would put too much strain on local services.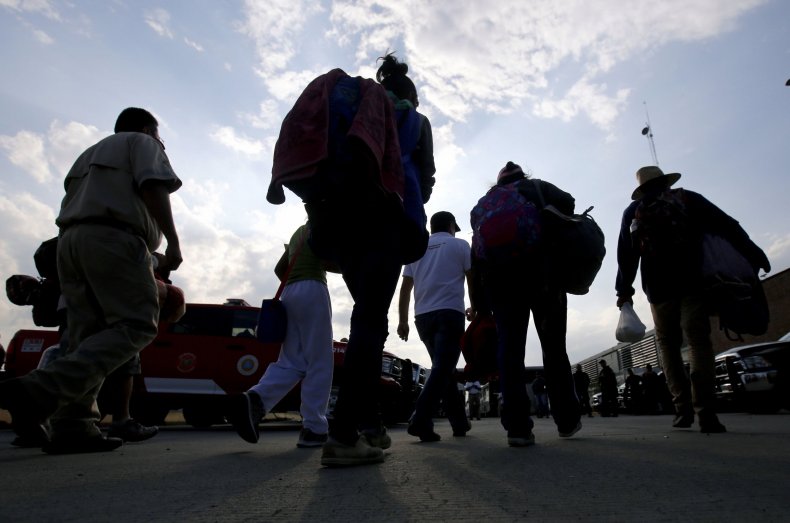 On Sunday, protesters gathered about a mile away from the U.S. border at a statue of Aztec ruler Cuahtemoc, waving Mexican flags and singing the national anthem, while other protesters chanted "Out! Out!" and condemned the migrants as "invaders," Reuters reported.
"They are armed! Get out of the country!" Tijuana residents shouted.
Read more: Mexicans protest migrant caravan arrivals at U.S. border
Gastélum, the mayor of Tijuana, which sits across from San Diego, California, has made it clear that he believes the city is not equipped to handle the influx of migrants, calling their arrival an "avalanche."
President Donald Trump seized on the Tijuana mayor's comments, tweeting that "likewise, the U.S. is ill-prepared for this invasion and will not stand for it."
"They are causing crime and big problems in Mexico," Trump said of the migrants, many of whom have fled Honduras, El Salvador and Guatemala over fears of violence and political and economic instability in their home countries. Still, Trump said migrants should "go home!"
Those who have already made it to Tijuana are expected to be joined by thousands more asylum seekers, with Tijuana's mayor saying that he anticipated the number of arrivals to grow to 10,000.
Currently, migrants face long wait times at the San Ysidro port of entry, where most will be expected to make their asylum claims, which could mean they will be forced to wait weeks, if not months, before they can have their case heard by a U.S. asylum officer.