Border Patrol Agents Fire Tear Gas Into Mexico at 'Violent Mob' as Migrants Cross Fence: Photos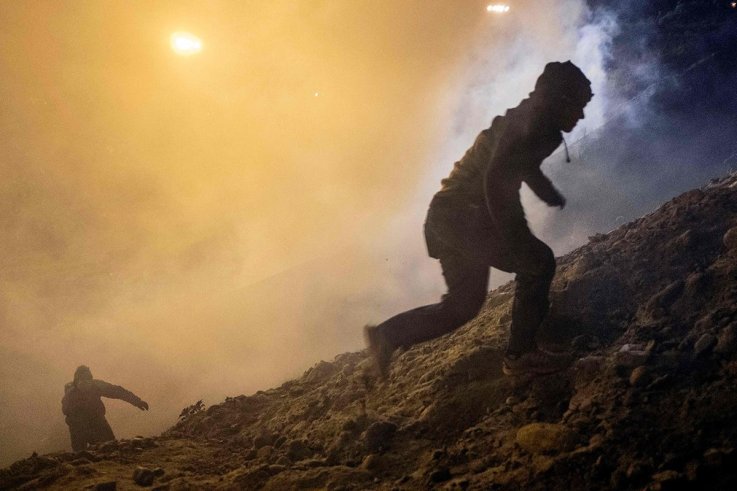 U.S. border agents fired tear gas into Mexico in the early hours of New Year's Day to deter what one official called "a violent mob" of migrants from breaching the border fence between Tijuana and San Diego.
"Once again we have had a violent mob of migrants attempt to enter the United States illegally by attacking our agents with projectiles," said Katie Waldman, a spokeswoman for the Department of Homeland Security. "As has happened before—in this and previous administrations—our personnel used the minimum force necessary to defend themselves, defend our border and restore order."
Read more: Border Agents Fire Tear Gas Into Mexico to Stop Migrants From Breaching Fence
U.S. Customs and Border Protection (CPB) said in a statement that the gas was not aimed at migrants trying to cross the fence but at another group who were throwing rocks at CBP agents and officers and preventing them from assisting "toddler sized children" being passed over the razor wire on top of the fence.
The statement said smoke, pepper spray and tear gas were targeted at the rock throwers and "no agents witnessed any of the migrants at the fence line, including children, experiencing effects of the chemical agents."
But witnesses for both The Associated Press and Reuters disputed the CBP's version of events. A Reuters witness did not see any migrants throwing rocks at U.S. agents, while an AP photographer saw rocks thrown only after agents fired the tear gas. The AP photographer said the volleys of gas affected the migrants, including women and children, as well as journalists. The AP journalist also saw U.S. agents firing plastic pellets.
Photos in the slideshow below show migrants bent over and coughing as they walk through clouds of acrid smoke or gas. One migrant picked up a canister and threw it back into U.S. territory.
The CBP said about 150 migrants had attempted to illegally enter the U.S. by climbing over or crawling under the border fence, and most returned to Mexico via a hole under the fence or by climbing over the fence. The statement said 25 migrants, including two teenagers, were detained, without elaborating on where they were taken.
Read more: What We Saw Photographing the Migrant Caravan and the U.S.-Mexico Border​
This incident came after a similar one on November 26, in which agents fired tear gas at migrants, including mothers and children, in Tijuana. A photograph of Maria Lila Meza Castro and her children suffering from the effects of tear gas went viral and ignited international anger and concern.
The CBP said the latest incident would be reviewed by its Office of Professional Responsibility under its use of force policy.