Migrant Caravan: Mexico Shuts Down Shelter for Asylum Seekers Over 'Poor Sanitary Conditions'
A shelter housing thousands of Central American asylum seekers in the border town of Tijuana, Mexico, has been shut down due to "poor sanitary conditions," the local government said.
Sharing photos of officials wearing surgical masks in front of a sign that listed the site as "suspended," Tijuana's government said that the "temporary refuge" set up at a local sports center had been shut down because of health risks, according to a Facebook statement posted on Saturday.
The closure came after advocates raised the alarm about asylum seekers becoming sick with respiratory problems and chicken pox amid worsening conditions at the temporary shelter, where about 6,000 people have been living in wet and muddy conditions brought on by heavy rains.
Despite the rains and subsequent flooding, many asylum seekers had been forced to sleep outdoors at the shelter, with some sharing makeshift tents while others took cover under cardboard boxes.
The Tijuana government said that asylum seekers had been moved to a new temporary shelter at a former concert venue, which was much farther from the U.S.-Mexico border.
The new facility, located roughly 10 miles from the border, will be run by federal authorities.
Mexican President Andrés Manuel Lopez Obrador, who took office on Saturday, made the issue at the border a priority as he took power, signing a pact with three Central American countries–Honduras, El Salvador and Guatemala–aimed at trying to deter asylum seekers and migrants from making their way north.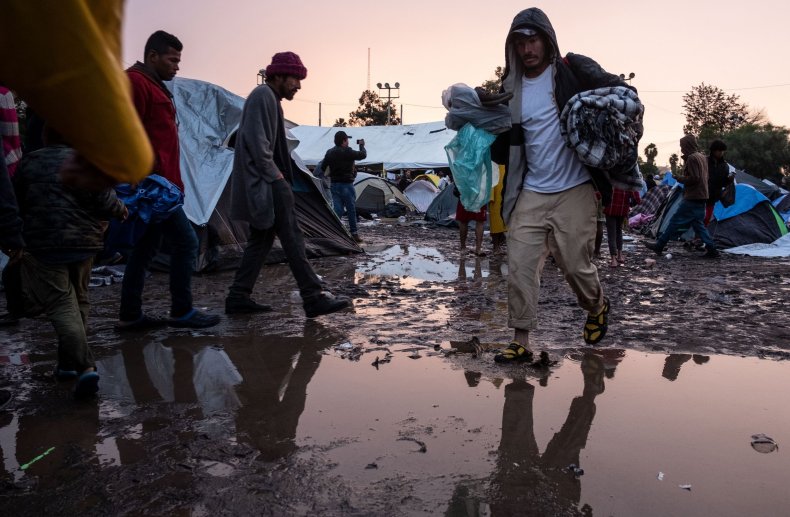 The agreement seeks to add jobs to the Central American region and address the issues prompting asylum seekers to flee, which include violence and economic and political instability.
Lopez Obrador has also said that he hopes to reach an agreement with governments and companies in the U.S. and Canada for greater investment in developing Central American countries and southern Mexico so that residents won't feel the need to look north for better opportunities.
The first foreign dignitaries the new president greeted from the podium at his inauguration on Saturday were U.S. Vice President Mike Pence and President Donald Trump's daughter, Ivanka Trump, according to The Associated Press.
Read more: Migrant caravan over? Asylum hopes fade while thousands risk getting sick
Lopez Obrador also expressed positive sentiments toward Trump, saying he has only "received respectful treatment" from the U.S. leader.
As Mexico's new president seeks to deter Central Americans from moving north, Trump has been equally determined to stop them from entering the U.S., repeatedly railing against the caravan of migrants as it made its way north and defending his administration's use of tear gas on asylum seekers at the border.
U.S. Border Patrol agents fired tear gas at asylum seekers, including families with small children, after hundreds rushed the U.S.-Mexico border last month, prompting international outcry.
Since then, hundreds of asylum seekers in Tijuana have opted to "self-deport" themselves back to their home countries, with many citing fear of violence at the border as their reason for choosing to return to the nations they fled.