Will the Migrant Caravan Stay in Mexico? As Turmoil Brews in Tijuana, up to 10,000 Jobs Will Be Offered to Central Americans
Tensions have run high as hundreds of Central American migrants reached the Tijuana-San Diego border on Thursday night. Local residents hurled rocks at the migrant caravan as they sang their national anthem, with some of them screaming, "Get out, Honduran, we don't want you here," according to local press.
Tijuana Mayor Juan Manuel Gastelúm said he will be holding a public hearing should residents want to welcome more migrants. "Tijuana is a city of migrants, but we don't want them in this fashion," he told Mexican broadcaster Milenio Televisión. "It was different with Haitians because they had papers, and I'm going to excuse myself for what I'm about to say, but human rights are meant for law-abiding humans," he said.
But while the mayor pointed out that migrants arrived "with an aggressive plan, with chants and defying authorities," Mexican business owners agreed to offer them between 7,000 and 10,000 job openings. Interior Minister Alfonso Navarrete announced Thursday that job fairs will be open to Central American migrants who wish to legalize their status in Mexico.
"Today there are between 7,000 and 10,000 jobs for Mexicans and Central Americans," Juan Pablo Castañon, director of Mexico's Business Coordinating Council, told Mexican website El Economista, based on a census his organization conducted in the northern and western parts of the country where rural and textile jobs are on the rise.
Temporary jobs will be offered in Guadalajara, Mexico's second-largest city, and other locations along the migrant route in the next few days, El Economista added.
Before reaching the Guatemala-Mexico border, a group of Hondurans told Mexican newspaper Excelsior in October, "If we find jobs in Mexico where we can find stability and help our families, we stay. Our mission is to find refuge in Mexico because we can't affect the people of Mexico." Some of them fled Honduras because of insecurity, poverty and low-paying jobs.
About 7,000 migrants made their way through Mexico by late October, according to government estimates. A day before midterm elections, the caravan made a stop in Mexico City to wait for thousands more in two more caravans in the southern part of the country, The Wall Street Journal said. In response, President Donald Trump threatened to deploy nearly 15,000 service members ahead of the migrants' arrival, but a top Pentagon official said the number of active-duty personnel "pretty much peaked" at 5,800 troops as of Thursday, The Hill reported.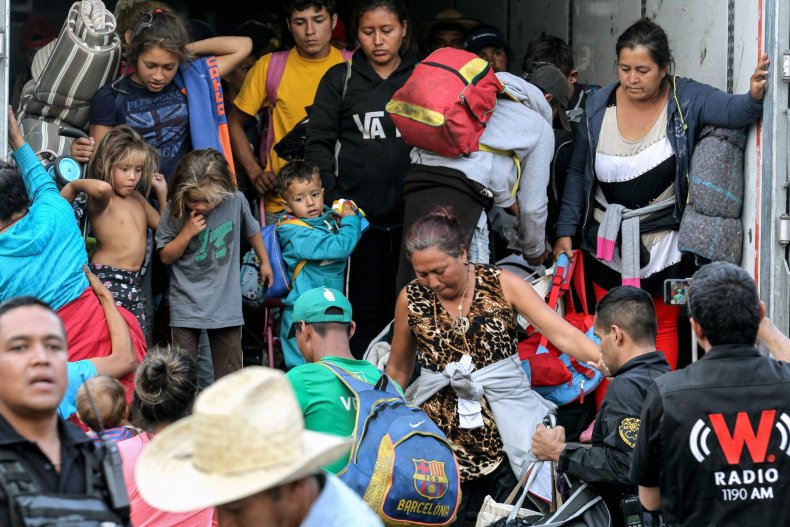 Last month, President Enrique Peña Nieto launched the program "This is your House"— which included temporary employment, education and health care— to those migrants in the states of Chiapas and Oaxaca. However, only 3,000 applied to stay in Mexico while the rest of the caravan chose to move across the country, hoping to reach the U.S.