Migrant Caravan: Mother and Kids in Tear Gas Photo Are Now on U.S. Soil, Representatives Say
A Honduran mother and her children who were photographed as they attempted to escape from the launch of tear gas amid unrest at the U.S.-Mexico border are now in the United States, according to two congresspeople who spent a night at the Otay Mesa port of entry between Tijuana and San Diego this week.
María Lila Meza Castro, her five kids and a group of unaccompanied children were taken inside the San Diego facility and submitted their asylum applications, Democratic Representative Jimmy Gomez of California said, according to The Washington Post. At least two dozen migrants were at Otay Mesa on Monday afternoon and into Tuesday morning, braving the cold weather for hours. Castro, her children and the unaccompanied minors were finally taken in on Monday evening for processing, the Post added. Gomez was also joined by Representative Nanette Barragán, also a Democrat from California.
Nevertheless, the U.S. Customs and Border Protection has not confirmed or denied whether Castro's family was taken in for processing, and it did not offer commentary with respect to the status of the other asylum seekers who appeared at the port of entry.
Castro's family became a cause célèbre after Reuters photographer Kim Kyung-Hoon had captured the moment when the 40-year-old woman and her twin daughters were running away from the canisters last month. "I thought I was going to die with them because of the gas," Meza told Reuters in late November.
The U.S. border agents' firing of tear gas to disperse a group of migrants drew widespread condemnation from immigration advocates, health care professionals and celebrities alike. At the same time, the Mexican foreign ministry had issued a diplomatic note, asking the White House to conduct a "full investigation" into the launch of "non-lethal weapons" toward Mexican soil. Though the Trump administration faced backlash following the incidents, it still defended its decision.
"Pepper spray and CS gas are authorized to address assaultive behavior," Kevin McAleenan, commissioner of U.S. Customs and Border Protection, the agency that oversees U.S. Border Patrol, said in a testimony to the Senate Judiciary Committee, according to a Reuters report on December 11.
The picture was subject to a myriad of online conspiracy theories. An article from conservative blog DavidHarrisJr.com said the image was a "staged hoax," while other bloggers indicated that several Democrats doctored the picture, PolitiFact reported. The Reuters photographer, however, dismissed such claims.
"Some social media users have called the photo 'staged,' which absolutely is not the case. At Reuters, we have strict photo guidelines. We are not allowed here to mislead the viewer by making material alterations or staging scenes," Kim said. "Reuters has core values here of independence, freedom from bias, and accuracy. I am proud to uphold those sacrosanct values."
Kim also added, "I just took a photo of what I saw at that moment and in that location."
Meza was tracked down to share her plight. After the incident, she told Reuters last month that if she's allowed to stay in the U.S., she will travel to Louisiana to join her girls' father.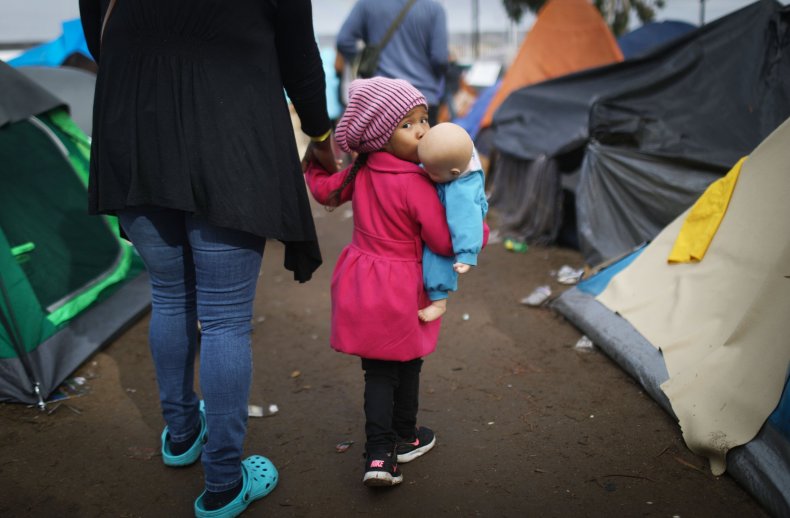 ​